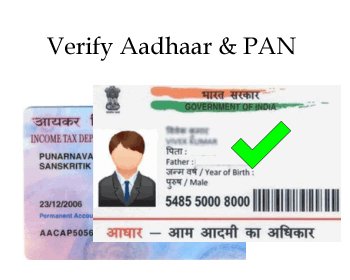 Once you link your Aadhaar and PAN with EPF account, you need to digitally verify Aadhaar & PAN at EPF UAN website. As per EPF UAN website, digitally verification of KYC such as Aadhaar & PAN is mandatory for availing EPF services. In this post, we will take a look at the complete process of How to Verify Aadhaar & PAN at EPF UAN Website? We will also take a look at online verification status of KYC.
How to Verify Aadhaar & PAN at EPF UAN Website?
The steps for online verification of Aadhaar and PAN at EPF UAN website is given below.
Visit Unified Member Portal – https://unifiedportal-mem.epfindia.gov.in/memberinterface/
You will be prompted for UAN Login and Password. After Entering UAN and Password enter Captcha text and press Sign In button.
After successful authentication, you will be taken to the page where it will show your member profile, UAN Card, and Account setting section.
Under Member Profile, you will be able to see the section of AADHAAR and PAN.
If AADHAAR and PAN are not verified it will show Unverified text with red color beside Aadhaar and PAN number.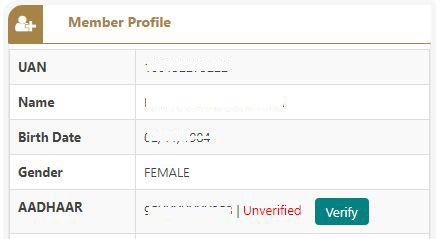 Along with that, it will also display "Verify" button.
For Aadhaar verification press Verify button beside Unverified text in Aadhaar Section. Now the system will verify your Aadhaar number with UIDAI database. You will see message box with Verifying text.
On successful UIDAI authentication status is updated to Verified with UIDAI. In case of mismatch in Name, DOB or Gender it will display a warning message.
For PAN Verification press Verify button beside Unverified text in PAN Section. Now the system will verify your PAN number with Income tax database. On successful verification it will say PAN Verification Successful and status will be changed to Verified.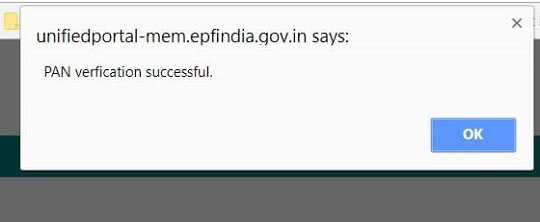 Online Verification Status of KYC
KYC means Know Your Customer. It is a process to know detail about Customer.
To check Online Verification Status of KYC, login to UAN Portal and go to Manage > KYC. In this section, you will find KYC related information. You can also see a section for KYC Pending for Approval and Digitally Approved KYC Section.
The last column under Digitally Approved KYC section is Online Verification Status. The status under both PAN and Aadhaar should appear as Verified.
EPF withdrawal for buying house and paying EMI – New EPFO rule
Under Digitally Approved KYC Section you should have minimum following documents approved for KYC.
Bank Details
Aadhaar
PAN- Mandatory if you do withdrawal before 5 years of EPF contribution as TDS is deducted.
If you find missing information in this section you can add it using Add KYC section. Once you are done with adding detail press Save Button. Now this detail will appear in Pending KYC Section. You have to wait for the employer to approve the KYC details.
After approval by your employer, these documents appear in Digitally Approved KYC as shown in the image below.
I hope the information given here for the online Verification of Aadhaar & PAN will help you in the completion of online verification. In case you have any query feel free to post it in the comment section.