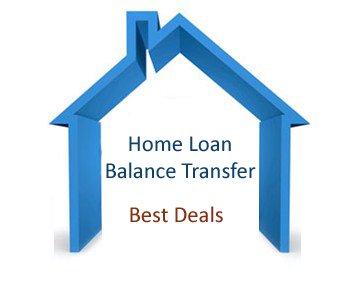 Home Loan Balance Transfer – Buying a home is difficult without a home loan. Once you take a home loan from a bank or financial institute you need to pay principal and interest component. Both these components are part of your EMI.
Suppose you have taken a floating rate home loan for the longer duration say 15 years or 20 years, your bank is increasing interest rate frequently. In this case, you will end up paying more interest to your bank. There are multiple ways to reduce your Home loan interest component which I have already discussed in my earlier post. One such way is the Home Loan Balance Transfer.
A home loan balance transfer is offered by most of the banks and financial institutions. Home loan balance transfer makes sense if the offer by other bank is lucrative in terms of interest rate and transfer fees. Additionally, a home loan balance transfer is beneficial for the first 4 to 5 years of home loan as an interest rate component will be higher in the initial years. If you are planning to do a home loan balance transfer or top up this post is for you. In this post, I will share information about How to do Home Loan Balance Transfer and Top Up? 
What is Home Loan Balance Transfer?
Home Loan Balance Transfer means transferring a balanced loan to other banks or financial institutions. The primary reason for doing a home loan balance transfer is to save higher interest outgo. The process of doing a home loan balance transfer is very easy, but before you opt for balance transfer do a proper analysis of saving and cost associated with a transfer of the loan.
What are benefits of Home Loan Balance Transfer?
There are multiple benefits of home loan balance transfer a few of them are given below.
Reduction in interest rate resulting in lot of saving with respect to interest payment.
Reduction in monthly EMI based on rate difference, balance tenure and EMI.
NIL processing fee and other benefits provided by other bank.
You can Top-up loan and avail additional loan at same home loan rate.
Satisfactory customer support services, if you are not satisfied with current bank.
Also Read – How to Reduce Home Loan Interest? – 7 Proven Tips
How to do Home Loan Balance Transfer?
The steps to do home loan balance transfer are given below.
Step 1 –  The first step is evaluating the need for a balance transfer program. To do that check your current rate and calculate your interest outgo.
Step 2 – In addition to interest, outgo you need to calculate various other costs, fees associated with your current home loan.
Step 3 – Shortlist a new bank that you wish to transfer your loan. In addition to the shortlisting bank for loan transfer also decide that you want top-up loan or not. Once you decide which bank you want to go for find out the documentation requirement of the bank and documents deposited with your existing bank.
Step 4 – Apply for a loan with a new bank with a photocopy of property documents and other documents such as income proof, ID proof etc. You also required to submit the document on the letterhead of existing bank stating the list of property documents held by them. The bank also requires latest outstanding balance letter from your existing bank on their letterhead. The bank may require your own contribution proof in the property. You also need to pay loan processing fee.
Step 5 – The next step is to obtain a sanction letter from a new bank and execute a new loan agreement. Once your loan agreement is executed, you need to take disbursement in favor of old bank by cheque or demand draft. Alternatively, you can also ask bank to do online transfer and internally get home documents transferred.
Note – Some bank requires prior notice before you initiate home loan transfer. Check your current loan agreement and ask your bank about any terms and conditions like this. If notice is applicable you need to give notice to the bank.
How to find out best deal for Home Loan Balance Transfer?
The first thing to do to find out the best deal for a home loan balance transfer is checking interest rate and track record of the new lender. Also check the benchmark rate track record of the new lender.
Check the service level and customer support offered by a new bank. You can take feedback from existing customers or check online references. It should not happen that a lower interest rate means inferior services.
The home loans are offered with a benchmark rate MCLR rate and prime lending rate (PLR). MCLR rate are more transparent compared to PCR hence it is advised to go for MCLR home loan.
Check for the estimated cost of a transaction. This includes processing fee and other applicable fees for transferring loan.
You can take help from online portals to find out the best deal for home loan balance transfer.
You can also prepare a comparison table for taking up fast decision. Here is a sample table.
Best Home Loan Transfer Offers in India – Comparison Table
| | | | |
| --- | --- | --- | --- |
| Bank | Home Loan Transfer Rates | Processing Fess | EMI per Lakh |
| SBI Home Loan Transfer | 7.90% | 0.20% – Min Rs.4000 | Rs.727 |
| HDFC Home Loan Transfer | 8.00% | Min Rs.10000 | Rs.734 |
| Bank of Baroda | 8.00% | Min Rs.10030 | Rs.734 |
| ICICI Bank | 8.45% | 0.25% | Rs.765 |
| Axis Bank | 8.25% | 0.50% | Rs.751 |
What is Top-up Home Loan?
Top-up Home loan is a facility provided by the bank and other financial institutions that allow you to borrow an additional amount over and above your home loan. It is like top-up of your mobile SIM. In mobile SIM when the balance is low, you opt for top-up. Similarly, in a Home loan if you have an additional requirement you can opt for additional money by Top UP Home Loan.
You can utilize Top-up money for property modification or construction of your house or meeting your personal expense also. The Interest rate applicable on top-up home loans is higher compared to a regular home loan.
To get Top-Up Home Loan, you need to contact your bank. You can get this loan in a regular course or even when you apply for a balance transfer.