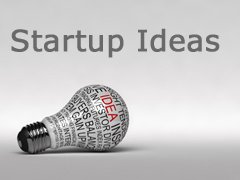 Want to start a business but don't have good startup ideas? Well today I am going to share 10 Innovative startup business ideas.
I am sure that these startup business ideas will give extra dimension to your thought on new business.
10 Best Startup Business Ideas
(1) Green & Clean technology Business:-
Soon World is going to face scarcity on natural resources. This can bring very good business opportunity. Yes I am talking about green and clean technology business.
Business ideas based on Green & Clean technology are
Green IT and Desktop recycling
Solar Panel and Solar cell business
Manufacturing or trading Energy efficient electrical device
Green Building Consultancy
(2) Independent BYOD consultancy business:-
Today information technology world is very dynamic. New IT device like tablet, iPad & Google glass is already available in market. Lot of people has stared adopting these devices as alternative to laptop.
Even organizations want to take advantage of this by allowing employees to bring their own device (Bring your own device) to save money but they are worried about management and security of Data.
If you carry IT knowledge you can start business as Independent BYOD consultant.
Also Read – 5 Innovative Startup Business Ideas
(3) Tele help service business:-
Next innovative startup idea is to provide Tele Help service on chargeable basis. This idea is something like Justdial.com.
In Justdial user just get information free of cost but here user can give some specific set of local task like bill payment, bank related work, ticket booking & other set of work.
(4) Mobile App Maker:-
Smartphone market is growing triple fold, so as the requirement of mobile apps. Google play and Apple store need no introduction today.
Every business or website is looking for good Mobile app devloper. If you are IT expert you can take advantage of growing expectation by starting mobile app business.
(5) Video Dating website:-
If you want to become internet entrepreneur this idea is for you. You can start video dating website where people record video of themselves — who they are, and who they are looking for.
Friends can record video and talk about their friend. This might be part of their own profile as well, how they speak about their friends. Users could add video clips of themselves talking about their interests.
You can also allow user to add photos and bio data for marriage.
(6) Social Search Engine:-
Social search engine is another very good business idea. This social search engine can provide social information about peoples like their contact details, profile, criminal records etc.
Data can be collected from facebook, linkdin or other active internet profile. You can charge to company who are seeking these information before employing people on job.
Also Read – 7 New Innovative Business Ideas
(7) Mobile Food Store:-
Starting mobile food store is another great business idea. People always look for healthy and tasty food. Establishing mobile food chain business can turn out to be very good startup business idea.
(8) Energy Efficient Consultancy business:-
Utilizing Energy efficiently is vital need today & many organizations or individual are ready to pay for it. If you energy expert and understand electricity very well you can start business of providing consultancy on energy usage.
(9) Book Exchange or Education Services:-
Another rocking startup business idea is to start book exchange service for engineering, medical & MBA students.
As we are aware that education cost has increased drastically to reduce burden student can opt for book exchange or book lease option. In this business idea you can lease books or offer book exchange.
(10)      Errand service:-
Today we find lot of working people don't even have time for simplest of errands, such as picking up kids after school, buying medicine, gift or household things.
Also Read – 20 Low cost marketing ideas for business 
You can offer errand service on chargeable basis to them. This is the kind of business where growth is fueled by referrals, so customer service and satisfaction are the most important goals.
10 Best Startup Business Ideas