ZestMoney –  Buy now, pay later (BNPL) is becoming a popular payment option in India. From applications to credit cards, everyone is coming up with options to attract people to shop on credit.
Zest is one such option that offers anything and everything on EMI with 0% interest with a facility to make payments over 3 to 4 months at no extra cost. Zest is accepted at over 10000 online &75000 offline stores including Amazon and Flipkart.
Let us understand everything about what Zest is offering to find out is it worth applying for Zest money or not?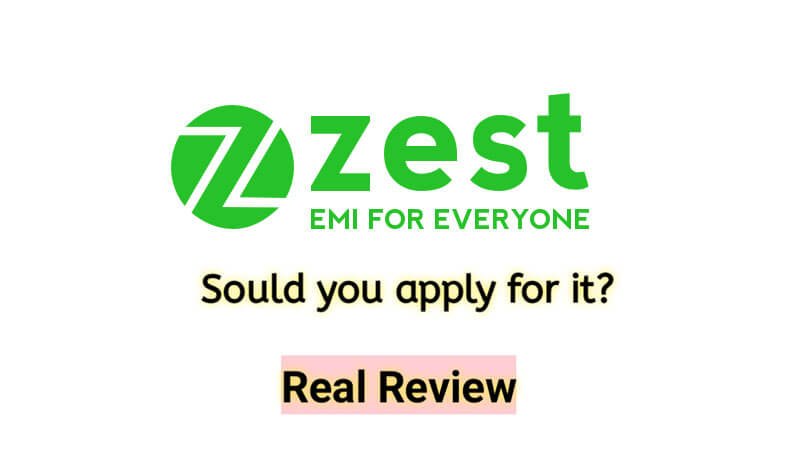 What is ZestMoney?
ZestMoney is the largest and fastest-growing consumer lending fintech company in India.
ZestMoney offers you free and instant loan to shop on EMI. You need not hold any credit card or debit card for using ZestMoney. Zest is completely online. Loans taken via Zest have the highest approval rates and zero pre-closure charges.
So, if you are going through a cash crunch or if you don't have access to a credit card or any other formal financing options due to insufficient credit history you can opt for Zest.
How Zest Money Works?
Zest Money works on No cost EMI or Buy Now Pay Later Concept. You just need to download Zest App and sign up for a credit limit by verifying your mobile number and submitting your KYC document.
You can use Zest to pay while making any payment. You need to choose the best EMI plan and make the purchase. You can also set up automatic repayments from your bank account.
Let's try to understand this by example. Suppose you buy a Mobile worth Rs.15000 at 3-month no-cost EMI using Zest. You will have to pay Rs.5000 each month for 3 months to Zest, which will be a total of Rs.15000 at the end of 3 months with zero interest cost.
Zest Money Key Features
No cost EMI without Credit card
Zest offers No cost EMI facility without a credit card. You can purchase with 0% interest and at the same time your account earns you interest on the money that you have saved from paying upfront.
Flexible EMI Options
You can avail flexible EMI options while making a purchase using Zest. You have the option to select from 3 to 12 month EMI options. This will help you to manage your money better. You can make prepayments without any penalties.
Completely Online
Zest is completely online. You need to worry about any paperwork while applying for a consumer loan using Zest. Everything is online on Zest App.
Fees and Charges
Application Fee Charges – NIL
Processing Fee – 0
Pre closure charges – NIL
Administrative Fees – Not Declare
Zest money does not charge any interest for the product purchased on EMI.
However, administrative fees are applicable as per the terms and conditions mentioned on the Zest site. Terms and condition say that – You understand and agree that ZestMoney may charge you a non-refundable administrative fee or a technology usage fee for facilitating the loan to be availed by you and you agree to pay the same. You must understand that this fee may not be refundable to you even if the loan is canceled for any reason whatsoever.
It indirectly means that this product is not completely transparent.
ZestMoney Review
Pros
No Joining Fee or Hidden Charges
Instant Loan approval and disbursal
Flexibility to select EMI option
No Paperwork complete process is online
No credit card or CIBIL score required
Wide acceptance at 10000+ online stores
Personalized credit limit up to 2 Lakh
Cons
No transparency in terms of administrative charges
Privacy is a concern
Customer Experience is poor in some cases
How to Apply for Zest Money personal loan ?
Download ZestMoney app or Go to the Sign-in page of ZestMoney on their westie.
Enter your mobile number, and click Get OTP, you will receive the OTP, enter the same and click on verify.
Activate your credit limit by completing your profile.
Mention your Personal details (enter Name, DOB and click to continue than provide your Pin Code and Address details and again click to continue and then enter your PAN CARD and AAHAAR CARD details.) and your Employment details.
Submit your KYC documents and set up your repayment to activate your credit limit.
Shop with any of ZestMoney merchant partners and utilize your credit limit.
Once you shop with any of zest money merchant partners with consistent repayments then you will be eligible for availing instant personal loan through ZestMoney.
Zest Money FAQ
Who is eligible for Zest Money?
Any Indian citizen with an age between 18 years and 65 years with a bank account and PAN card can apply for Zest.
Is it possible to switch to a different EMI plan, midway?
No, this is not possible. In case you need a change in your EMI tenure, you can repay your EMIs early without attracting any additional charges.
Can I change the repayment date of ZestMoney EMIs?
No, this is not possible.
What is Zest customer care number?
You can contact the customer support cell of ZestMoney at +91-6269000097
Should you apply for Zest Money? – My Thoughts
Well, Zest money offers multiple benefits. It is very easy to apply for Zest. The approval process is very fast. No paperwork or credit card is required to get an instant loan and it is claimed to be EMI with no cost.
However, transparency is a question mark on zest money. You may end up paying the extra money if you opt for a loan using Zest. Zest is not regulated by RBI. They get sensitive information while you apply for a credit limit which is big a concern as per me.
Additionally, They make use of Perfios web-based personal finance application to access your bank statement. They can read your bank statement and it is as per Zest Help section. L Do you think it is correct and transparent?
Well, if you are in a real cash crunch and do not have any option, you can go for Zest money or any other BNPL platform. However, make sure to do timely payments to avoid a debt trap.