Indian stock market is currently going through a bad phase. Sensex is losing its shine daily. Most of the shares are in the decline mode. Sensex could able to generate only 2-3% YTD return in 2018. However, few stocks have turn out to be wealth creator mulitbagger in 2018. In this post, I will share details about super performer multibagger stocks of 2018. I will also try to analyze the reasons behind the better performance of these stocks despite the bad market condition. So, let's discuss "Top 10 Wealth creator Stocks of 2018 – Delivered returns 50% – 100%"
Top 10 Wealth Creator Stocks of 2018 – 50% – 100% Returns
Merck
Merck is a pharmaceutical company. Merck is a leader in immuno-Oncology clinical research. This year stock of Merck has given a magnificent performance. From January 2018 to October 2018 this stock has given 119% returns to the investors.
If we look at financial of the company in the quarter ending June 2018 Net profit of the company has grown twice. In addition to that P&G is planning to acquire a big stake in Merck. The NOD from the government is also obtained. These were the primary reasons behind stock outperformance.
National Peroxide Limited
National Peroxide is very good chemical sector company. It is Wadia group company. National Peroxide has given a very good performance from Jan 2018 to date. This stock has generated 115% returns for the investors.
Looking at financials of the company I could make out that Net Sales and Net Profit of the company is growing every quarter. NPL is doing capacity expansion which will defiantly help a company to grow further. Monopoly product with very good demand is an additional point in favor of National Peroxide Limited.
Indiabulls Integrated Services
Indiabulls Integrated Services is next in the list of Top 10 Stocks of 2018. Indiabulls Integrated Services has given 84% YTD returns to the investor. Indiabulls Integrated Services have subsidiaries of Store One Retail India and Indiabulls Life Insurance. Although Indiabulls Integrated Services could able to deliver good returns but looking at financial and fundamentals it seems to be speculation-based performance.
Responsive Industries
Responsive Industries is plastic sector company. Responsive Industries has delivered 82% return from January 2018 to October 2018. The reasons of appreciation in stock price is given below.
Responsive Industries has very good potential to outperform. The financial results clearly indicate an increase in profit margin. The company is backed by parent organization wellknown business ventures. A company is planning to establish new plant abroad which will increase the company's potential to earn more money.
HEG
HEG is one of the popular company in the list of Top 10 Stocks of 2018. HEG is involved in carbon & graphite product manufacturing. A stock of HEG could able to deliver 80% YTD returns to the investor in the year 2018.
HEG Income statement clearly shows that Net sales and Net profit margin of the company are growing every quarter. Fundamentally HEG is a strong company. The strong management team and proven track record are plus points about this company.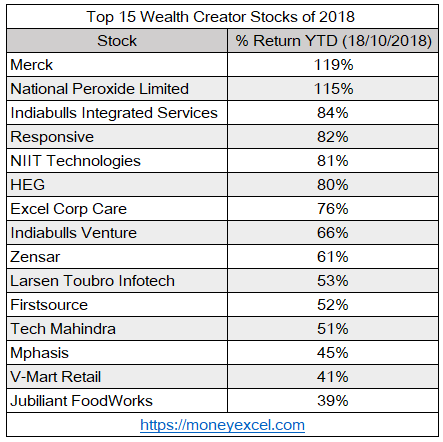 Excel Crop Care
Excel Crop Care is pesticide and agrochemical company. Excel Crop care has given very good returns to the investor in 2018. Total YTD return delivered by this stock is 76%.
The primary reason behind the increase in stock price is due to very good financial performance in the last quarter. Additionally, Excel Crop care is getting merged with Sumitomo Chemical India, which is subsidiary of Sumitomo Chemical Japan.
Indiabulls ventures
Indiabulls Ventures is a capital market company. The primary business of Indiabulls ventures is stockbroking. Indiabulls Ventures has generated 66% YTD returns for the investor.
The rise of Indiabulls ventures seems to be like bull market euphoria. Balance sheet and financial of this company are not very good. The current return offered by stock is purely based on speculation.
Zensar
Zensar is a software company. Zensar has given 61% returns to the investor in 2018. Zensar is increasing focus on digital, automation, machine learning, predictive analysis, blockchain etc.
Zensar is delivering very good result every quarter. A net profit margin of the company is growing. The company has strong fundamentals.  Looking at future digital requirement Zensar is good company for investment.
Larsen Toubro Infotech
Larsen Toubro Infotech is leading IT sector company. Larsen Toubro Infotech has generated 53% YTD returns for the investors in 2018. The prime reason for the increase in stock price is strong fundamental growth (YoY) and good order inflow. At a lower level, this sock is good buying bet.
Firstsource
Firstsource is a business process outsourcing company. Firstsource also provides customized banking and financial solution to the customers. Firstsource has delivered 52% YTD returns for the investors in 2018. The company is posting very good results. Debt reduction is another plus point about this company. Firstsource is expected to perform better in the future.
Other stocks which could generate wealth for the investors in 2018 are NIIT Technologies (81%), V-Mart Retail (41%), Jubilant FoodWorks (39%), Mphasis (45%) & Tech Mahindra (51%).
All these stocks were able to generate a very good return due to good business potential, strong fundamental. The past performance of the stock does not guarantee future performance. Request you to do proper research before taking any position.
Also Read – Best Stocks to buy in India for long term Investment
What investor should do now?
Stock Market is directionless and expected to remain range bound for few months. As an investor, you should not panic, stay invested in stock with good fundamentals. If blue chip stock is available at a lower price you should capture the opportunity to invest. Invest in stock with good future potential and invest for long-term at least 3-5 years to nullify the effect of market volatility.
What are your views on these wealth creator stocks? Do you think these wealth creator stocks will give good returns in the future?