Trading in stock market is always risky affair, now investor can trade with virtual money in virtual environment using virtual stock trading Platform called TrakInvest.  TrakInvest is world's first virtual social equity trading platform. This platform will help investors to improve their skills and knowledge about trading. It will also boost up their confidence while dealing with stock market.
What is TrakInvest?
Trakinvest is unique virtual stock trading platform which works on learn share and earn model. Benefits of TrakInvest are:-
Enhancing Your Knowledge
It is observed that 60% investor does investment based on limited knowledge, rumors, news, tips or with improper information.
If you are one of them TrakInvest is for you. It will enhance your knowledge by providing all reliable information, contextualised stock news and twitter feeds at single place. It also provide access to 12,000 free research papers for download. This research papers are updated on weekly basis. You can even learn from other trader's activity.
Making You Smart Investor
It is known fact that "Practice makes man perfect" – Doing something over and over makes you better at it. You can use similar fact at TrakInvest. You can start with Rs 50 lakh of virtual cash to build your winning portfolio.
You'll get your own transparent, exportable investment report that evolves over time. It will help you learn and adapt, and you can see your exact rate and speed of trading improvement. This will make you smart investor. You can even take part in competitions where you can win great prizes including finance jobs and internships.
Anytime Anywhere Access
You can Trade, learn, and share anytime with the free TrakInvest App. You can download this app from the Google Play Store.
With this app you can Buy and sell stocks in your virtual portfolio on your mobile. You can follow leading traders anywhere.  You can trade in 6 global markets, wherever you are.
Dashboard of TrakInvest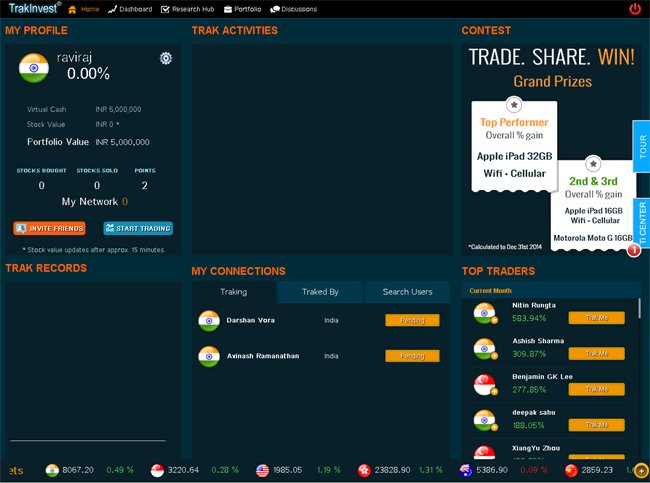 So what are you waiting for start using this virtual stock trading platform free facility by Trakinvest.com
Do share your valuable feedback with us!