SBI India's largest public sector bank has recently launched mCash, easy and quick money transfer service. SBI mCash allows SBI customer to transfer money to anyone irrespective of whether the receiver is SBI customer or not. In order to transfer money you need email id or mobile number of recipient. mCash is accessible via Internet banking facility (www.onlineSBI.com) or State Bank Anywhere mobile app. This facility is not free you need to pay Rs 2.50 per transaction. Let's take a quick look at how to use mCash by SBI.
How to use mCash by SBI for money transfer?
To Send Money
Sign into onlinesbi.com from the browser or State Bank Anywhere.
Click on State Bank mCash link.
Enter beneficiary mobile number or email id and amount and click on send.
To Receive Money
Recipient gets a link in the SMS or in email including 8 digit passcode based on the medium selected by the sender.
Recipient has two options to claim the funds. He can use mCash mobile App (Available on Andriod Platform) or He can go to State Bank mCASH link available on pre-login of Online SBI.
Receiver needs to enter Account Number, IFSC Code, passcode and Mobile number or E-mail address.
After verification of the details, real-time fund transfer will take place to recipient's account.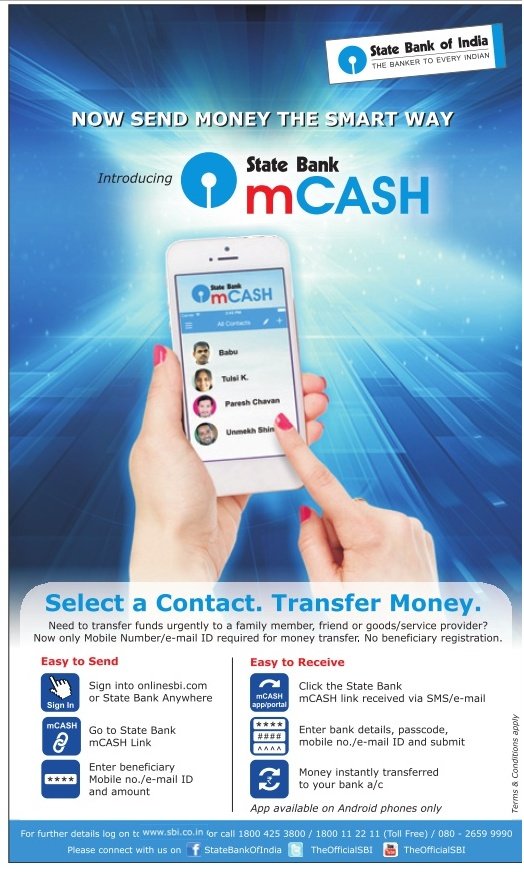 Any SBI customer having Internet Banking facility can now transfer up to Rs 1000 at one time, up to Rs 2000 a day and up to Rs 5000 per month.
This facility is available for State Bank Group and IMPS enabled Bank only.
As per me, it is a very good initiative by SBI however, transaction limit of Rs 2000 per day and transaction charges Rs 2.5 per transaction is negative point of mCash.
What is your opinion about SBI mCash. Do share in comment sanction.