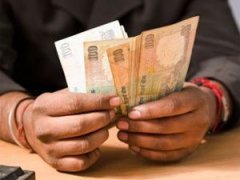 Union Budget 2015– "Good days are coming" this was main slogan given by BJP government before coming in to power. Every citizen of India believed in this dream and voted for BJP, but it seems we have to wait for good days. Union Budget 2015 was big disappointment from good day's point of view.
Let's Review Union Budget 2015-16 & its impact on you in detail.
Union Budget 2015 – Review
For Individual Tax Payer:-
Tax Rate (Slab) remains unchanged for individual tax payer for FY15-16.
80 C limit remains unchanged -1.5 lac.
Wealth Tax is abolished. Separate 2% additional surcharge being levied on income exceeding 1 Cr.
As medical expense are increasing section 80D exemption limit of 15000 Rs/- is enhanced to 20,000 Rs/-. For senior citizen this limit will be 30,000 Rs/-.
It is proposed to increase 80DDB limit to Rs. 80,000 for very senior citizen.
Section 80DD and section 80U is proposed to be amended, new limit applicable for 80DD is 75,000 Rs/- and for 80U it is 1.25 lakh.
Additional deduction of 50,000 Rs/-for contribution to NPS under section 80CCD
Section 80 G is amended and it is proposed to provide 100% deduction for donation towards Swachh Bharat Kosh and Clean Ganga Fund.
Sukanya Samriddhi Account is now fully exempted from income tax, this includes payments to the beneficiaries including interest payment.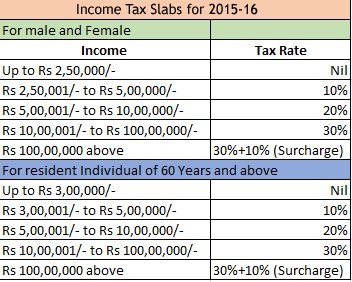 For Individual Buyers:-
Service Tax is hiked to 14% from 12.36%. Changes are also made for custom duty & excise duty. Custom duty is reduced on 22 different items.
Following thing will become costlier after budget.
Cigarettes, chewing tobacco, Gutkha and Pan masala
Telephone and Mobile Bills
Food and Hotel Bill
Tution Fees
Gym and Beauty Treatment
Car Maintenance
Courier & packaging
Taxi Services
Business class air travel
Cement and raw material for real estate
Visit to amusement park
ATM , Demand Draft and Loan processing charge
Life Insurance premium
Following thing will become Cheaper after budget.
Locally made mobile phone
LED and LCD panels
Computer Tablets
Solar Energy equipment
Microwave Ovens & Refrigerator
Package food and vegetable
Lather Footwear
Most-liked about Budget 2015:
Proposal to reduce corporate tax from 30% to 25% over the next four years.
Pradhan Mantri Suraksha Bima Yojna to cover accidental death risk of 2 Lakh for a premium of just 12 Rs/- per year.
Wealth-tax is replaced with additional surcharge of 2% for super rich.
10 year imprisonment for offence related to black money & evasion of tax. 
Most-disliked about Budget 2015:
No revision for income tax slab
Service tax hiked from 12.36% to 14%.
For Gold Import duty stays at 10%.
Implementation of GST is delayed for 1 year.
Do share your views on Union budget 2015-16.