Uni Pay 1/3 Card Review –  Buy now and pay later is gaining popularity now a day. Everyone is coming up with a new product around this concept. Uni Pay 1.3 Card is one such unique product that offers the facility of buying now and paying later. 
Let's review Uni Pay 1/3 Card and get the answer – Should you opt for this unique card or not?
What is Uni Pay 1/3 Card?
Uni Pay 1/3 is an app for domestic prepaid type cards. This app helps you to get your credit limit and issuance of Uni card to spend money online as well as offline. The unique feature of this card is it allows you to divide your expense into 1/3 (three equal parts) and pay over three months without any extra cost.
This means by using Uni Pay 1/3 card you can use the money on credit for 3 months. The best part is you need not pay any interest or late fees for the delayed payment (up to 90 days). Not only that if you pay money within one month you will get 1% reward as cashback.
This card is launched by Uniorbit Technologies in association with RBL Bank and State Bank of Mauritius (SBM) and Liquiloans and it is powered by Visa.
How Uni Pay 1/3 card work?
Suppose you use a Uni Pay card for shopping and your monthly bill is Rs.45000. You can make full payment of this bill, but if you are running out of cash you can opt for deferment. You can divide your expense into 1/3 (three parts) and pay Rs.15000 every month.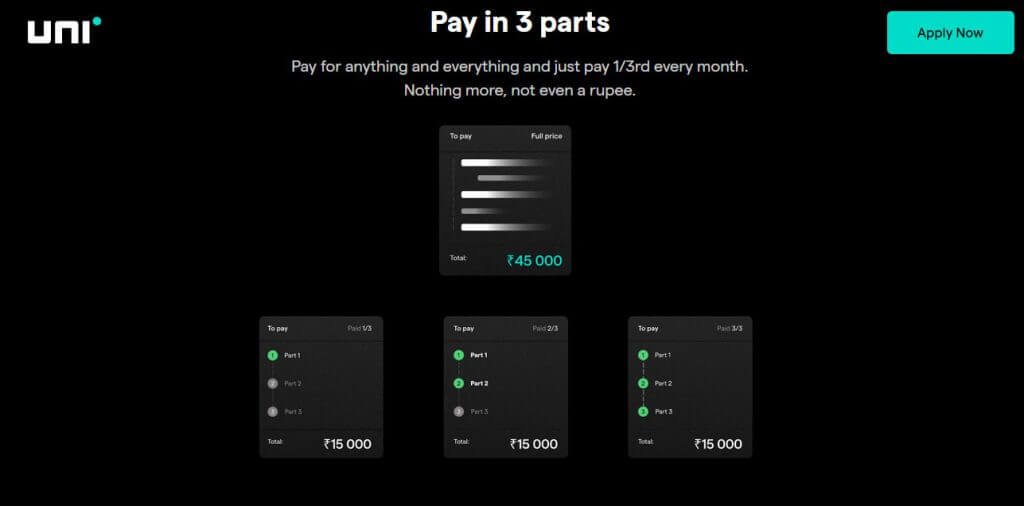 This card comes with a credit limit just like credit cards. Your credit limit is decided based on your credit score. Your credit limit is readjusted every month based on your dues. This means if you opt for the 1/3 payment option, your credit limit for the next month will be reduced up to your unpaid due amount. As you keep clearing your monthly bills, your credit limit will be restored back.
This card is issued without any fees. Yes, it is an absolutely free card without any terms and conditions. The only fee you have to pay is a late fee in case you miss the payment.
Uni Card Features
Spend Now pay later in parts
From groceries, utility bills, medicines, clothes to any other expense – you can make use of Uni card anywhere online and offline and opt for the pay later option.
Uni card allows you to spend now based on your credit limit and you can clear your dues in parts across three months without any interest. This means you have the flexibility to pay back without paying anything extra.
Cashback
Like all other credit cards, Uni card also offers cashback. 1% cashback is offered by this card. This cashback is given only if you choose to clear your dues within 30 days.
Split into longer EMI
In case you have a cash crunch you can split your purchase into longer EMI. Uni card offers a longer EMI option. You can select affordable EMI ranging from 6 to 18 months' timeframe.
No Joining Fee
Uni card is a free card without any hidden charges. You can apply using an app and enjoy its benefit free of cost.
You need not pay any joining fees. No annual maintenance charges are applicable for the early customers.
Money back guarantee
Uni Pay claims that it offers 100% transparent services. Nothing is hidden from the customer. 100% money will be returned in case any fee or charge is applied without customer knowledge.
Security
Uni Pay card offers completely secured transactions. Entire data exchange happens in a secure way everything is encrypted and no one has access to customer data.
Uni Pay Benefits
Buy now and pay later in EMI plans.
Convert your spending into three parts and increase your liquidity.
You can get 1% reward when you pay full amount in a month.
Option to set card limit for online and offline transactions.
Bill reminder facility for due payments.
One click card lock facility.
Fees and Charges
Joining Fee – NIL
Annual Maintenance Fee – NIL
Carry forward fee – Up to 5.5%
Interest on revolving amount – Late Fees as per different slabs
Uni Card Late Payment Slab
| | |
| --- | --- |
| Late Payment Fee | Outstanding Amount |
| Zero | Between INR 1 to INR 250 |
| INR 25 | Between INR 251 to INR 1000 |
| INR 100 | Between INR 1001 to INR 2500 |
| INR 250 | Between INR 2501 to INR 5000 |
| INR 500 | Between INR 5001 to INR 10000 |
| INR 1000 | Between INR 10001 to INR 20000 |
| INR 1500 | Between INR 20001 to INR 30000 |
| INR 2000 | Between INR 30001 to INR 40000 |
| INR 2500 | Between INR 40001 to INR 50000 |
| INR 3500 | Between INR 50001 to INR 75000 |
| INR 5000 | Between INR 75001 to INR 100000 |
| INR 7500 | Between INR 100001 to INR 200000 |
| INR 10000 | Between INR 200001 to INR 1000000 |
Uni Pay 1/3 Card Review
Uni Pay 1/3 Card is a unique card that offers multiple benefits and the best part is you can divide your payment into three parts. Additionally, it offers multiple other benefits including cashback and rewards. If we compare Uni card against credit cards it scores more against credit cards.
Comparison of Uni Card with other credit cards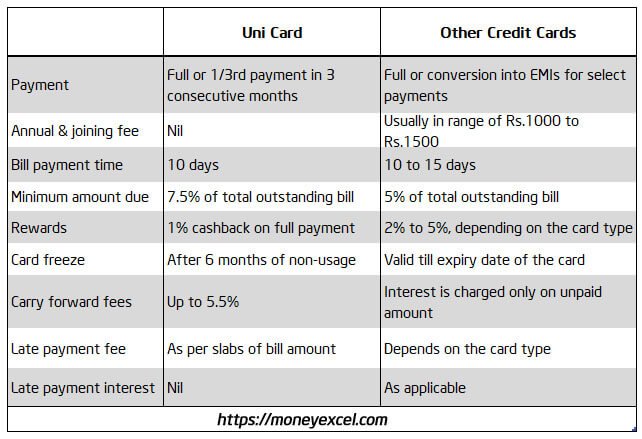 Pros
Life-time free card.
Pay later facility useful for emergency and high-value transactions.
No Interest payment only late fee charges.
1% Cashback facility for clearing entire due in one month.
24×7 customer support connected via WhatsApp, call, and email.
Instant virtual card issue using App.
Cons
The late fee is higher compared to other credit cards.
Uni card can be used domestically. You cannot use it for international transactions.
Uni card cannot be used for cash withdrawal-like other credit cards.
You cannot reload this card as a wallet/prepaid card.
Should you opt for Uni Pay 1/3 Card?
Looking at lucrative benefits and no interest fee up to 3 months of Uni card, you must be excited to opt for this card.                ,
However, you should opt for this card only if you can control your expenses and clear your dues on time. Otherwise you may end up in debt trap. The late fees applicable on this card is very high compared to credit cards.
E.g If you default on Uni Card above 3 months and your due amount is Rs.50000 you need to pay Rs.3500 as a late payment fee. On the other hand, if you have defaulted on ICICI credit card late fee applicable is Rs.750. This means the catch point in this card is late fees. This means interest charges of credit card are covered under late fees.
I can say that Uni Pay 1/3 Card is a very good option for new credit card customers that are not eligible for traditional credit cards due to low salary or income. This card is also suitable for emergency usage.
In case you opt for this card you need to be cautious about overspending and clearing your dues in time.
How to apply for Uni Card via Uni App?
The process of applying for Uni card via app is super easy. You can get an instant card within 5 minutes. The entire KYC process is done via Aadhaar and Selfie.
Download and install Uni cards app from Play store (Download Uni cards APK) for Android users or Apple App Store for iPhone users.
Enter your mobile number which is linked with your Aadhaar.
On successful mobile verification, you can start an Eligibility check.
Once this check is completed you need to enter PAN and name and DOB as per PAN card.
Next is the selection of employment type. Now you will be able to see credit score and credit limit on screen.
Now complete your e-KYC using Aadhaar and Selfie.
You will get instant approval on the app with the issuance of a virtual card.
Physical card delivery will be done within 2-3 days.
Uni Card FAQ
Who is Eligible to Apply for Uni Card?
To apply for Uni Card you should be a resident of India aged above 18 years. Your credit score should be in the acceptable range.
How to reach Uni Card Customer care?
The customer care number of the UNI Card is 08068216821. You can also reach Uni Card via WhatsApp.
What is the validity of Uni card?
The validity of Uni card is unlimited. It is a lifetime free card. However, if you don't use this card for 6 months it will be frozen.
What is the credit limit that I can avail via Uni Pay Card?
The credit limit of this card varies from Rs.20000 to 6 Lakh. However, your credit limit will be based on your credit score.
I am NRI, can I apply for this card?
No, NRI is not allowed to apply for this card. You have to be an Indian resident to apply for this card.
Final Thoughts
As per me, Uni Pay 1/3 card is a unique and powerful card that comes with a payment deferment benefit to save you from a temporary cash crunch.  However, if you are a premium segment customer and already using a credit card with multiple rewards and benefits you may not find this card worth holding.
Did you use Uni Pay Card for payment? Can you share your experience of using this card in the comment section given below?