Today selecting a best mutual fund for investment is a marathon task. Types of mutual funds, investment objective, asset allocation, historical return are few factors that make our task difficult while selecting a mutual fund. There are plethora of choice when it comes to mutual fund section. Whether to invest in large cap, small cap, balance, thematic or index fund is always a question. In absence of specific guideline, so-called experts and fund house make their own nomenclature while defining mutual fund.
Let me explain this with the example. SBI Magnum Multiplier Fund, Money control define this fund as "Diversified Equity Fund" whereas the same fund is identified as "Multi Cap fund". Although the definition of Multicap and Diversified Equity fund is nearly same it makes investor confused when it comes to investment.
In order to overcome this types of problems and to establish desired uniformity in mutual fund schemes, it is decided to do categorization and rationalization of mutual fund scheme by SEBI. As per latest circular by SEBI it has been decided to categorize the MF schemes as given below.
Types of mutual funds in India – Latest Categorization
Now onwards Mutual fund schemes would be broadly classified into the following groups.
Equity Schemes
Debt Schemes
Hybrid Schemes
Solution Oriented Schemes
Other Schemes
Under each mutual fund schemes, there are several types of mutual funds categories. The characteristics and description of each category is specified by SEBI. Any existing mutual fund schemes or proposed scheme shall be classified and categorized based on applicability.  Any documents, marketing material or advertisement will use same category and uniform description.
Also Read – Top 20 Best Mutual Funds SIP to invest in India for 2018
The investment objective, investment strategy and benchmark of each scheme shall be modified (wherever applicable) to bring it in line with the categories of schemes listed above.
Equity Schemes – 
As per latest guideline Equity scheme contains ten categories namely Multi Cap Fund, Large Cap Fund, Large & Mid Cap Fund, Mid Cap Fund, Small Cap Fund, Dividend Yield Fund, Value Fund, Focused Fund, Sectoral Fund and ELSS. Scheme characteristic and description of each scheme is given in the following table.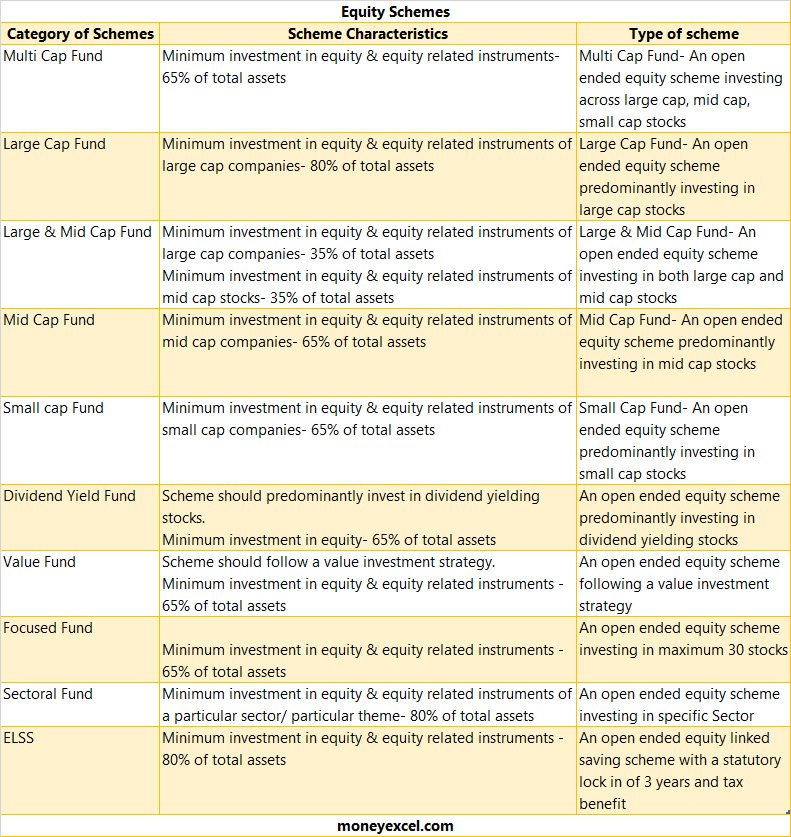 Debt Schemes – 
Debt Scheme contains sixteen types of mutual funds starting from liquid funds, ultra-short duration fund, low duration fund, money market fund, medium duration fund etc. Scheme characteristic and description of each scheme in debt schemes is given in the following table.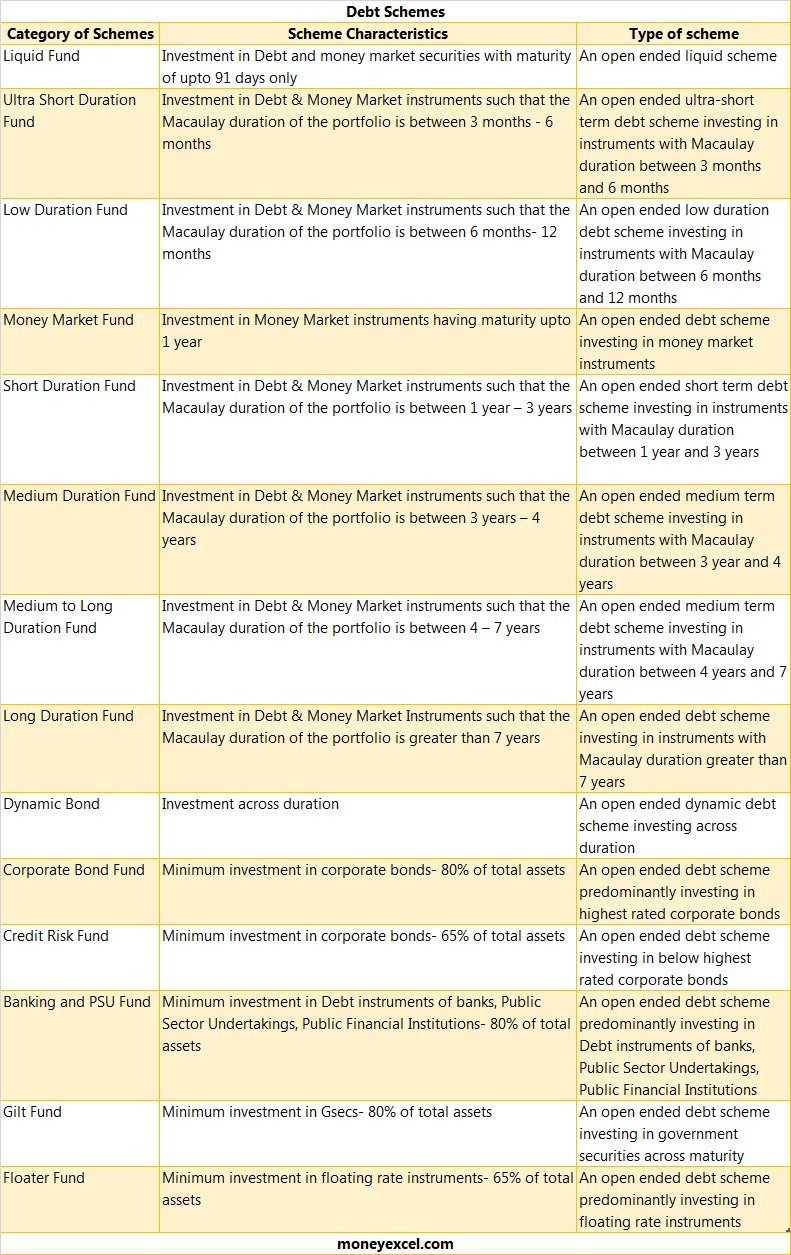 Hybrid Schemes –
Hybrid Schemes contains six different types of mutual funds like conservative hybrid fund, balance hybrid fund, Arbitrage Fund, equity saving fund etc. Details of these fund types are given in the table below.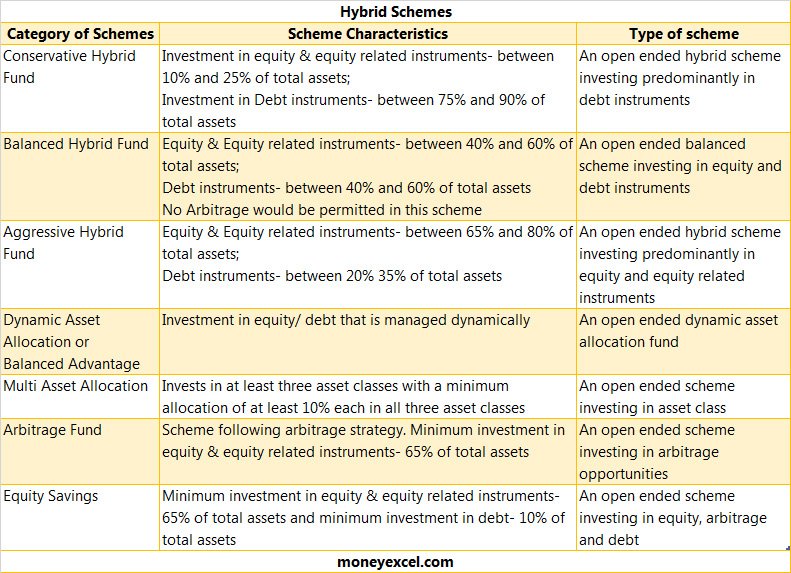 Solution Oriented Schemes –
In solution oriented schemes two fund categories are made namely retirement fund and children fund.

Other Schemes – 
Other fund schemes contain index fund and FoFs fund. Details are given below.
Way Ahead and Takeaway –
Now fund house needs to analyze each of their existing schemes. They need to submit the proposal to SEBI for approval. The proposal may include a course of action like winding up, merger, attribute change etc. After approval from SEBI appropriate actions would be taken by the fund house.
This is a welcome step which will eliminate duplicate funds.
It will also bring uniformity across mutual funds and bring standardization in scheme categories and characteristic.
The number of Mutual Fund will reduce either due to merger or elimination. It is expected that current mutual fund count will be reduced drastically.
It will bring clarity in Investor mind and Investor will be able to take the informed decision.
Comparison of fund rating across agencies would be possible.
Large fund house needs to work more towards consolidation or elimination of schemes.
However, it is not clear that what will happen to NAV in case of merger of two large scale funds. How transfer of units shall take place and what will be tax implication? Other thing which remains unclear that what will happen in case of elimination of fund? Do we need to pay tax on redemption and what about exit load?
For more information kindly go through SEBI circular on Categorization and Rationalization of Mutual Fund Schemes.