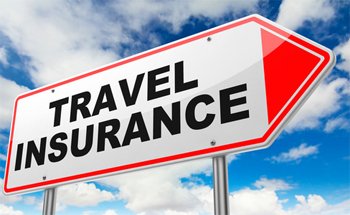 Buying a Travel Insurance means covering yourself against travel risks such as loss of luggage, accident etc. It is not compulsory to buy travel insurance for domestic travel. However, it is highly recommended to opt for travel insurance if it is available at a lower cost or free.
Travel companies such as IRCTC and Ola offers low-cost travel insurance policy for rides or trips you take with them. In this post, we will take a look at key features, benefit, and coverage offered by IRCTC travel insurance and Ola Travel insurance.
Also Read – 5 Best Popular Travel Insurance Policies for International Trips
Travel Insurance from IRCTC
IRCTC travel insurance is also known as train travel insurance. This insurance is provided by third-party insurance companies such as Bajaj Allianz, ICICI Pru, Royal Sundaram etc. This insurance policy is only for e-ticket passenger. The process of getting Travel Insurance from IRCTC is given below.
Any passenger booking his/her train e-ticket via IRCTC website or IRCTC app can opt for this insurance facility. During the booking of e-ticket IRCTC website/app will ask you to accept terms and condition.

Key Features of IRCTC Travel Insurance
You need to pay 0.49 Rs per person to get this insurance.
Citizen of foreign countries are not eligible for this scheme.
This scheme is optional, however if the option is exercised it will be compulsory for all passenger booked under one PNR number.
Customer shall receive the policy information through SMS and on their registered email IDs directly from Insurance Companies along with the link for filling nomination details.
The optional travel insurance will not be provided for the children below 5 years of age.
Once the premium is paid by the passengers no cancellations is allowed. Accordingly, no refund of premium will be made in all cases including waitlisted ticket.
IRCTC Travel Insurance Benefits and Coverage
The coverage for the policy shall be for each passenger under the PNR in case of Death, Permanent Total Disability, Permanent Partial Disability, and Hospitalization Expenses for Injury and Transportation of mortal remains following Rail Accident or untoward incident. Coverage provided by this insurance is given below.
Death – Rs 10,00,000
Permanent total disability – Rs 10,00,000
Permanent partial disability – Rs 7,50,000
Hospitalisation expenses for injury – Rs 2,00,000
Transportation of mortal remains – Rs 10,000
How to make Claim?
The process of claim is easy. The nominee or the legal heir need to submit a detailed statement to the insurance company within four months of the incident. They need to submit all proof and information relevant to the claim. As it is third party insurance claim needs to be filed on their website.
It is not mandatory to purchase this travel insurance. However, as premium amount is very low and coverage amount is high you should opt for this insurance if you are traveling by Indian Railway.
Travel Insurance from Ola
Ola Travel insurance is provided by Ola for Ola Rides. This insurance is also known as customer trip insurance. Ola has partnered with Acko General Insurance to provide insurance to the customer. This facility is provided for intra city, rental as well as outstation rides.  This facility is available on all 110 cities where Ola is providing services. The process of getting Ola ride insurance is given below.
In order to opt for Ola Ride insurance you need to go to Ola app > My Profile > Ride Settings > Ride Insurance. Under Ride Insurance you will find various options for ride insurance. You need to toggle insurance switch ON if you want to opt for an insurance. You can even check coverage details from this menu. The premium amount for daily ride is Rs.1. However, for rental and outstation trip you need to pay Rs.15 and Rs.49 as an additional insurance premium amount.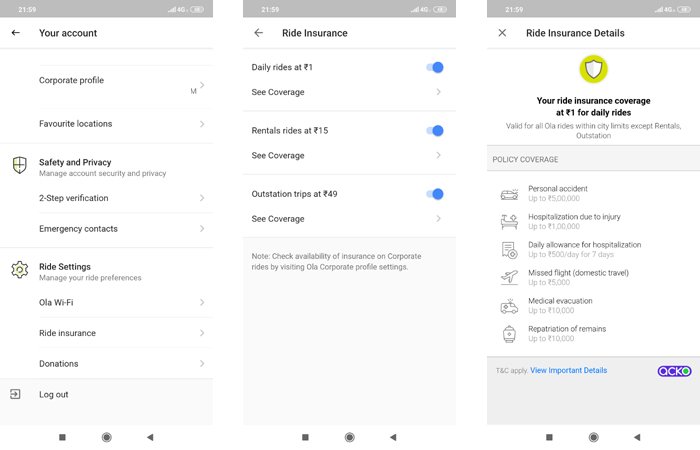 Key Features of Ola Travel Insurance
It is optional insurance coverage provided with Ola Rides.
It is third party insurance and not directly provided by Ola.
The insurance provide coverage for missed flight due to driver cancellation, medical expenses, and baggage loss.
The insurance also covers personal accident, hospitalization due to injury.
Ola Ride Insurance Benefits and Coverage
The policy coverage provided by Ola on Daily, Rental, Outstation trip are different.
Coverage for Daily Rides
Personal Accident Cover up to Rs.5 Lakh
Hospitalization due to injury up to Rs.1 Lakh
Missed Flight up to Rs.5000
Medical evacuation up to Rs.10000
For Rental and Outstation trip personal accident coverage is Rs.7.5 Lakh and hospitalization due to injury coverage amount is up to Rs.2 Lakh. For outstation trip more coverage benefits are given.
How to make claim?
The claim process is very easy. You can claim directly from your Ola App. You need to go to Your Rides for which you want to raise a claim. At the bottom you will be able to see Support button. On clicking support button you will be able to see "Claim Insurance for this ride". On the next screen you will be able to raise claim.
If you are using Ola Rides it is advisable to go for ride insurance as premium amount is low and coverage is high.