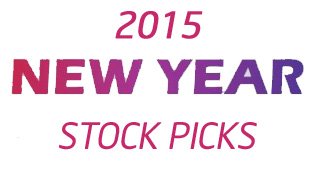 2014 was best year for stock market. Stock market has seen strong liquidity driven rally in 2014. BSE Sensex jumped by 6000 points and Nifty by almost 2000 points. Over return given by stock market was 32%.  Formation of stable government and strong FII inflow was prime factor behind stock market rally.
2015 is expected to be average year for stock market. Significant factors that may affect stock market in 2015 would be crude price, inflation rate, fiscal deficit, GDP, disinvestment announcement and other reforms taken by Modi Government for stimulation of economy. Religare recommend following stocks for investment in 2015.
Top Stock Picks by Religare -2015
IPCA Laboratories
First stock for 2015 is IPCA. Ipca is a fully integrated, rapidly growing Indian pharmaceutical company with a strong thrust on exports. Growth in US market is the major driver for its business and it expects high growth in the next couple of years. The Company also expects domestic business growth by 15-17%. Religare recommend to invest in this stock with target price of 870 Rs/-.
Mahindra & Mahindra Limited
Mahindra & Mahindra is Auto Sector Company dealing in passenger vehicle segment. This year company is expected to launch 2 SUV (sport utility vehicle) and 1 CV (consumer vehicle). M&M is also expecting increase in demand of utility vehicle and tractor sales with new launches. Religare recommend to invest in M&M with target price of 1450 Rs/-.
PI Industries
PI Industries is a leading Agri Input and Custom Synthesis & Manufacturing company in India. As India is agriculture based nation demand of this sector will continue. With favorable monsoon condition and higher crop price agrochemical companies will continue to perform better. Religer recommend to purchase PI Industries with target price of 580 Rs/-.
Sundram Finance Limited
Sundaram Finance Ltd (SFL) is leading non-banking finance companies (NBFC) in the country. SFL provide finance for purchase of commercial vehicle and machinery. Going forward in 2015 due to industrial growth and boost in real estate sector demand of commercial vehicle will continue and SFL is expected to perform better. Religer recommends to invest in SFL with target price of 1700 Rs/-.
Wipro
Wipro is next pick for 2015. This IT stock performed very well in history. The Company sees a significant rise in business confidence in developed markets as well as in India. It is expecting strong demand in the verticals of healthcare and life-sciences, manufacturing and hi-tech. Further a pickup in tech spending in the domestic IT market could assist revenue growth in H2FY15. Religer recommend to invest in wipro with target price of 700 Rs/-.
Read Full report of outlook 2015 from here.