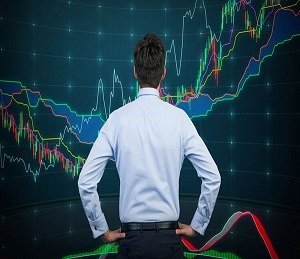 The year 2018 was a rollercoaster year for the Indian stock market. Strength in dollar value, FII outflows, business conditions and trade wars were few factors which have influenced the market in 2018. A Sensex has just grown by 6% in 2018.
In the year 2019, Lok Sabha election will play a major role in the stock market. If BJP led NDA will win the election, the stock market will touch the new heights. If Congress-led UPA gains majority reverse may be the case. In addition to the election, few other factors which will influence the market in 2019 are domestic GDP, macroeconomic variables, oil price, global market condition, and dollar value. Whatever be the case, one thing is sure that investors are expecting the Indian stock market to grow exponentially in 2019. With this positive note, let's take a look at Top Stock Picks of 2019 by few leading brokerage houses.
Also Read – Multibagger Stocks for 2019 by Vijay Kedia & Porinju Veliyath
Top Stock Picks 2019 by ICICI Direct
Apollo Hospitals
Apollo Hospitals is first top stock pick 2019 by ICICI Direct. Apollo Hospitals derives revenues from two broader segments – 1) healthcare services i.e. hospitals, 2) pharmacy. Both these segment are growing and likely to do better in the market. Recent financials demonstrate a consistent margin improvement across segments. A good business model with strong management pedigree is positive points about Apollo Hospitals. A target price for Apollo Hospital is Rs.1440.
Astral Poly Technik
Astral Poly Technik is next stock pick for 2019. Astral Poly Technik is plastic pipe company. A company has come out with strong financial numbers. Astral Poly Technik is supported by capacity addition and expansion in new geographies. A government push on housing and infrastructure sector will give a boost to this stock. A target price of Astral Poly Technik is Rs.1250.
City Union Bank
City Union Bank is first banking sector stock recommended for 2019. City Union Bank is one of the oldest private sector banks. City Union Bank is well placed among regional players and on the capital front. ICICI Direct has recommended this stock with a  target price of Rs.225.
Grindwell Norton
Grindwell Norton (GNL) is a major player in the Indian abrasives industry with around 25% market share. A robust balance sheet and a huge product portfolio and support by Saint Gobain is a positive side of this company. Going forward GNL will grow at a healthy rate. A strong balance sheet and debt-free status are positive sides of GNL.
Jyothy Lab
Jyothy Lab is diversified from a single brand to multi Products Company. Its planned expansion in the Ayurveda segment is expected to enhance its revenue from personal care segment in the foreseeable future. The stock is trading at a discounted price and poses a good investment opportunity for investors.
Ramco Cements
The Ramco Cement (Ramco) is one of the largest cement players in south India. Ramco is about to start operation in the eastern region. It is one of the most cost-efficient cement producers in south India. A new expansion plan and increasing demand will surely help this stock in increasing earning.
Somany Ceramics
Somany Ceramics is a leading tile manufacturing company. Last year Somany faced many disruptions like a trucker strike, Kerala Floods etc. All these issues are settled down and a company is set to grow in 2019. The target price set for Somany Ceramics is Rs.410.
Read Complete ICICI Direct Top Stock Pick report 2019 here.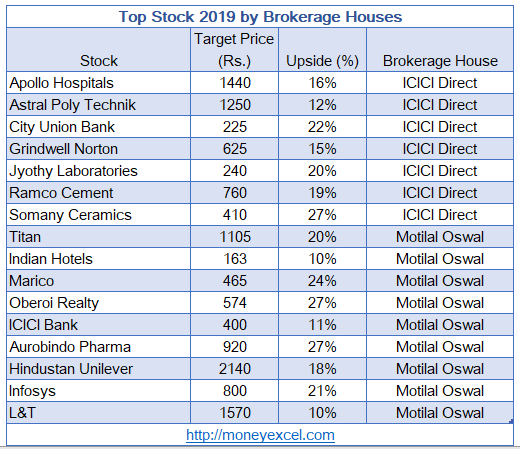 Top Stock Pick 2019 by Motilal Oswal
Titan
Titan is first stock pick by Motilal Oswal for the year 2019. Titan is one of the hot favorite stocks of Rakesh Jhunjhunwala. As per brokerage house wedding season, demand is scaling up for Titan. Jewelry sale is likely to grow in 2019 which will benefit Titan. The target price set for Titan is Rs.1105.
Indian Hotels
Indian Hotels is next stock pick for 2019 as per Motilal Oswal. Indian hospitality industry is set to enter into an upcycle, led by favorable demand-supply dynamics. Indian Hotels will get an advantage of the emerging condition. The target price of Indian Hotels is Rs.163.
Marico
Marico is Consumer Goods Company. Marico is expanding by launching new products and setting up a good distribution channel for the product. It is on the sustainable moat for the future.
Oberoi Realty
Oberoi Reality is a leading real estate company in India. Oberoi Realty has a very strong balance sheet. The cash flow expectation from the ongoing project is very high. The target price set for Oberoi Realty is Rs.574.
ICICI Bank
ICICI Bank is leading private sector bank in India. At this moment ICICI Bank is showing healthy signs of earnings normalization. ICICI bank will show good earning momentum due to increase in domestic business growth.
In addition to the above stocks, other stocks recommended by Motilal Oswal for 2019 are Aurobindo Pharma, Hindustan Unilever, Crompton Greaves Consumer Electricals Ltd, Infosys, and Larsen & Toubro.
Over to you
Do you think these Top Stock Picks for 2019 will generate good returns in the future?
Do share your thoughts in the comment section. 
(The views content and recommendations expressed in this post are of leading stock brokerage houses and do not represent those of Moneyexcel.com. Please consult your financial adviser before taking any position in the stocks mentioned)