The year 2017 was a magnificent year for the Indian stock market. Sensex started its journey from 26626 level and expected to end at 34000 level. In short, sensex gained 27% since January 2017.In addition to this S&P BSE Midcap index rose nearly 40%. The stock market has beaten almost every asset class except cryptocurrency bitcoin. A political stability, economic boost and GST implementation are few key events that affected stock market in 2017.
Soon we will be entering into New Year 2018. Union budget 2018, financial results of the company and global market condition are few factors that will drive the market in 2018. Let's hope 2018 will be a very good year for the stock market investors.
Before moving ahead with Multibagger stocks of 2018, let's take a look at 10 Multibagger stocks of 2017.
Also Read –  20 Multi-bagger stocks for Investment
25 Multibagger stocks of 2017
Top 25 multibagger stocks of 2017 are India bull ventures, Sanwaria Consumer Ltd, Venky India, Manasksia Steels, Avanti Feeds, Shakti Pump, SIL Investments, Philps Carbon Black, Sakuma Exports, Visaka Industries, India Gycols Limited, Panama Petrochem, Dhampur Sugar Mills, Ramky Infrastructure, Andhra Sugars, GNFC etc.
CAGR return of these stocks is in the range of 1138-100%.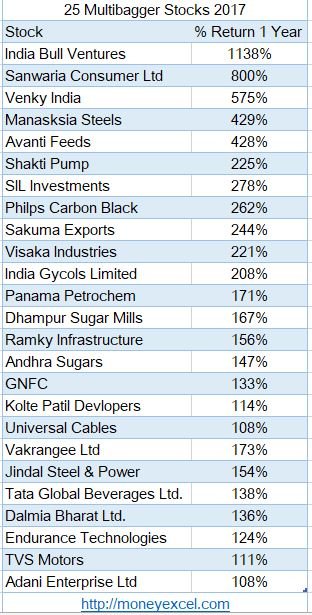 Top Multibagger Stocks recommended for 2018
Potential Multibagger Stock from Large Cap Segment – 2018
Maruti Suzuki –
CMP – Rs. 9830/-
Target Price – Rs. 16000/-
Potential Upside – 62%
Maruti Suzuki is first potential multibagger stock for 2018. Maruti Suzuki is leading automobile manufacturer of India. Generally, multibagger stocks come from the small-cap or mid-cap segment. However, as per me, Maruti Suzuki is an exception. This year (2017) also Maruti has nearly doubled investors wealth.
In last 5 years, this stock price has increased by 6.5 times. This stock was trading at Rs.1500 in Dec 2012 and currently trading at Rs.9830.(2017)
In last year stock has given 91% CAGR return.
The premium segment Nexa Car Baleno and S-cross launched by Maruti is doing well. Design modification in Dezire is attractive.
Maruti is also planning to launch battery operated car by 2020 in association with Toyota. 
Also Read – India's Top Investors and their Latest Stock Picks
Britannia –
CMP – Rs. 4750/-
Target Price – Rs. 6000/-
Potential Upside – 26%
Britannia is next potential multibagger stock for 2018. Britannia has delivered consistent healthy returns in the past. The company is on the growth trajectory.
Britannia is rapidly expanding distribution, continuously investing in R&D and manufacturing facility.
In last five years stock has grown by 9.5 times. This year (2017) Britannia has generated 68% CAGR returns.
The company is also increasing capacity and working on International presence. A Favorable market condition is also positive part of Britannia.
Potential Multibagger Stock from Small Cap and Mid Cap Segment -2018
Rallis India 
CMP – Rs. 251
Target Price – Rs. 380
Potential Upside – 51%
Rallis India is first potential multibagger stock in the small-cap mid-cap segment for 2018. It is chemical company & subsidiary of Tata Chemical Group.
Past performance of the stock is very good. Last year this stock has given 30% return to the investor.
EPS of this stock is increasing. Return on Equity is good.
A company is launching new products every year. A company has a very good distribution network.
The company is virtually debt free. 
GNFC
CMP – Rs. 485
Target Price – Rs. 720
Potential Upside – 48%
Another very good potential multibagger stock is GNFC. GNFC is also one of the favorite stock of Dolly Khanna aka Rajiv Khanna. Few key points about GNFC are given below.
In last five years, GNFC has grown by 5 times. Last year this stock has given 126% return to the investor.
GNFC is in the monopoly business of manufacturing of TDI  (toluene diisocyanate). This chemical has wide application in a number of industries.
The recent anti-dumping duty on TDI will surely help GNFC to strengthen its position in Market.
A company is expected to become debt free by 2018.
Also Read – 5 Blue Chip Stocks for Investment in 2018
Over to You –
What is your take on these stocks?
Do you think these multi-bagger stocks will able to give good returns in the future?
Do share your opinion in the comment section.