Freedom Stocks – On the occasion of 71st Independence Day 15th Aug 2017, CNBC Awaaz has suggested Top 6 Freedom Stocks for 2018. It is claimed that Investment in these freedom stocks can make you financially free in the future. These are sure shot stocks that will give you good returns. In addition to that suggestion is given to get rid of few nonperformer stock to get financial freedom. Stock market experts like Avinash Gorakshakar,(Joindre capital) D.D.Sharma(Risk Capital) and Rajen Shah (Tradebulls) have given a recommendation about these stocks.
Last year on the Independence Day similar recommendation of 15 stocks was given by the experts out of which 8 stocks could reach the mentioned target. Please check it out last year 15 Freedom Stocks of 2017.
These stock are selected based on valuation, sustainability & growth potential. These stocks will surely outperform the market in next one year. As per them, you can invest in these stocks and stay tension free for next year.  So, let's check out Top Freedom Stocks for 2018 by CNBC Awaaz. 
Also Read – 7 stocks for retirement planning
Top Freedom Stocks for 2018 by CNBC Awaaz
Mahindra & Mahindra
M&M is first freedom stock. Mahindra & Mahindra is leading automobile sector company. Apart from automobile these company is dealing with multiple small businesses like real estate, defense, finance, IT, Aerospace etc. The future growth of company seems to be very good. Current market price of M&M is Rs.1346. The stock is expected to reach a target of Rs.2250 by 2018.
DHFL
DHFL is second freedom stock recommended for investment. DHFL is leading housing finance company. Upcoming housing finance and real estate project will boost finance business of the company. The valuation of stock seems to be very attractive. Current market price of DHFL is Rs.417 and stock is expected to reach the target of Rs.550.
Torrent Power
Torrent Power is integrated power and utility company with top class management. Torrent power deals with power generation and distribution. The major power generation capacity of the company is gas based. A reduction in the gas price is giving direct benefit to this company. CMP of Torrent Power is Rs.194 and it is expected to grow by Rs.400.
Tata Power
Tata Power is next freedom stock pick by the experts. Apart from power, this company deals with defense sector. A company is planning to reduce its debt. Downside risk in this stock seems to be very low. It is expected that in future power supply demand is expected to increase. Thus Tata Power would be a good stock for the investment.
Also Read – Virtual Trading Apps for Stock Market Trading
PTC India Limited
PTC is in the power exchange and trading solution business. It is undervalued stock and available at a reasonable value. Looking at the future requirement of Power this stock is expected to perform well. CMP of stocks is Rs.109, you can purchase this stocks with a target price of Rs.180.
Capital First
Capital First is next freedom stock recommended for investment. Capital First is financial sector company providing a loan to retail, SME, and corporate segment. A company has improved significantly on financial and balance sheet. A company is expected to give better performance in future. You can purchase the stock with Target price of 820 Rs.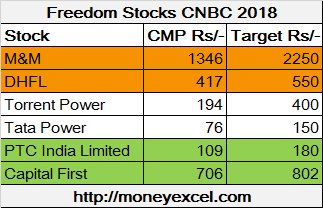 Apart from above, stock market experts have also given advice to sell few stocks like Bharti Airtel, Sun Pharma, and sugar stocks.
Do you think these Top freedom stocks of 2018 will give a better return in future?
Do share your thoughts in the comment section.
Happy Independence Day to all the readers!
(The views content and recommendations expressed in this post are of  leading stock market experts and do not represent those of Moneyexcel.com. Please consult your financial adviser before taking any position in the stocks mentioned)