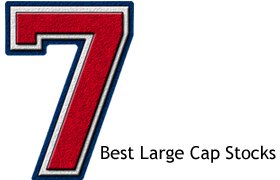 Stock market correction is a golden opportunity for buying a stock and revamping your stock market portfolio. However, it is marathon task to pick good stocks for investment. If you are ready to revamp your stock market portfolio and looking for top large cap stock for the investment you are at right place. In this post, I will be sharing information about Top 7 Best Large Cap Stocks for Investment.
Methodology to Identify Best Large Cap Stocks –
I have followed methodology given below to identify best large cap stocks.
Historical Return – I have short-listed these stocks based on historical performance. The performance of these stocks over the period of last 10 years is scanned by me. The stock which is performing consistently well is only taken into account.
Dividend Yield – The Second important factor considered for short listing of these best large cap stock is dividend yield history.
Business Growth Potential – I have considered Business growth potential of these companies. Company with strong order inflows and business potential is only taken into account.
I have checked Bonus and stock split history of these stocks.
P/E ratio and Valuation – I have checked P/E ratio and valuation of these stocks.
I have checked shareholding pattern of these stocks.
I have also studied profitability ratio and quarterly results of these companies.
These stocks are evergreen stocks and I recommend investing in these top 7 Best Large Cap Stocks.
Top 7 Best Large Cap Stocks for Investment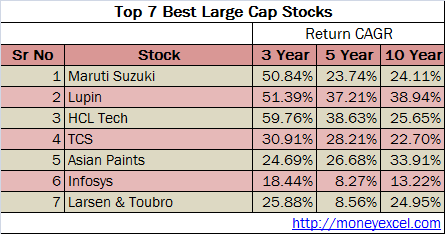 Maruti Suzuki
Maruti Suzuki is the market leader in the car segment. Maruti has strong product portfolio and number of new products in the pipeline. Maruti is most preferred car option of Indians as it provides economically priced fuel efficient car. This stock is consistently performing well. Strong earnings momentum, improved return ratios, and higher dividend payout is the plus point of this stock.
Lupin
Lupin is a third largest pharmaceutical company of India. The Business footprint of Lupin covers 70+ countries apart from India. The product line of Lupin covers branded and generic drugs. Lupin has strong Research and development facility at Pune where 1400 scientists are working for the development of new products. Monopoly product and strong International presence are plus points of this stock. This is one of the favorite stocks of Rakesh Jhunjhunwala.
HCL Tech
HCL Technologies is fourth largest software company of India. The company's major differentiating factor vis-à-vis competition is its infrastructure management services (IMS) business which is second largest in the industry. Business in IMS segment is expected to grow year on year. History shows that this stock is able to perform consistently well. I recommend investing in this large cap stock.
TCS
TCS is one of the largest IT Company of India. TCS operates globally in 46 courtiers. TCS is rated as a most innovative company and ranked highest in the IT service industry. TCS is consistent performer stock. I expect that growth story of TCS will continue in future also. TCS is one of the best large-cap stocks for investment.
Asian Paints
Asian Paints is evergreen blue chip stock. Asian Paint is the market leader and holds more than 50% of the market in India. Asian Paints is expanding and entering into home improvement space bath fitting and accessories. This will defiantly lead to the growth of the company.
Infosys
Infosys is IT Company which provides business consultancy, software, and outsourcing services in banking, finance, manufacturing and other domains. Infosys operates globally in 50+ countries with 900+ big customers. New CEO Vishal Sikka is trying to reinvent the company by taking various initiatives. I expect growth story of Infosys will further flourish. I recommend Infosys as best large cap stock for investment.
Larsen & Toubro
Larsen & Toubro is a proxy of India's growth story. It is the largest construction company India with a significant presence in manufacturing. The company is an established leader with excellent execution track record over many business cycles. L&T is a consistent performer. Upcoming smart city and other infrastructure and defense project is fuel for the growth of Larsen & Toubro. I recommend investing in Larsen & Toubro.
Disclosure – Stock recommendation given in the above post is based on my experience and research work carried out by me. I recommend investing in these stocks; however you may carry out the independent study before making an investment. I have invested in Infosys, Lupin, L&T & TCS.
Do you recommend investment in above stocks?
Do you think above stock will give good return in future?
Do share your views!