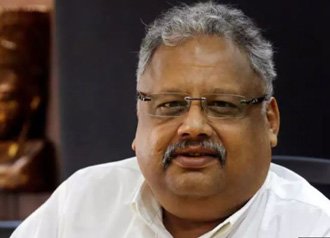 Big Bull Rakesh Jhunjhunwala is India's most popular stock market investor and trader. Rakesh Jhunjhunwala has created massive wealth from the stock market over the last 30 years. He is a master in the selection of the stock. Knowledge, Skillset, Risk-taking capacity and Patience makes him different from other investors. He is the undisputed king of Dalal Street. His investment strategy and stock picks are closely watched by his fans and followers.
In this post, we will discuss performance of Top 5 stocks of Rakesh Jhunjhunwala. We will also learn some important investment lessons from RJ.
10 Multibagger Stocks of Jhunjhunwala, Dolly Khanna and Porinju Veliyath
Top 5 Rakesh Jhunjhunwala Stocks of 2017
Titan, Escorts, DHFC, Federal Bank & Delta Corporation are top 5 rakesh jhunjhunwala stocks of 2017. Apart from this jhunjhunwala has also invested money in Lupin, CRISIL, Rallis India, Karur Vyasa Bank, Aurobindo Pharma, TV18 Network, Prakash Industries etc.
Titan
Titan is one of the most favorite stock of RJ. Current holding of Rakesh Jhunjhunwala in this stock is 4625 Cr. He is holding this stock for past 15 years. The average purchase price of Titan stock by RJ is around Rs.20. The stock of Titan turned out to be multibagger stock in his portfolio. This year Titan has given 135% return.
Escorts
Escorts is second top stock in Rakesh Jhunjhunwala Portfolio. His current holding in Escort is 784 Cr. He has increased stake in Escorts gradually. Escorts has given magnificent return to the investors. This year Escort has given 117% CAGR return.
DHFL
DHFL is third top stock in Rakesh Jhunjhunwala's portfolio. He is holding 640 Cr stock of DHFL. He purchased DHFL on average price of Rs.135. DHFL has turned out to be another multibagger stock in his portfolio. This year DHFL has given 153% CAGR return.
Top Large Cap, Mid Cap & Small Cap Stocks For Investment in 2018
Federal Bank
Under banking sector, Federal Bank and Karur Vyasa Bank are favorite stocks of RJ. Current holding of Rakesh Jhunjhunwala in Federal Bank is 441 Cr. Federal Bank has given 70% CAGR return to the investor this year.
Delta Corporation
Delta Corporation is another top stock in the portfolio of Rakesh Jhunjhunwala. Current holding of RJ in this stock is 304 Cr. RJ has gradually increased stake in this stock. This year Delta Corporation has given 123% CAGR return to the investor.
Investment Lessons from Rakesh Jhunjhunwala
After going through top 5 RJ stocks of 2017 here are 5 Investment lessons that we can learn from Jhunjhunwala.
Buy right Hold tight
The first lesson we can learn from RJ is "Buy right Hold tight". Once you identify good stock you should never sell it. This investment strategy helped him a lot. E.g – He is holding Titan stock since past 15 years. This year after Q2 result stock of Titan surged and made him rich by 900 Cr in single day.
Keep Patience
The second lesson to learn from RJ is to "Keep Patience". The stock market always reacts on the positive and negative news. The stock price may go up or down. You should always keep patience and stay invested in the good stock. E.g – He is holding Lupin stock since past several years. Despite the poor performance of this stock he is still holding the stock.
Average Out  
The third lessons to learn from RJ is average out stock at regular interval. If the stock is going down you should grab it as an opportunity to average out. E.g He has gradually increased stake in Escorts and Delta Corporation at regular interval. This strategy helped him to average out.
Over to You –
Do you hold any of the RJ stocks? What is your take on above RJ stocks?
Do you think above investment lessons will help you?
Do share your views and queries in the comment section.