Multicap Funds are diversified mutual funds. These funds invest money across the market caps such as large cap, mid cap, and small cap. May financial advisor recommends investing in multi-cap funds for long term capital appreciation. These types of funds are meant for investors with moderate risk appetite. Multicap funds provide exposure across market capitalization and sectors. This means you can get coverage of the broad equity market segment by doing nominal SIP investment of Rs.500 and above.
What is Multicap Funds?
Multicap fund is a type of mutual fund that invests funds across multiple market caps. This fund invests money in the large cap, small cap, and mid-cap segments. This means you can get benefit in terms of stability of the large-cap segment and higher gain of mid-cap and small-cap segment. In short, it is diversified equity fund where investment is made in the varying proposition as per the objective of the fund.
Also Read – Top 20 Best Mutual Funds SIP to invest in India for 2019
The fund manager plays a crucial role in multicap funds. The fund manager of multicap fund continuously monitors the market conditions and keep switching holdings between large-cap, small-cap and mid-cap. If the market is outperforming, the fund manager of a multicap fund can increase mid cap and small cap holding, as shares of small and mid-cap companies are likely to deliver better return during this phase. Alternatively, if the market is not performing well fund manager moves money to large cap companies to prevent damage. The fund manager maintains asset allocation of the fund. This means the increase and decrease in holding will be done as per fund objective.
Who should invest in Multicap Funds?
A moderate risk investor who are not aware with asset allocation or change in market condition should prefer this fund. Multicap fund generates better return over the long run. This means investor should consider these types of fund for the long term financial goals. These type of fund are risky compared to large cap funds. But as investment is made across market cap, it gives good diversification to mutual fund portfolio.
If you are planning to invest in multicap funds here are important factors that you should consider while investing in multicap mutual funds.
How to Select Multicap Fund for Investment?
Fund Objective – First thing you need to check is fund objective. Most of the multicap funds aim to generate wealth by diversifying investment. The fund objective should match with your financial goal.
Fund returns – The second thing you should consider is fund performance history of last five years. Go for funds which have constantly beaten their benchmark index and given better performance compared to peers.
Fund Manager – You should check the credential of fund manager before investing in multicap mutual funds. The fund manager should be competent enough to assess the market condition and take an appropriate decision of switching stocks time to time.
Fund House Reputation – Check fund house reputation of Asset Management Company. The fund house should have a good business history of at least 5 years.
Financial Ratios – Financial ratio is another crucial factor for the selection of fund. One should look at expense ratio and sharp ratio while selecting multi cap fund. The sharp ratio indicates risk-adjusted return. The sharp ratio should be higher.
Financial Goals – Multi Cap Funds are generally recommended for long term. If you are planning to invest for long term goals such as children higher education or retirement planning, you can select multi cap funds.
How Multi Cap Funds are taxed in India?
Like all other mutual funds, multi cap funds are taxed on the basis of LTCG and STCG. If you sell mutual funds before one year you need to pay STCG – Short Term Capital Gain @ 15%. If you maintain your investment above one year you need to pay LTCG – Long Term Capital Gain @ 10%. In case you are earning profit up to 1 Lakh in a financial year you can get exemption from Long Term Capital Gain. LTCG is applicable on profit above 1 Lakh @ 10%.
Top 5 Best Multicap Funds for Investment 2019
Here is list of Top 5 Best Multicap funds for Investment in 2019.
Kotak Standard Multicap Fund (G)
Aditya Birla Sunlife Equity Fund (G)
Motilal Oswal Multicap Fund (G)
Axis Focused 25 Fund (G)
SBI Magnum Multi Cap Fund (G)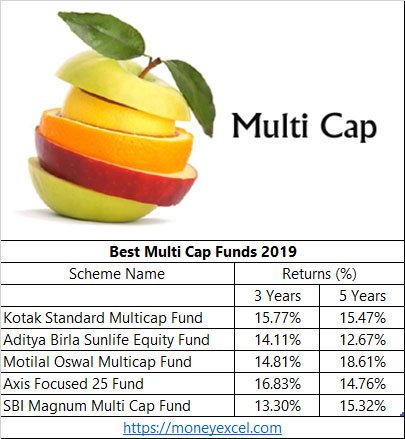 These funds are selected based on fund performance, fund manager experience and fund house reputation.
Note – Above details is as on 14th June, 2019
Conclusion –
Multicap funds are only suitable for moderate risk investor with objective to fulfil long term goals. If you are planning to invest money for short term you should go for liquid fund or other suitable investment options.