Top Personal Financial Blog – Do you want to update your financial knowledge?
Do you want to make more money and manage your finance effectively?  If Yes!
You should follow personal finance blogs. In this post, I will share details of the top 10 personal finance blogs of 2022 (India).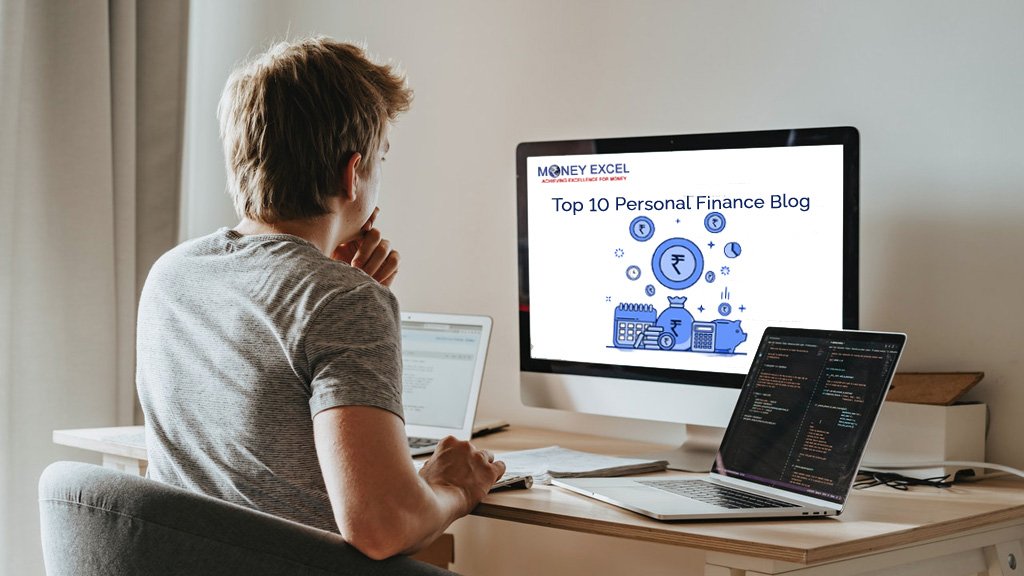 Please follow these blogs regularly if you want to keep yourself updated about the latest happening in the financial market. 
These blogs provide information about financial planning, investment, insurance, retirement, stock market, loans, gold, real estate, income tax & review of various financial products.
These blogs are authored by diverse personalities some of them are financial experts but others are IT professionals, Engineers, or Homemakers.
Top 10 Personal Finance Blog India 2022
Jagoinvestor is top on the list. This blog covers all aspects of personal finance right from investment, insurance, stock market, product reviews, and much more. This site also provides various services such as financial planning, investment advice, and retirement planning services.
About Author 
The author of this blog is Manish Chauhan who is from an IT background. Manish has also written multiple books on finance.
List of Certified Financial Planners (CFP) in India
Tax Guru as the name suggests this blog provides all information about taxes. Income Tax, GTS, Excise & all types of legal advice.
About Author 
The author of this blog is CA Sandeep Kanoi. As Sandeep is a CA by profession he carries a good amount of subject knowledge & legal aspects.
Basunivesh is a personal finance blog that aims to educate each individual in dealing with their financial life, making him/her aware of mis-selling which may come into his/her life at any time through any means.
About Author 
The author of this blog is Basavaraj Tonagatti he is from Bangalore. Basavraj is a Certified Financial Planner and shares a lot of insight about every topic.
basunivesh.com Success Story of Basavaraj Tonagatti
My Investment Ideas is a blog sharing the Best investment plans and new investment ideas. Not only that this blog provides information about the stock market, mutual funds, and IPO. 
About Author 
This blog is managed by Suresh KP from Hyderabad. Suresh KP had 15 years of rich experience in the field of investments and financial planning.
Bemoney Aware is blog covering multiple topics on finance like investing, loan, income tax. This blog contains more than 270+ articles.
About Author 
This blog is handled by Kirti, a software consultant, a woman, residing in Bangalore. Kirti is not from finance stream but carries good amount of knowledge about finance. 
Top articles by Top personal finance bloggers of India
Get Money Rich blog that shares information about the stock market, investment, personal finance, real estate, gold, and mutual funds.
About Author:-
The author of Get Money Rich is Manish Choudhary. He is Project Manager by profession and manages the construction part of the steel plant. Although he is not from the finance field he shares a good amount of information about finance on his blog.
Freefincal.com is a reader-funded blog. This blog provides various free tools for managing your finance such as a stock screener, MF screener, and Portfolio tracker.
About Author  
Freefincal was started as a repository of personal finance calculators. It is run by Pattu, a physicist with an interest in money management. 
Chartered Club is one of the best personal finance blogs. Chartered Club started with the intention of simplifying various taxes which are levied in India. Apart from gaining knowledge through our articles section, the users can also interact with CA via this blog
About Author 
Chartered Club was officially started by Karan Batra who is All India Rank 22 in CA Exams. He also provides tax advisory and tax filing services on his blog.
WealthDrift has a tagline Simplifying Prosperity and that is what this blog is doing. They target personal finance topics in very simple words so that common people are able to understand it. WealthDrift has content on General Personal Finance, Passive Income and Finance Book Summaries.
About Author 
The blog is maintained by Himanshu Nagar and Vishal Jolaniya. They both graduated from one of the prestigious colleges of India, NIT Kurukshetra. They have a great passion for personal finance and are avid readers of personal finance books.
Investment Advice Is Personal Advice
#10 MoneyExcel
Moneyexcel is the best personal finance blog in India. We offer unbiased advice on financial products & investment options like the stock market, mutual funds, insurance, credit cards, etc. You will find more than 1600+ articles here. You will also find money market tools and currency converter on this blog.
About Author:-
MoneyExcel Blog is owned and maintained by Shitanshu Kapadia. The basic idea behind Money Excel is to help people in achieving excellence for money. 
Other Personal Finance Blogs
Way ahead:
We have done enough research to make a list of the Top 10 personal finance blogs 2022 India. If you find any discrepancy in the given information please write back to us.
If we missed any personal finance blog and if you feel that should be added here please write back to us (info@moneyexcel.com) and we will try to include it here.
 Do share this information with your friends on Facebook and Twitter!