In the fast-paced digital landscape of today, small businesses often struggle to keep up with the ever-evolving marketing trends and technologies. With limited resources, they need to find innovative ways to compete with larger competitors. This is where Artificial Intelligence (AI) comes to the rescue. AI marketing tools have emerged as a game-changer, helping small businesses thrive in the digital world. In this article, we will delve into the top 10 AI marketing tools that can transform the way you approach marketing and elevate your small business to new heights.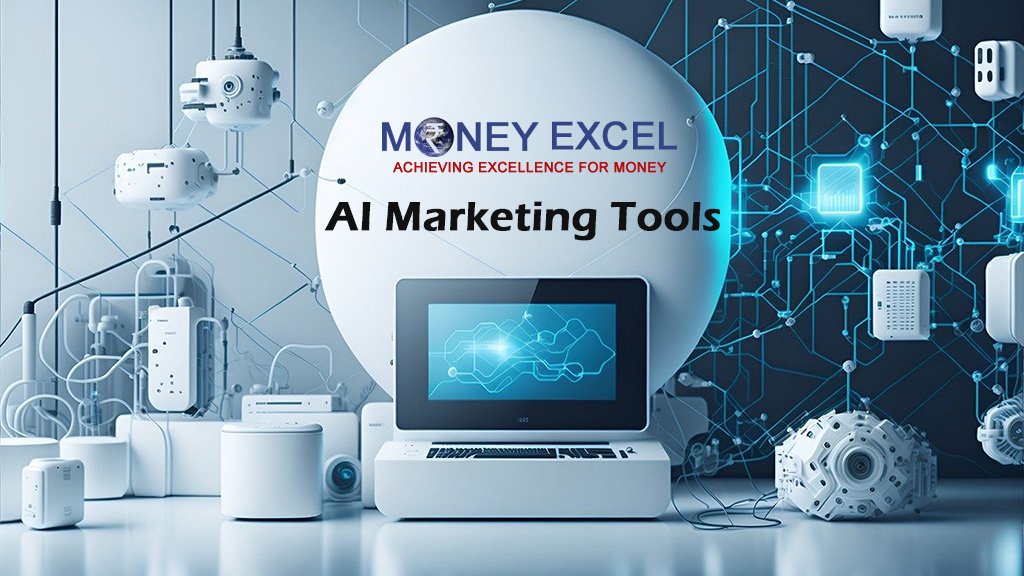 Top 10 AI Marketing Tools for Small Business
# 1 Chatfuel 
Chatbots have become an integral part of customer service, and Chatfuel stands out as one of the best AI tools for automating this process. It enables small businesses to engage with customers 24/7, answer frequently asked questions, and provide instant support. 
Chatfuel is a messaging platform for e-commerce marketers and business owners who aim to increase lead generation and qualification, upsell, cross-sell, and boost revenue on WhatsApp. You can automate Facebook, Instagram, WhatsApp, and Website Communication using this tool.
Key Features of Chatfuel
Visual Chatbot Builder

: Chatfuel provides a user-friendly, drag-and-drop interface for creating chatbots without the need for coding. This visual builder makes it easy to design conversational flows.

AI Integration

: You can integrate AI and natural language processing (NLP) tools, such as API.ai (now Dialogflow), to enhance your chatbot's ability to understand and respond to user inputs.

Broadcasting

: Chatfuel allows you to send automated messages or updates to your chatbot subscribers, making it an effective tool for marketing and customer engagement.

E-commerce Integration

: You can integrate your chatbot with e-commerce platforms like Shopify to enable users to browse and purchase products directly through the chatbot.

User Segmentation

: Segment your chatbot audience based on user data and behaviors. This enables you to send targeted messages and offers to specific groups of users.
# 2 Hootsuite 
Managing multiple social media platforms can be overwhelming for small businesses. Hootsuite simplifies this task by offering a comprehensive social media management platform. Its AI-powered features allow you to schedule posts, analyze engagement data, and even suggest the best times to post, ensuring that your social media strategy is on point.
Key Features of Hootsuite
Social Media Scheduling:

 Hootsuite allows users to schedule and publish posts on various social media platforms, including Facebook, Twitter, Instagram, LinkedIn, and more. This feature helps maintain a consistent posting schedule.

Content Curation:

 Users can discover, curate, and share content from various sources within the Hootsuite dashboard. This is useful for finding relevant and engaging content to share with followers.

Analytics and Reporting:

 Hootsuite provides in-depth analytics and reporting tools to track the performance of your social media campaigns. You can measure engagement, reach, and conversion metrics to gauge the effectiveness of your content.

Team Collaboration:

 Hootsuite enables teams to work together on social media management. Users can assign tasks, share content drafts, and collaborate within the platform.

Social Media Monitoring:

 Keep an eye on social media conversations and mentions of your brand or relevant keywords. This feature helps with reputation management and engagement with your audience.
#3 HubSpot
Small businesses can't afford to miss out on potential leads. HubSpot's AI-driven inbound marketing tools help attract, engage, and delight customers. From personalized email marketing to lead nurturing, HubSpot's AI keeps your marketing efforts precise and tailored to your audience.
Key Features Hubspot
Customer Relationship Management (CRM):

 HubSpot's CRM is the core of the platform, offering tools for managing contacts, leads, and customer data. It's free to use and includes features for tracking interactions, creating contact records, and segmenting your audience.

Marketing Hub:

 HubSpot's Marketing Hub includes a suite of tools for inbound marketing, including email marketing, marketing automation, content management, SEO optimization, and social media posting.

Sales Hub:

 The Sales Hub provides features for sales teams, including email tracking, sales automation, and lead tracking. It helps sales professionals manage their pipelines and close deals more effectively.

Service Hub:

 The Service Hub is designed for customer service and support teams, offering ticketing, knowledge base management, live chat, and customer feedback tools to improve customer satisfaction and support efficiency.

HubSpot Sales and Marketing Automation:

 HubSpot allows you to automate marketing and sales processes, such as lead nurturing, email workflows, and customer onboarding, saving time and ensuring a consistent customer experience.
# 4 Mailchimp
Email marketing remains a powerful tool for small businesses, and Mailchimp enhances it with AI. This platform analyzes user behavior and sends targeted email campaigns, increasing open rates and conversions. With Mailchimp, your email marketing is not just efficient, but also incredibly effective.
Key Features Mailchimp
Email Marketing:

 Create and send email campaigns to your subscribers with customizable templates and an easy-to-use email editor.

Marketing Automation:

 Set up automated email sequences based on user actions and behaviors, such as welcome emails, abandoned cart reminders, and post-purchase follow-ups.

Audience Management:

 Segment your email list to send targeted messages to specific groups of subscribers, allowing for more personalized and relevant content.

Signup Forms:

 Create and customize signup forms to capture email addresses and grow your subscriber list.

Landing Pages:

 Design and publish landing pages for specific campaigns or promotions, all within the Mailchimp platform.
# 5 Canva
Visual content is crucial in the digital world, and Canva's AI-powered design tools make creating eye-catching graphics a breeze. From social media posts to marketing materials, Canva provides templates and design suggestions that align with your brand, saving time and money on design resources.
Key Features Canava 
Drag-and-Drop Design:

 Canva provides an intuitive, user-friendly interface with a drag-and-drop design editor that makes it easy to create graphics, documents, and other visual content without the need for extensive design skills.

Templates:

 Access a vast library of professionally designed templates for a wide range of content types, including social media posts, presentations, posters, flyers, business cards, and more.

Customizable Elements:

 Choose from a collection of elements, such as text, images, icons, illustrations, and shapes, which you can fully customize in terms of color, size, and style.

Photo Library:

 Canva offers a large library of stock photos and illustrations that users can incorporate into their designs.

Image Editing:

 Edit and enhance your images within Canva with features like cropping, resizing, filtering, and adjusting brightness and contrast.
# 6 Google AdWords 
Google AdWords' AI algorithms help small businesses maximize their advertising budget. It identifies the best keywords, suggests ad copy improvements, and even adjusts bidding strategies in real-time. This ensures that your ads reach the right audience and yield the best ROI.
Key Features Google AdWords
Keyword Targeting:

 Advertisers can select specific keywords relevant to their products or services. When users search for those keywords on Google, ads related to them can appear.

Ad Campaigns:

 Google Ads allows users to create and manage multiple ad campaigns. Each campaign can have its own budget, targeting options, and settings.

Ad Types:

 You can create various types of ads, including text ads, display ads, video ads, and app install ads. This flexibility allows you to choose the format that best suits your advertising goals.

Budget Control:

 Advertisers have control over their daily or monthly budget. You can set a maximum spend, and Google will not exceed that amount.

Ad Auction:

 Google Ads uses an auction system to determine which ads to display for a given search query. The auction considers factors like bid amount, ad quality, and landing page experience.
#7 Serpstat 
Search Engine Optimization (SEO) is essential for online visibility. Serpstat's AI-driven SEO tools offer in-depth keyword research, backlink analysis, and site audit. By leveraging its insights, small businesses can fine-tune their SEO strategies and outrank their competitors.
Key Features Serpstat
Keyword Research:

 Serpstat allows users to perform in-depth keyword research to identify relevant and high-performing keywords for their SEO campaigns.

Competitor Analysis:

 Analyze the SEO and advertising strategies of competitors, including their top-performing keywords, backlink profiles, and more.

Site Audit:

 Conduct comprehensive site audits to identify and fix on-page SEO issues like broken links, missing meta tags, and duplicate content.

Backlink Analysis:

 Analyze backlink profiles to identify quality backlink opportunities and assess the strength of your website's link profile.

Rank Tracking:

 Monitor your website's search engine rankings for specific keywords and track your progress over time.
# 8 Oberlo
For small businesses operating in e-commerce, Oberlo's AI-powered dropshipping platform is a game-changer. It automates product importing, order processing, and inventory management, making it easier than ever to run a successful online store.
Key Features Oberlo 
Product Sourcing:

 Oberlo allows you to browse and import products from various suppliers and marketplaces directly into your Shopify store. It connects you with suppliers who offer dropshipping services.

Product Customization:

 You can edit product details, descriptions, prices, and images before importing them to your store, enabling you to personalize product listings to suit your brand.

Inventory and Price Auto-Updates:

 Oberlo keeps your product information, including inventory levels and prices, automatically synced with the supplier's data. This helps prevent selling out-of-stock items or pricing discrepancies.

Order Fulfillment:

 Orders placed on your store are automatically processed and fulfilled by Oberlo, which then communicates with the supplier to ship products directly to your customers. You don't have to handle inventory or shipping.

Multi-Store Management:

 If you have multiple Shopify stores, Oberlo allows you to manage products and orders for each store in one centralized dashboard.
#9 BuzzSumo
Creating valuable and shareable content is a challenge. BuzzSumo's AI assists in identifying trending topics, analyzing content performance, and even suggests content ideas that resonate with your target audience. It's an indispensable tool for content marketers.
Key Features BuzzSumo
Content Discovery:

 BuzzSumo helps users discover the most popular and trending content on the web by allowing them to search for articles, blog posts, videos, and infographics related to specific topics or keywords.

Influencer Identification:

 Identify key influencers in your industry or niche by searching for individuals or brands who share and engage with content related to your interests.

Competitor Analysis:

 Analyze the content strategies of your competitors to understand which topics, keywords, and types of content are performing well in your industry.

Content Trends:

 Track content trends and identify what types of content (e.g., lists, how-tos, videos) are gaining traction in your niche.

Backlink Analysis:

 Evaluate the backlinks and social shares of specific content to identify its authority and popularity.
#10 Finteza
Data is the backbone of digital marketing, and Finteza's AI analytics platform provides small businesses with valuable insights. From traffic analysis to conversion tracking, Finteza helps you make data-driven decisions to enhance your marketing strategies.
Key Features Finteza
Real-Time Analytics:

 Finteza provides real-time data and insights about website visitors, allowing you to monitor user activity as it happens.

Traffic Sources Analysis:

 Track and analyze the sources of your website traffic, including organic search, referrals, direct visits, and paid advertising campaigns.

Conversion Tracking:

 Monitor and analyze the performance of conversion goals, such as form submissions, purchases, and other user interactions on your website.

Event Tracking:

 Set up custom event tracking to monitor specific user interactions, such as clicks, downloads, video views, and more.

E-commerce Analytics:

 For online retailers, Finteza offers e-commerce tracking to analyze sales, product performance, and customer behavior in detail.
Conclusion
In conclusion, the digital landscape is constantly evolving, and small businesses must adapt to survive and thrive. These top 10 AI marketing tools empower small businesses to compete with the big players. By embracing the capabilities of AI, you can automate tasks, make data-driven decisions, and provide exceptional customer experiences. Stay ahead of the competition and take your small business to new heights with these incredible AI marketing tools.