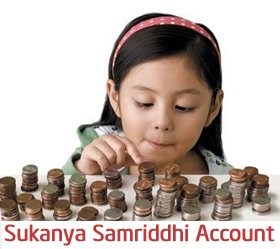 Sukanya Samriddhi Scheme – Government recently launched Sukanya Samriddhi Account – Saving scheme is for girl child. This scheme is specially designed for girl's higher education or marriage needs. Let's go through detail of Sukanya Samriddhi account.
Features of Sukanya Samriddhi Account
Sukanya Samriddhi account can be opened on girl child name by her biological parents of legal guardian.
Per girl child only single account is allowed. Parents can open this account for maximum two girl child. In case of twins this facility will be extended to third child.
Maximum age limit for opening this account is 10 years. One year relaxation available this year.
Minimum deposit amount for this account is 1000 Rs/- and maximum is 1,50,000 Rs/- per year.
If minimum amount is not deposited, there will be fine of 50 Rs/- every year of default.
Money to be deposited for 14 years in this account.
Money can be deposited by cash or cheque.
Maturity date is 21 years from date of opening or marriage date of girl child whichever is earlier.
Interest rate of this account is 9.2% for FY 2015-16.
One can withdraw 50% money for higher study of girl child after her age of 18 years.
Account can be opened in post office or in Authorized bank branches.
This account can be operated by parents of child till girl attains age of 10 years. On attaining age of ten years,   the account holder that is the girl child may herself operate the account.
This account can be closed in case of death of girl child.
Passbook facility is available with Sukanya Samriddhi account.
The pass book shall be presented to the post office or bank at the time of depositing money in the account and receiving payment of interest and also at the time of final closure of the account on maturity.
Document required for opening Sukanya Samriddhi account:-
Birth certificate of girl child
Address proof
Identity proof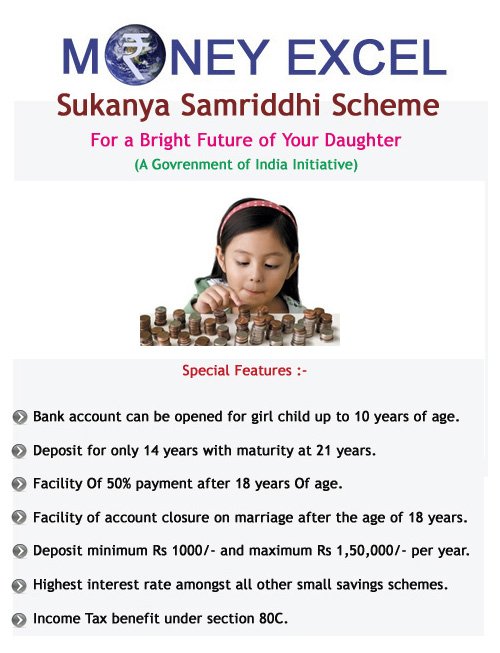 Do you need Sukanya Samriddhi account?
Sukanya Samriddhi account is very good initiative taken by government to increase saving for girl child.  Many parents face cash problem at time of marriage of girl child, for them this type of scheme is boon.
One can open Sukanya Samriddhi account and start depositing money every month systematically. Interest rate on this account is 9.2% which is more than fixed deposit.
Sukanya Samriddhi Account will provide tax free return.This scheme is falling under EEE scheme means amount invested and returned earned is non taxable.Looking at tax benefit and return applicable you should invest in Sukanya Samrriddhi Account.
Finance Ministry Notification for Sukanya Samriddhi Account can be downloaded here.
Download Sukanya Samriddhi Account Opening form