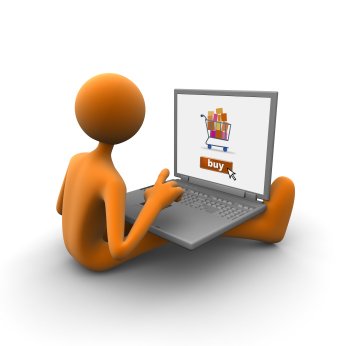 Starting online e-commerce business in India is easy today.You can start this business any time.Don't worry about office space, store and staff. Everything is available. You can start your own online e-commerce business by following simple steps given below.
How to start online e-commerce business?
Step-1 – Decide what you want to Sell
The first step for starting online e-commerce business is to decide what you want to sell online. Where is your interest? What unique things you can offer to e-commerce market.
Once you answer this question next question is from where you will be sourcing this whether you will be manufacturing these products or you will be purchasing it from somewhere. In case you will be purchasing it from somewhere you need to decide from where?
 Step-2 – Sign up with online market place or Make your own ecommerce portal
Once you decide what you want to sell the second step is to either register with an online marketplace like snapdeal, flipkart etc. or build your own e-commerce portal.
Registering with an online marketplace is quick, easy and more convenient. No registration fees applicable. No commission on sale.You can even get an advantage of the popularity of these e-commerce portals. It gives you unlimited access to crores of customers over the globe.
The second option is to start your own e-commerce portal. This option requires the skill set and technical expertise. You may need to hire IT guy to help you out. Not only that, it takes enough time to generate traffic and customer base. It is advisable to start with the first option.
Step-3 – Get Basic Documentation Done
For online e-commerce business, you need to get some basic documentation. This basic documentation includes your VAT (Value Added Tax) number, TIN (Taxpayer Identification Number), CST (Central Service Tax) Number and PAN (Permanent Account Number).
If you register at online marketplace representative from the marketplace will contact you for explaining way ahead.
Step-4 – List your products
Next step is to list your products. Before listing your product carry out independent research to identify seller selling same products and see what they are doing. Make sure your products looks attractive and salable.
In order to list the product, you need to take the photograph of your products. Either higher professional photographer or take help from the consultant from the online marketplace.
Step-5 – Start Selling
Once you are done with listing step, you are ready to sell your product. As we know price plays an important role in getting customers. Don't price your product too high. Keep eye on customer demands likes and dislikes. If require take help from the expert team of the online marketplace.
You can track your sales, payment, inventory everything online.
Remember guru mantra for success in online e-commerce business is quality, on time delivery and innovation.
So, what are you waiting for start your online e-commerce business now!