Now you can solve any NPS-related queries using WhatsApp. You need not visit the NPS office. The National Pension Scheme (NPS) backed by the Pension Fund Regulatory and Development Authority (PFRDA) has launched a WhatsApp service for NPS subscribers. The NPS Trust shared on Twitter, "Dear Subscribers, NPS Trust is on WhatsApp now to address your queries on NPS!! Connect with us @ 918588852130." It is a chatbot solution that provides information on WhatsApp.
NPS is National Pension Scheme backed by the government. It is a low-cost investment product that offers market-linked returns and tax benefits. Any Indian resident aged between 18 years to 70 years can open an NPS account. NPS accounts can be opened online as well as offline via Point of Presence (POPs) in banks. 
There are two types of NPS accounts Tier I and Tier II. For more information about NPS accounts, you can refer to my earlier post – How to open eNPS account online?
eNPS website offers services such as changes in scheme preference, withdrawal, altering investment options, and redeeming the investments during exit. Now with the new WhatsApp service available, investors can post their NPS-related queries from the comfort of their homes.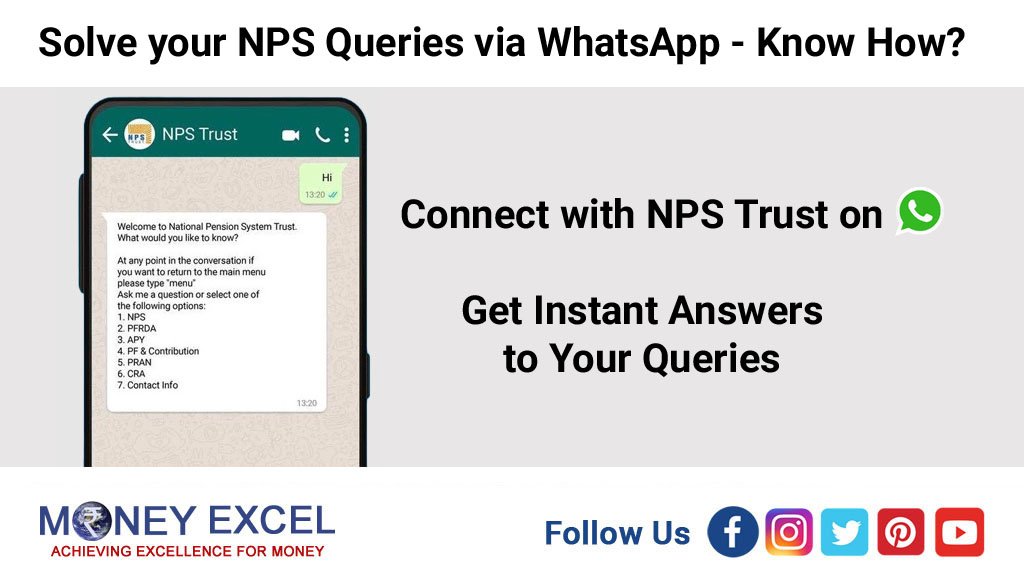 Solve your NPS Queries via WhatsApp – Know How?
Here is a step-by-step process to solve your NPS queries via WhatsApp.
Step 1 – First save +91-8588852130 in your contact list. Open your WhatsApp chat and send a "Hi" message to the NPS mobile number +91-8588852130.
Step 2 – You will get a list of options on WhatsApp. This includes NPS, PFRDA, APY, PF & Contribution, PRAN & CRA. Select the appropriate options and you will be taken to the respective services. 
Step 3 – If you select NPS you will be prompted with options such as contributions, eNPS, changing investment patterns, exit, and withdrawals. Post your query as per requirement. 
Step 4: If your query does not match the options given in the list, you can click on the "Need More Help" option. You will get a reply from the NPS Trust saying, "Please mail your queries to grievances@npstrust.org.in or contact us at 011-47207700 for us to assist you with a response to your query!".
If you still need further help, you can call on the eNPS NSDL helpline number 022-2499 3499. Alternatively, you may call on the toll-free number 1800 222 080 from your registered mobile number for more information. 
Over to you
Overall this is a very good facility that will help everyone, especially elders in solving their NPS-related queries at any time, anywhere.