Small cap stocks are stock of small companies with low market capitalization. Small cap stocks have high potential of growth and likely to give very good returns. Small cap stocks are volatile in nature. Small cap stocks generally react with market. These stocks perform well when markets in bullish and underperform when market is bearish.
In this post, we will take a look at small cap stocks of 2021 that have generated more than 100% returns for the investors. Before taking a look at small cap stocks of 2021 first let's take a look at few tips of selecting small cap stocks for investment.
Tips for the selection of small cap stocks
Fundamentals – You should check fundamentals of small cap stock before making investment. The balance sheet of the company should be stable. The debt on the company should be low and cash flow should be decent.
Return History – Return history is another important factor for checking. The company where you will be investing money should have decent track record. You should check at least 5 years return history.
Future Business potential – Future business potential is another important factor. The company where you are investing money should have good future business potential.
Management – Management is important in driving the company. You need to check management track record before investing. Corporate governance is extremely important factor while making investment in any company.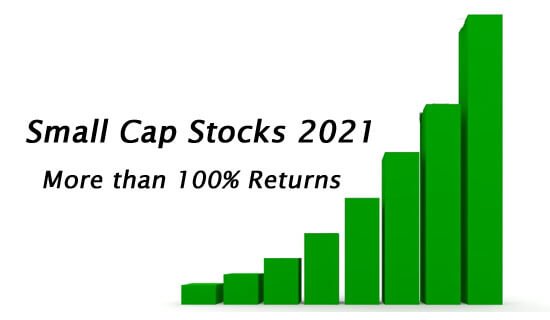 Small cap stocks of 2021 – More than 100% returns
Adani Total Gas
The first small cap stock that have given more than 100% return in 2021 is Adani Total Gas. Adani total gas is in the gas distribution business. Adani Total Gas supplies natural gas to commercial & domestic sector. Adani Total Gas is expanding wings and increasing geographical areas for the gas distribution. The financial performance of this stock is extremely good. This stock has generated 271% CAGR return for the investor in the year 2021.
Tata Steel
Tata Steel is one of the biggest steel making company it is subsidiary of the Tata group. Tata steel is reducing debt and in extreme growth trajectory. Tata Steel has reported growth in the revenue. The strong demand in steel sector is supporting this stock. This stock has grown and doubled its value in last five months. (Jan,2021 to May,2021)
Morepen Laboratories
Morepen Laboratories is pharmaceutical company. Morepen Laboratories profit is growing fundamental of company is strong. Revenue of the company is growing. Recently company has raised fund for the expansion need. In the last five months this stock has doubled its value and given 100% returns to the investors.
Tata Elxsi Ltd
Tata Elxsi Ltd is IT company operates in hardware and software. System integration, support and software development service is main work of Tata Elxsi. The stock price of Tata Elxsi is growing exponentially. The revenue and profit margin of company is growing steadily. Many mutual funds have invested their money in the Tata Elxsi Ltd. Tata Elxsi Ltd has grown 100% in last five months. (Jan,2021 to May,2021)
Gateway Distriparks Ltd
Gateway Distriparks is logistic company. The company business activity is storage and warehousing. Gateway Distriparks is fulfilling logistic needs of many businesses such as automobile, gas and textile. Revenue and profit margin of company is growing year on year. This stock has doubled its price in the last five months.
Should you invest in Small Cap Stocks?
Small cap stocks are not for everyone. Small cap stocks are for high risk investors. If you have high risk appetite you can allocate small part of your portfolio in the small cap stocks. You should do enough research before selecting small cap stock for investment.