Radakishan Damani, 67, is one of the most successful stock market investors and businessmen. Radhakishan is the founder of the biggest retail chain of India Avenue Supermarkets.
He has become India's second-richest person in 2020 with a net worth of $17.8 billion, after Mukesh Ambani. To become the richest person Radhakishan Damani has played multiple roles such as a stock market investor, stock broker, traders, businessman and founder of D-Mart.
It took 18 years for Damani to become the second richest person in India. He is holding 79.2% shares of Avenue Supermarket (D-Mart). He is known as Mr.White & White. He is a role model for many people. He is Guru and Mentor for India's biggest stock market investor – Rakesh Jhunjhunwala.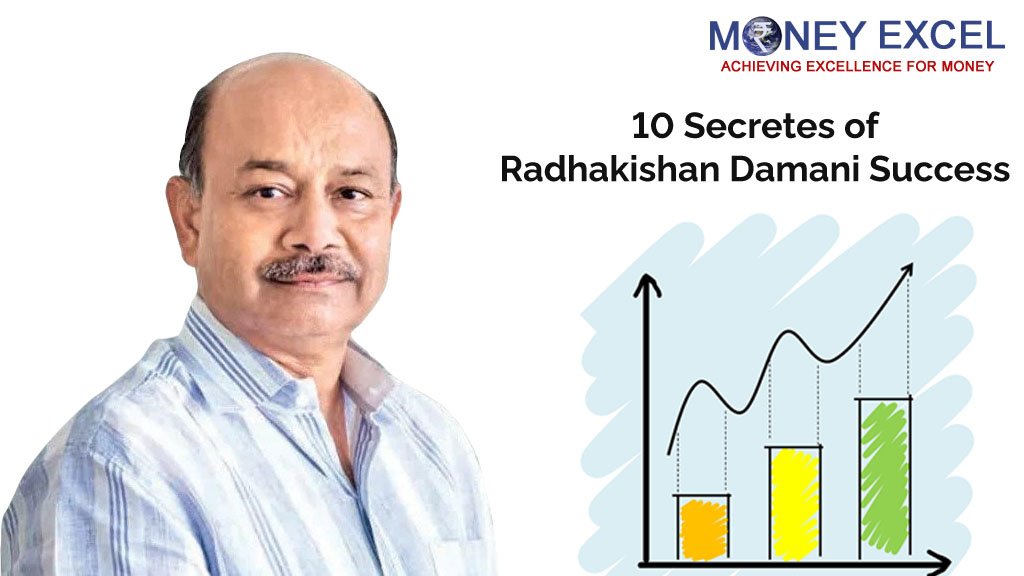 A story of Radhakishan Damani as a stock market investor is very inspiring. If you want to look at his stock portfolio, you can go through my previous article – Radhakishan Damani Stock Portfolio.
You must agree that India has so many successful businessmen but none of the businessmen has distinguished qualities like R K Damani. I tried to find out how Damani has become successful as a stock market investor and businessmen. With close observations I could locate following 10 secretes of Radhakishan Damani successful investor and one of the richest person of India.
10 Secretes of Radhakishan Damani Success as Entrepreneur
#1 Firm belief on own Business
R K Damani carries a firm belief in his own business. He has highest promoters holding in his own company Avenue Super Market. He believes in himself. Here is promoter holding details of various holders in biggest companies in India. Due to his highest promoter holding he has become second richest person of India.
| | | |
| --- | --- | --- |
| Name of Promoter | Company Name | Holding % |
| R K Damani | Avenue Super Market | 79.2% |
| Gautam Adani | Adani Enterprise | 74.9% |
| A M Naik | L&T Infotech | 74.8% |
| Tata Sons | TCS | 72% |
| Shekhar Bajaj | Bajaj Electricals | 62.7% |
| Mukesh Ambani | RIL | 50% |
#2 Long Term Vision
Radhakishan Damani is visionary entrepreneur.  He carries this quality since stock market days. He retains same approach while building a D-Mart. While building biggest retail chain of India, D-Mart (Avenue Supermarket) he prefer to purchase own property for building a store rather than taking it on rent. If property is taken on the rent lease period would be 30 years or above. This could help him in big rental outgo (in turn increasing profitability of business)
#3 Buy in Wholesale (low price), sell in retail (high discount) 
Buy in wholesale at low price & sell in retail with high discount is main principal of Damani for D-Mart. As his company is buying things in bulk principal cost is low. Due to low cost company can offer more discount to his customer. Due to high discount more customer gets attracted to store. The store operates of B2C model which eliminates middlemen which helps company to sell goods at lower price.
#4 Store for Middle Class Family 
The D-Mart store is popular as store for the middle class family. The preferred area for the store is middle class area where property price is very low. The products available in the store is general purpose product, house hold products and area specific products. Big discount attracts common man for buying household products.
#5 Vendor Relations 
Maintaining vendor relations is next secrete of D-Mart success. Damani begun with buying a franchise of Apna Bazar. From the beginning he started building relations with vendors and suppliers. He values both suppliers and vendors. His vendors support him like anything. That's the reason store of D-Mart never go out of stock.
#6 Vendor Payment Terms 
Fast payment to vendor is another secrete behind success of Damani's venture D-Mart. In general vendor payment condition is 30 to 60 days. However, he adopted aggressive payment terms of 11 days. The faster vendor payment helps company to get things at lower price. 
#7 Successful Copy of WallMart Model 
Radhakishan Damani has successfully copied WallMart Business model. In order to under WallMart business, he visited USA many times. WallMart is successful due to Every Day Low Price Every Day Low Cost strategy. This strategy increases both sales and customer loyalty. The similar strategy is successfully adopted by Damani in D-Mart. In order to implement this strategy company works constantly on the minimizing operating costs.
#8 Local Supply Instead of Supply Chain 
Although D-Mart is successful grocery retail chain of the country. Still store scope is confined to western states. The company relies on the local supply instead of spending money on logistic and supply chain.
#9 Low Number of Store and Focus   
Radhakishna Damani's next secrete sauce would appear to be focus. Avenue super market that operate super market retail chain D-Mart opens only small number of stores. By 2020 company holds only 196 Store all over India. On the other hand, reliance retail has 10901 store and Future retail has 2000 stores. The less number of stores provide focus. Additionally, focus is placed to make store as pure food and grocery store instead of adopting multiple other formats.
#10 Volume Business 
Volume business is another secrete behind success of Damani's business D-Mart. D-Mart turned out to be low-price retail store. The low price leads to footfall of customers and leads to higher sales volume.  Due to higher volume more and more manufacturer wants to keep products in the D-Mart Store. They are ready to give discount which is passed on to the customers.
As per me, Radhakishan Damani is a genius who turned out to be successful businessmen with exceptional intelligence.
 Do share your views on the success of Radhakishan Damani in the comment section given below.