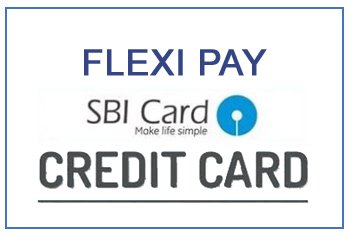 SBI Card Flexipay Facility- Flexipay is a facility offered to SBI cardholders for converting their purchase to EMI. If you are SBI cardholder and buying item above Rs.500 using the SBI card, you can convert your purchase to Flexipay within 30 days of the transaction.
You can use flexipay EMI facility to buy big ticket items. You need to repay the money in 6, 9, 12 or 24 months. The tagline of this facility is "Payback your big purchases in flexible installments". Let's take a look at SBI Card Flexipay facility in detail.
Eligibility criteria for using Flexipay
Flexipay facility is offered to all residents of India holding a valid SBI card where the minimum amount due is paid in full.
This facility is offered for the transaction amount above Rs.2500. You need to use SBI card to avail this facility.
You can opt for this facility only on retail purchase made either using a primary credit card.
You can avail this facility multiple times subject to the available credit limit on your credit card account.
The request of flexipay should be raised within 30 days of the purchase/before payment due date.
You cannot convert interest, fees, fuel or any other charges levied on your card to this facility.
Also Read – CRED App Review – Get Rewards for Credit Card Bill Payment
How to go for Flexipay SBI Card facility?
There are three simple ways to convert your transaction to SBI Card Flexipay facility. The details are given below.
Log on to your SBI Card online account
From left navigation menu click on My Account and go to Flexipay option.
You will be able to see transactions on the left hand navigation screen.
Select the transaction you wish to convert into flexipay.
Click on show offer and select the most appropriate offer based on the interest rate and processing fees. Select a suitable tenure. Verify booking details. Click on the confirm button.
You will be able to see a screen with detail of flexipay booked by you.
Another way to go for SBI Card Flexipay facility is via calling SBI Card Helpline. You can dial 39020202 (prefix local STD code) or 18601801290 to avail this facility.
You can also make use of ILA Chatbot facility given on SBI website to book this facility.
It usually takes 5 working days to process your request. You will get confirmation on your mobile via SMS.
Key Features and Interest rate of SBI Card Flexipay
Convert your purchase to flexipay within 30 days of purchase.
Any transaction of Rs.500 or above can be converted to this facility.
Minimum booking amount for this facility is Rs.2500.
The installment would be billed as a part of credit card monthly statement.
You can cancel this facility anytime. However, if it is cancelled after 45 days of booking you need to pay 3% of outstanding principal amount.
Tenure/Repayment period of this facility is 6,9,12 and 24 months.
Fees
The interest of 22% per annum, one-time processing fee of 2% up to a minimum of Rs.199 and maximum Rs.1000. The cancellation fee is 3% on the outstanding principal amount.
Things to consider while converting SBI Credit card Bill to Flexipay EMI
You need to pay an interest rate of 22% per annum. The interest rate is higher compared to a personal loan. This option is available for the retail purchase done via SBI credit card. You will not able to convert interest, fee and any other charges on the card to this facility. The maximum tenure of repayment is 24 months. You need to pay 3% of the outstanding amount on fore-closing this facility.