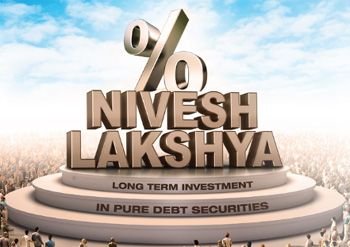 Reliance Nivesh Lakshya Fund is pure debt fund recently launched by Reliance Mutual Fund. The tagline of this fund is "Opportunity to capture current interest rate for the long term!" This clearly indicates this fund is for long term investment. It is claimed that this fund will offer prevailing interest rate for 25-30 years. In this post, we will take a look at Reliance Nivesh Lakshya Fund. Prior to discussing about Reliance Nivesh Lakshya let's talk about long term investment and few options for investment.
Long term investment is made to fulfil long term goals. Few examples of long term goals include child's education, marriage of child, tension free retirement etc. High risk investor generally select equity mutual fund and share market for the long term goal. However, low risk (conservative investors) avoid equity stock market and equity mutual funds. Few best long term investment options for the conservative investors are fixed deposit, PPF, Sukanya Samriddhi Scheme etc. All these investment options are prone to change in the interest rate. Looking at current falling interest rate scenario it's not recommended to invest in fixed deposit, PPF or Sukanya Samriddhi Scheme. Reliance Nivesh Lakshya debt fund is one additional alterative for conservative investors.
Also Read – Best Stocks to buy in India for long term Investment
Reliance Nivesh Lakshya Fund – Investment Strategy
This fund is intended to invest in the long term fixed income securities including government securities at the current yields. This fund will also invest in commercial paper, certificate deposit, treasury bills, corporate bonds etc. Most of the securities would be bought and held till maturity.
The fund management team will try to maintain a consistent performance in the scheme by maintaining a balance between safety, liquidity and profitability aspects of various investments. The fund manager will try to achieve an optimal risk return balance for management of the fixed income portfolios.
The investments in debt instruments carry various risks like interest rate risk, liquidity risk, default risk, purchasing power risk etc. While they cannot be done away with, they can be minimized by diversification and effective use of hedging techniques.
The fund management team will take an active view of the interest rate movement by keeping a close watch on various parameters of the Indian economy, as well as developments in global markets.
Also Read – Top 10 Long Term Investment Options in India
Key Features of Reliance Nivesh Lakshya
To secure current prevailing rate for the long term.
Investment in debt and money market instrument with Macaulay duration above 7 years.
Opportunity to invest for long term with the flexibility to withdraw investments anytime.
Tax efficiency due to indexation benefit, applicable after 3 years.
Facility to withdraw money via systematic withdrawal option.
How to Invest in Reliance Nivesh Lakshya Fund?
Investment in fund is very easy. Follow the steps given below for making investment.
Step -1 Log in with your PAN number at Reliance Nivesh Fund Site.
Step -2 If you are existing holder of Reliance Mutual Fund portfolio it will ask you to select portfolio.
Step -3 On selection it will send OTP to your registered mobile number and email ID.
Step -4  Provide information about transaction and make the payment.
Should you invest in Reliance Nivesh Lakshya Fund?
Reliance Nivesh Lakshya Fund is unique debt fund designed for fulfilling long-term investment goals of investors. Long term here means minimum 10 years. This is to avoid capital loss due to change in interest rates.
This fund is best suitable for low risk investor and HNI (High net worth individual), who wants to protect and grow their hard-earned wealth without subjecting that to undue market risks.
This fund is also suitable for parents and grandparents who wants to create an inheritance for their lineal decedents.
Reliance Nivesh Lakshya is also suitable for the retirees who are aiming for comfortable retirement life. As this fund is expected to offer steady return on regular withdrawal.
The fund rating of this fund is moderate. This clearly means that it is suitable for moderate risk taker.
If you are young and high risk taker individual looking for long term investment option you should opt for good equity mutual funds or stocks for investment.