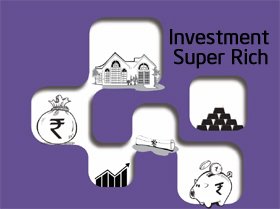 Super rich is mouth-watering word. Today everyone wants to be super rich but very few knows how super rich generate wealth, where they invest and how they spend. We are herewith quick report on super rich.
Risk and reward are adjacent to each other. Super rich understand this fact very well. Super rich have strong preference for investing in to riskier asset class.  Real estate and equity are key source of wealth for super rich says Kotak Wealth Management Report 2014.
Real Estate:-
Real estate is most favored investment asset class for super rich. The tangible nature and lots of opportunities associated with real estate in terms of sale and rental attracts people to this asset class.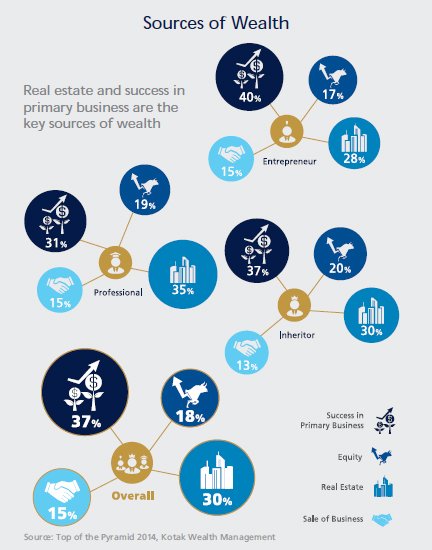 Two-thirds of the total distribution of wealth super rich comes from primary business and real estate. Among super rich, Professionals lay higher emphasis on premium real estate, whilst Entrepreneurs and Inheritors lay higher emphasis on their primary business. Real estate is trusted option for investment and it is not likely to lose its sheen in near future.
Equity:-
Equity is another asset class where all super rich invest their money. Even with formation of new government expectation in equity market is rising. Report indicates Allocation to equity has increased from 35% in 2012 to 38% in 2013 with a consequential reduction in debt investment to 24%.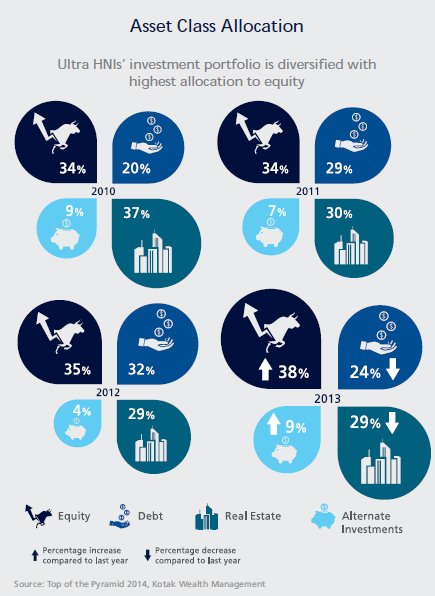 Equity market was under performing since 2008 but now as market is picking up majority of investor will get attracted towards equity.
Super rich Style of Investing:-
Super rich have different styles of investing and decision making. Entrepreneurs tend to be more speculative in their investment styles of investing become more disciplined as we move from Entrepreneurs to Inheritors and Professionals.
Professionals rely on self-analysis for investment decision making. Entrepreneurs and Inheritors tend to consult family and friends more than Professionals when making decisions regarding investments. Our survey results show that 28% of Inheritors and 19% of Entrepreneurs rely on family and friends as compared to 13% of Professionals in their investment decisions.
Content credit –  Kotak Wealth Report