RBI Complaint management system portal is a place where you can register a complaint against a bank or financial institution. This facility is available for all banking customers. It is completely online web portal based facility. 
In case of banking fraud, illegal activity or unauthorized transaction you can report it online at RBI under the banking ombudsman scheme. 
Recently, one of my friends has become a victim of social engineering fraud. The attacker contacted him and manipulated him into disclosing information about his credit card CVV. The modus operandi was simple. The call was done to him and a lucrative offer was given saying you are getting 10% cashback offer on your credit card bill. You need to share your credit card number and CVV for verification. By mistake, this information was shared and credit card was used online in an unauthorized way. He complains at Bank but his complaint was not addressed by the bank. He made a complaint on the RBI complaint management system portal and his complaint was addressed.  
He shared this information with me and I decided to write about – RBI Complaint Management System Portal (RBI CMS Portal). I am sure this post will help all readers who are looking for answer – How to register a complaint against bank?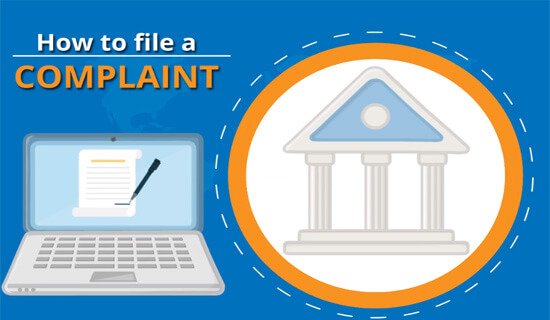 Details and Documents required for filing complaint online
You require following details and documents in order to file complaint against bank online.
Name and address of the branch/bank/entity or its registered office against which you are complaining
Facts of the case with supporting documents (if any)
Your Account number/it card number for card-related complaints/other details
Nature and extent of the loss caused and relief sought thereof
Any other supporting documents
RBI complaint management system portal
How to register complaint against bank?
Step 1 –  Visit RBI Complaint management system portal –  cms.rbi.org.in Click on the File a Complaint link given on the page. Select the language to file a complaint. You can either select English or Hindi language from right top corner.
Step 2 – Select the type of entity Bank, NBFC or other. Now you need to enter your mobile number. This mobile number will be used to receive status updates.
Step 3 – Now select the area of operation of BO, state, district, and bank name from the drop-down.  Select if the complaint is related to credit card or not. If the complaint is related to credit card you need to select bank, branch.
Step 4 – Next step is to provide your name and email address. After pressing the next button select Yes or No for complaint is under sub judice or under arbitration. If No is selected, you will be prompted to input if a complaint is made at the bank or not.
Step 5 – Enter the date of complaint and select the complaint category from the drop-down list such as ATM/Debit card, Credit card, deposit account, loan, etc.
Step 6 – Now select ground of complaint from drop-down such as "Account debited but cash not dispense by ATM" or "Debit in account without use of card" or "use of stolen card" etc. Now enter the description of complaint.
Step 7 – Next step is if bank has responded to your complaint or not. After making selection you need to provide your personal information including age and address.
Step 8 – Now you need to enter your account number and select category. Enter card number if required.
Step 9 – Enter relief sought and compensation sought if any. Enter the fact of a complaint and press the next button. The declaration form will be open select acceptance and press the next button.
Step 10 – Enter Captcha and upload the attachment/file if any. Click on the submit button. Your complaint will be filed and the system will display the complaint number on the screen. You will be prompted to download PDF of the complaint.
How to track your complaint?
To track the progress of your complaint you need to visit the same portal and follow the steps given below.
Step 1 – Click on "Track your complaint" button. Select language from the drop down list from top right corner.
Step 2 – Enter your complaint number and enter Captcha under Captcha field and press submit button.
Step 3 – Enter your name and date of complaint. OTP will be sent on the mobile number. Enter the OTP and Captcha and press OK button.
You will be able to see your complaint status.
Over to you
Do you think RBI complaint management system portal will help in resolving banking related issues?
Please share your views in the comment section given below.