Rakesh Jhunjhunwala middle class man son of Income tax officer is today King of Indian stock market. By profession CA Rakesh Jhunjhunwala many time referred as warren buffet & stock guru of India. With his wisdom and knowledge he has turned small investment of 6000 Rs/- to 6000 Cr in stock market.
Rakesh Jhunjhunwala net worth according to Forbs is $1.25 billion. He manage his portfolio as a partner in his asset management firm Rare Enterprise.
Many fans and follower blindly trust in Rakesh Jhunjhunwala and purchase stock as per Rakesh Jhunjhunwala portfolio. To help all these fans and followers I am herewith Rakesh Jhunjhunwala Latest Portfolio Holding.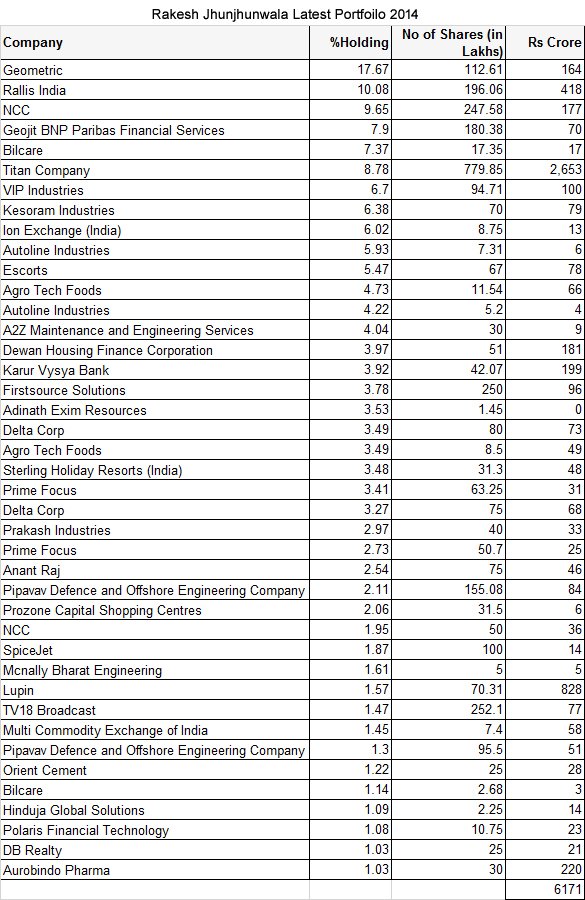 Rakesh Jhunjhunwala Latest Tips for Investor
Value Based Investing
Do your homework well before investment. Always look for value proposition and future prospects before doing investment. If you find value in stock just go for it, it will surely reward you with good returns.
Look for Source of profit
Before investing in any stock look for source of profit. How company is doing business and what are prospective source of profit.
Differentiate between short-term and long-term investment
Another distinct tip from rakesh jhunjhunwala is to distinguish between short-term trades and long-term investment. Manage tradeoff between risk and rewards.
Pick Right time
You need to take correct investment decision at correct time. Investor often get carried away by good news for making investment. Remember Investment should be planned with timeframe and valuation target at beginning. This will help you to take calculated call.
Investment Mistakes
Suppose your investment is not giving you expected return or you feel it is bad investment decision. Don't dwell on it too much. The biggest mistake is to get too attached to a bad investment.
Hope Latest Portfolio & Tips of Rakesh Jhunjhunwala will turn you to be better investor.
Happy Investing!
Do share your views on above!