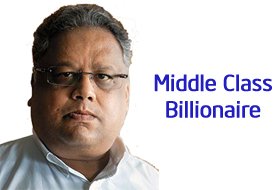 Rakesh Jhunjhunwala is a self-made middle class billionaire. With net worth of 1.86 billon he is holding 51 position in Forbs rich list today. He has generated wealth of 5000 Cr from 5000 Rs by investing in stock market. Rakesh Jhunjhunwala's father was Income Tax officer. He was from middle class family, he could have chosen to live simple life by doing Job like his father but he choose to become Investor.
People does Job or business to live life. Rakesh Jhunjhunwala does investment to live life. He gets lakhs of rupee as stock dividend. His dividend income is enough to take care of his requirements. The nature of his work is such that even if his family and he went off for a three-month cruise, nothing, apart from his trading income, would be affected.
Rakesh Jhunjhunwala's started learning about market and investment when he was only 12 or 13 years old. His father, who was a civil servant, would discuss stocks with his friends and that got him interested in the markets.  He was so curious about stock market fluctuation and he use to ask question to his father that why price of shares move up and down. His father use to reply that stock price react to news.
From childhood he was passionate about stock market. He has formally started stock market investment after completion of CA in 1985 with 5000 Rs/-.  He has made lot of money from stock market. Today he is planning to give away Rs 5,000 crore or 25 percent of his total wealth, whichever is lower, to philanthropy when he turns 60 on July 5, 2020. I am herewith learning from Rakesh Jhunjhunwala.
Learning from Rakesh Jhunjhunwala
Simple Living High Thinking
Rakesh Jhunjhunwala also adopted fundamental of Warren Buffet.  He believes in simple living. In his recent interview with Forbs he shared that "You should value about what you are spending – Today, I can shop for Rs 50 crore of stocks, but if I have to buy Rs 5 lakh watch, I will think 50 times".
Long term Investment
Rakesh Jhunjhunwala believes in long-term investment. He invested in Lupin & Titan before 11-12 years and still he is holding these stocks. During this 11 years these stocks faced major downfalls but he has not sold these stocks.
Jhunjhunwala bought into Titan in 2002-03 at an average price of around Rs 5 the stock then rose to touch Rs 80 and later fell to Rs 30, but he did not sell a single share
Similarly, he kept the faith in his second big holding, Lupin. "From 2006 to 2009, Lupin went nowhere. It was in the Rs 135-150 range, but that Rs 150 is Rs 1,350 today.
Rakesh Jhunjhunwala does not believe in frequent trading he believes in long-term investment strategy.
Always learn from your mistake  
Another learning from Rakesh Jhunjhunwala is learning from own mistake.  You should hold the investment which is giving good return to you.
He remember mistake he has done by selling parts of his holdings in Titan, Lupin and CRISIL. He sold Rs 27 crore worth of CRISIL shares in 2005 and bought a house in Mumbai. "That house may be worth Rs 50 crore today, but if I had held on to the shares, they would be worth Rs 700 crore now, and tax-free".
From Rakesh Jhunjhunwala's life I can say that "If you learn how to invest in stock market you can also become billionaire".
What is your learning from Rakesh Jhunjhunwala Do share with us!