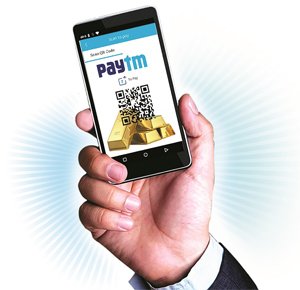 Digital Gold is an another way to hold gold in digital form. Digital Gold enables users to buy gold online with a click of a button. Digital Gold can be purchased from Paytm in India.
The first love of Indian is gold. Gold is precious, auspicious and purchased for every special occasion like marriage, festivals etc. Gold is also purchased as a part of an investment. Traditional ways of purchasing gold has a few hassles like –
Getting best price
Trusted Seller
Keeping it safe
Inconvenience of storing
Time and Efforts
If you want to avoid all these hassles you can select alternate investment option of physical gold. i.e Digital Gold.
What is Paytm Digital Gold?
Paytm Digital Gold is a name of service that enables customers to buy 24K 999.9 pure gold online. Paytm has partnered with internationally-accredited refinery MMTC PAMP in order to launch an online platform for digital gold. It provides two options to the customer. A customer can either store gold online or request purchased gold to be delivered to their homes in the form of minted gold coins.
Also Read – How to calculate Gold Ornament Price?
How to buy Digital Gold using Paytm?
There are two methods to buy a digital gold using Paytm. You can buy gold via Mobile app or online via website.
Buy Digital Gold via Paytm Mobile App –
Install Paytm App on your Mobile
Go to "Digital Gold" tab on Paytm
Select Buy Gold and choose the option to buy in grams or rupees
Fill the details and proceed to pay
Buy Digital Gold via Paytm Website –
Open Paytm Website and go to Gold tab.
Click on Buy in Rupees or Buy in Grams
Enter your name & delivery pin code.
Click on Proceed for payment
How to Sell Digital Gold using Paytm?
If a customer wants to sell the gold that he has purchased, he/ she can offer to sell the Gold accumulated on Paytm in either Rupees or Gram. For example, you can offer to sell either 0.1 gram or Re 1 and above
The customer's Gold account holdings should be equal to or higher than the quantity you offer to sell. For this, the customer will be required to share your Bank account number and IFSC code to enable the sell transaction.
After paying the convenience fee, you will immediately see the amount credited to your bank account while the Gold balance in your Gold account will be debited.
Also Read – 5 Signs for checking purity of Gold
What is Gold Accumulation Plan in Paytm?
Gold Accumulation plan of Paytm is a unique plan that allows you to accumulate gold using your Paytm account with a low value such Rs.1.
Gold Accumulation plan also allows to buy & sell gold in a fraction like 0.1 gm etc.
This facility is available round the clock, including public and bank holidays.
How to Withdraw Gold from Paytm?
Withdrawal of Gold from Paytem wallet means converting digital gold in physical gold. It is as good as buying a physical gold from the market. The step given below will help you to withdraw Gold from Paytm.
You need to give request online for the withdrawal of gold. This request shall be between 1 gm or in multiple of 1 gm.
You will have various options of coins on Paytm site for selection.
Each coin will have different making charge. It will depend on design and weight of the coin.
If you are withdrawing gold you need to pay extra making and delivery charges.
You will get physical delivery of gold coins at your door step. You will also get confirmation on your Paytm registered mobile number.
Should you invest in Paytm Digital Gold?
Gold a yellow shining metal is most preferred investment option for many people. Paytm Digital Gold is a boon for many people as it allows them to buy a gold in lowest proportion starting from Rs.1. However, before investing in Paytm Digital Gold you should take a note of following points.
You need to make a transaction of buy or sell using Paytm account at least once in 6 months else your account will be marked as inactive.
A maximum tenure of your Paytm account is 5 years. So, if you are planning to hold gold above 5 years Paytm Digital gold may not be suitable for you.
Buy and sell is not possible on the same day.
No nomination facility is given in the account. In case primary account holder dies legal process is required in order to claim gold.
Digital Gold of Paytm does not provide a facility of SIP.
Delivery of gold can take place only on few locations in India. There may be additional delivery charges and making charges while taking delivery of gold.
Above loop holes make Paytm Digital Gold less attractive option for investment. If you are planning to invest in gold I recommend to go for Gold ETF.
What are your views on Digital Gold? Do share it in the comment section.