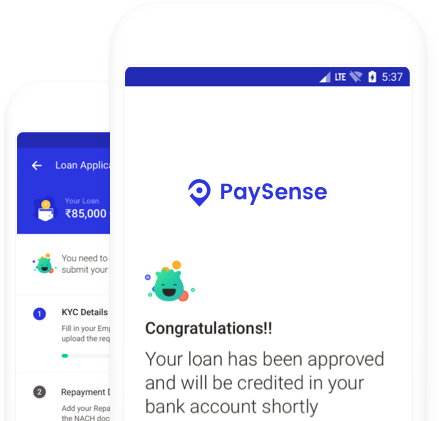 Paysense provides instant personal loan for the specific purpose. As we know life is full of uncertainties and so that financial situation. You never know, when the need for money would arise. Some typical situations which demand urgent cash are a medical emergency, job loss, wedding expense, unfavorable event etc. All these expenses are unpredictable and unavoidable. The first option that comes to your mind, when you are in need of money is to approach friends and relative. But, what happens if friends and relatives refuse to extend financial support? The only option left in front of you is to opt for a personal loan. To get a personal loan from the bank you need to physically visit the bank and complete application formality. However, with technology advancements, you can get instant personal loan online using application or website. Yes, I am talking about Paysense.
Also Read – 5 Best Banks for Personal Loan in India
What is Paysense?
Paysense is a lending app with an online platform that offers a personal loan up to 2 Lakh for all your needs starting from emergency need to entertainment to home renovation. You can get a loan from Paysense anywhere, anytime with low documentation.
Key Features
Get Instant Loan Approval up to 2 Lakh using Application or website
Get Loan approval in 2 hours and money in your account within 5 hours
No processing fees for getting loan approval
No physical documents required. You need to upload your documents
Affordable EMI Plan with reminder and auto-debit features
Loans are provided although you have zero credit history
Document Requirement
ID Proof – Pan card – Mandatory
Address Proof – Aadhar card(Mandatory), Passport, Postpaid Phone Bill
Income proof – 3 Months Bank statement Mandatory
A selfie
How to get a personal loan using Paysense?
A step by step process to get a personal loan using Paysense Mobile app is given below.
Download Paysense App from Google Play Store
Register using your email id and phone number
Check your eligibility details by providing basic details and select an appropriate plan
Upload your KYC documents as per requirement
E-sign your application and submit
Once your loan is approved and the application procedure is complete, your money will be directly transferred to your account quickly
Also Read – Credit Card Loan or Personal Loan – It's your choice
Paysense Instant Personal Loan Review
Paysense is one of the best ways to get a personal loan. Although you have zero credit history you can get a loan from this platform. The approval process for the loan is very fast provided document submitted by you are in order. The process of applying loan is very easy. You need not visit a bank and fill in tedious application forms. You need not to follow-up for knowing loan status or getting approval. The entire loan process is automated including disbursal. Paysense offers hassle-free personal loan without any collateral. However, you need to consider the following points before applying for a loan using Paysense.
This facility is provided only in the selected cities
It provides loan up to 2 Lakh rupees only
Sometimes it takes time to get an approval of loan using this app
The interest rate on which loan is offered is higher 16.8% compared to loan options available in the market.
The interest rate and loan tenure vary based on customer profile
Have you taken a personal loan using Paysense?
Do share your experience with others!