How to Open PPF Account Online in SBI? – PPF is one of the best investment option. You can save money as well as save tax by investing in PPF Account.
It is very easy to open PPF account online. Most of the banks offer the facility of opening PPF account online including ICICI and SBI. SBI is the preferred choice when it comes to banking due to many reasons like leading public sector bank, online facility and enhance reach. If you are planning to open PPF account you should consider an online option of opening PPF account at SBI. The benefits of opening PPF account with SBI are given below.
Online form for opening PPF account, with pre-filled information. You need to give minimum inputs.
The account opening is very quick. PPF account can be opened on the next day.
The account gets linked to your saving bank account.
The operating of PPF account at SBI is very easy. You can transfer fund easily.
PPF account balance check can be done online via net banking.
You must be excited after looking at the benefits of opening an online PPF account at SBI. Here is step by step process to open PPF account online at SBI.
Prerequisite for Opening Online PPF account at SBI
The prerequisites of opening online PPF account at SBI is given below.
You must be holding saving bank account with SBI.
You should be using net banking facility as facility of opening PPF account is available via net banking.
You must have money in your saving bank account for opening PPF account.
Also Read – How to close SBI Fixed Deposit Online?
How to Open PPF account Online in SBI?
The step by step process of opening PPF account online with SBI is given below.
#1 Login to SBI Net Banking Account
The first step is to log in to SBI Net Banking Account via allocated username and password. If you don't have net banking login id you need to contact SBI branch. Y
#2 Request for New PPF account
After doing login to the net banking account, click on the menu and go to "Request and Enquiries". Click on New PPF account link given inside Request & Enquires link.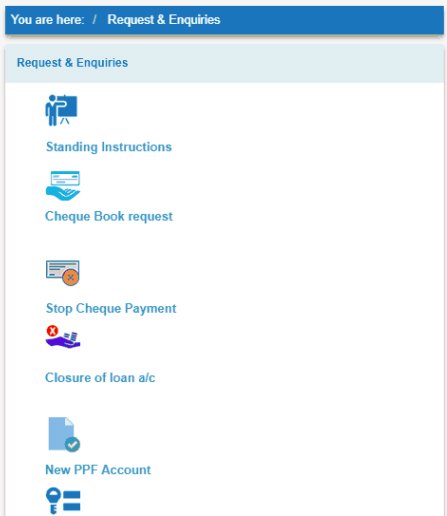 #3 Fill up the form and submit
Now you will be able to see Apply for PPF Account form. This form contains information like personal details. You only need to mention branch code, where you want to open PPF account. In case you are not aware of branch code you need to use Branch locator tool.
After that, you need to provide information about nominee of PPF account. Once you are done you need to submit the form online. On submission, you will see reference number.
#4 Download and Submit Account Opening Form
Now go to PPF account section and click on reference number to download PPF online application form. Take print out of this form and affix your passport size photograph and signature on the form. You need to submit the form at the nearest branch.
#5 Get PPF Passbook
It will take one day to open your PPF account via this method. You will get passbook at next day. However, an account will be active on the same day. You can start depositing money.
How to do transaction online PPF account – SBI?
You can directly deposit money to your PPF account from saving bank account online using online banking. You can also visit the SBI branch personally and deposit your PPF contribution. You need to fill up pay-in-slip at a branch.
Another alternative is to avail auto debit ESC facility at SBI for making PPF contribution. Under this facility mentioned amount will be debited from your saving banking account automatically and get deposited to PPF account.
I hope the information given above for opening PPF account online at SBI will help you.
Do share your experience in the comment section given below.