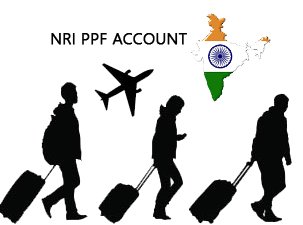 NRI PPF – The PPF scheme is most popular and preferred investment option in India. The PPF scheme is recently amended by the government of India for NRI. As per new notified rules PPF account needs to close on the day the investor become NRI. This rule is also applicable to NSC. If the account is not closed it will only earn 4% return, whereas NSC will earn post office saving bank account return. NRI shall not be able to open PPF and NSC account going forward. This rule is applicable with recent effect.  This means current NRI PPF account will only earn 4% return instead of 7.8% return at present. The difference between old and new NRI PPF rule is shown below.
NRI PPF New Rules
As per the latest rules, NRIs cannot open a new PPF account in India.
NRI's are not allowed to continue PPF account up to maturity.
PPF account of NRI will be closed immediately once their status changed to NRI from resident Indian.
The existing PPF account will get only 4% interest.
The interest rate of 4% is not sufficient to even beat inflation. So, NRI with PPF account or NSC must be worried what to do? One option is stay invested and earn 4% return and the second option is to withdraw money from PPF and close the account. However, the big question is that if NRI is staying abroad how he/she can close NRI account. Here is a complete guide showing How NRI can withdraw money from PPF?
Also Read – RNOR Status NRI can save Tax up to 3 Years
How NRI can withdraw money from PPF?
If you are an NRI planning to withdraw money from PPF due to this new rule please note that your request can be processed by bank or post office only if your signature is attested by an authority. The authority of attestation can be Gazette officer or PSU Bank officer. Follow the steps given below to close your NRI PPF account.
Step 1 – Send PPF closing form to your relative, parents or friend in India where you have NRE/NRO account. You also need to send authority letter stating that you are allowing them to do withdrawal process by closing PPF account on your behalf.
Step 2 – The person needs to visit bank where NRI have NRE/NRO account. They need to get attestation of the authority letter. After it is attested person has to visit bank or post office where PPF bank is held. The bank will accept the document and close the account.
Over to You –
If you are NRI it is advisable to close your PPF account and invest in either mutual funds or equity. Another alternative option for you is NPS.