How to Download NPS Statement or check account balance online? NPS subscribers are always searching for this answer. In this post, I will share step by step method to download NPS statement.
National Pension Scheme (NPS) is one of the best investment schemes for retirement planning. Apart from investment, NPS also act as very good tax saving tool. NPS allows additional tax benefit of Rs 50000 under section 80CCD (1B).  This amount can be claimed for deduction during a particular financial year. You can claim the deduction over and above the Rs 1.5 lakh limit as prescribed under the section 80C of income tax act. The deduction under 80 CCD (1) is available to both salaried and non-salaried individuals.
If you have invested your money in NPS, you need to submit NPS investment proof to claim the income tax deduction. By this time your employer must be asking you to submit the income tax investment proof for Form C. Once you submit the proof, your employer will verify it and make TDS deduction for the financial year. If you are NPS subscriber you can easily download NPS Statement as an investment proof. This investment proof can be obtained from central record keeping agency for NPS – CRA NSDL website.
The subscriber can also download the receipt of a voluntary contribution made in Tier I account by logging into NPS account.
Also Read – NPS or ELSS – Where to Invest Money for better return?
NPS Statement & Account Balance – How to Download?
Steps to Download NPS Statement  
First, you need to login to your NPS account via CRA website. Go to https://www.cra-nsdl.com/CRA/
Log in as a subscriber via entering PRAN and password.
Once you are login you will be able to see the navigation bar.
In the navigation bar go to Transaction Statement Menu. Under sub-menu, you will be able to see "Holding Statement" and "Transaction Statement" as shown in the image below.

Click on the transaction statement and you will be able to download the NPS Statement. A sample Statement of Holding statement is given below.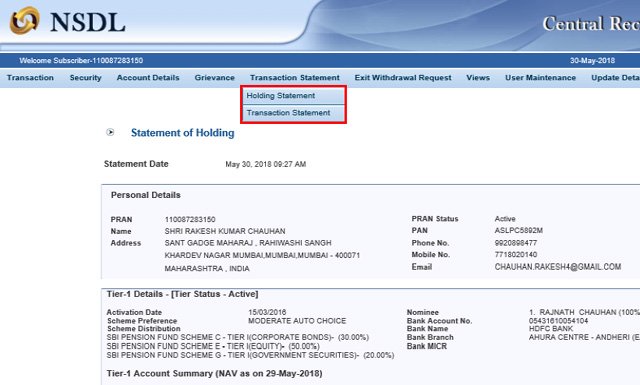 Steps to Download NPS Voluntary Contribution Statement
Visit the NPS CRA website and log in as a Subscriber via entering your PRAN and password.
Once you login you need to go to "View" under main menu.
You need to go to sub-menu "Statement of Voluntary Contribution under NPS" available under main menu "View"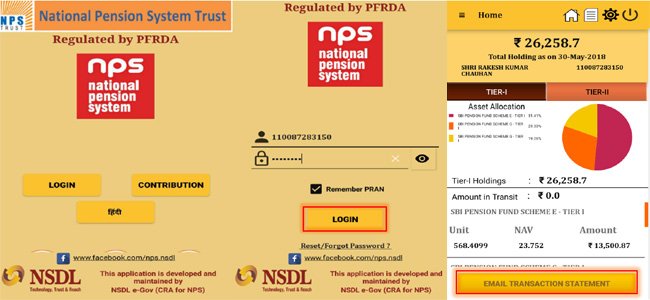 You can download NPS contribution statements for different financial years. Once your statement is downloaded you can take printout and submit to your employer as an investment proof.
Also Read – NPS Mobile App for NPS Subscribers
NPS Balance Check via NPS & UMANG App
You can also check NPS balance via NPS app(NPS by NSDL e-Gov). This app is easily available on Google Play Store. The steps to check NPS balance via NPS app is given below.
Download & Install NPS app in your smartphone from Google Play Store.
Open the App and click on Login.
Enter PRAN and password.
You can access the latest account details as is available on the CRA
You can view your current holdings and all other account details.
You can also submit your contribution via this app on the move.
Checking NPS balance via an app is a smart and user-friendly way.
The government of India also offers a facility to check NPS balance via the App. NPS service facility is available in UMANG app. UMANG is an initiative by the government to offer E-Gov services under a single platform. You can UMANG app from the website or from Google Play Store.
Do share your views and experience in the comment section given below.