A multibagger stocks have potential to give multiple times returns to the investor. Investors are always looking for a good multibagger stock for the investment. A multibagger stocks can make investor wealthy in a short period of time.  In this post, we will talk about multibagger stocks of FY18.
The fiscal year 2018 was an average year for the stock market. At the beginning of the year, we have seen stock market has surged but at the end, due to LTCG, many stocks have lost its shine. However, despite of ups and down many small-cap mid-cap stocks have turned out to be mulitbagger this year.
Truly speaking it is very difficult to identify multibagger stocks for the investment. You need to consider multiple factors such as earning potential, a line of business, debt level and several other business aspects. Here is a simple method to identify Multibagger Stocks.
Also Read – 40 Multibagger Stocks Up to 200% return in 2 Years
How to identify Multibagger Stocks?
Fundamental Analysis
Firstly you need to shortlist a stock and do a fundamental analysis to find out if a stock is fundamentally strong or not. You need to consider various financial ratio in order to do fundamental analysis of the stock.
Product and Business Model
Find out product and services offered by the company. Also Check Company is in the business for how long? And, a business model of the company is sustainable or not.
Future Business Potential
A company should have good earning visibility with scalability in operation. A company's product should be in demand. A company should have favorable future business potential.
Competitive Advantage
You should check do company enjoys a competitive advantage over other? Business expansion, a global market presence or new monopoly product could be added advantage.
Financial health and performance
A performance history of a company should be good. A revenue of the company should be growing quarter to quarter. A company should have low debt. The valuation of stock should be low.
Small cap and Mid cap Space
A chance of getting multibagger performance is very high in small cap and mid cap segment. Hence, one should try finding high quality less popular stocks in small cap and mid cap segment.
After looking at a method of identifying multibagger stock. Let's take a look at Multibagger Stocks of FY 18
Also Read – How to find Multibagger Stock for Investment? – Flowchart
40 Multibagger Stocks of FY18
A complete list of 40 Multibagger Stocks of FY2018 is given below.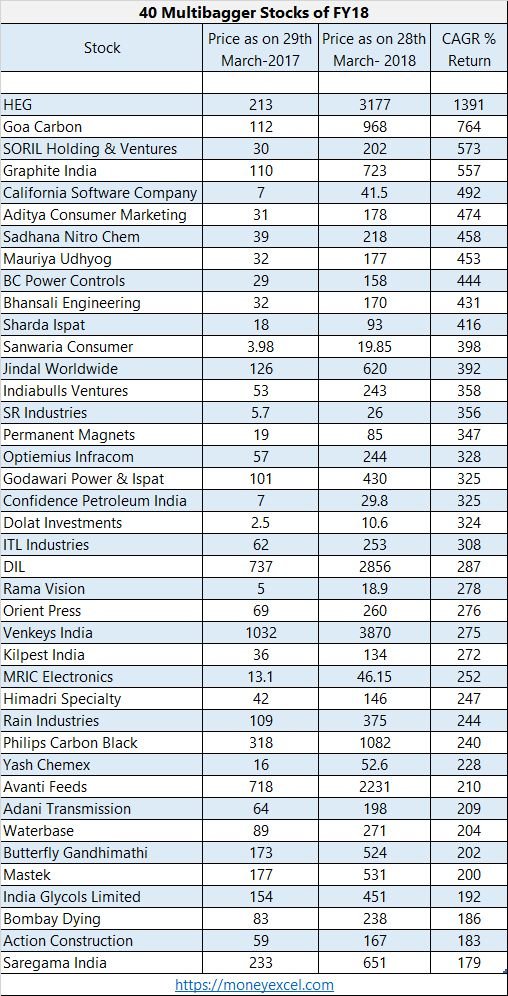 A first stock in the list is HEG. HEG generated 1391% return for the investor in last one year. Other multibagger stocks in the list are Goa Carbon, SORIL Holding, Graphite India, California Software, Aditya Consumer, Sadhna Nitro Chem, Mauriy Udhyog, BC Power Control, Bhansali Engineering and Sharda Ispat. These stocks have generated 400 -700% return to the investor in last one year.
All these stocks have generated multifold returns for the investors. If you are impressed with this stocks and planning to invest in the stock market. Here are potential multibagger stocks for 2018.
Also Read – 18 Multibagger Stocks 2018 Recommended by Stock Experts
Potential Multibagger Stocks 2018
 GIC
A first Potential multibagger stock is GIC. GIC is housing finance sector company. Net profit and sales of GIC are growing YOY. This indicates the financial performance of the company is good. A company is also maintaining healthy dividend payout of 21.53%. Valuation of stock is reasonable. Upcoming infrastructure development is likely to give multifold benefit to GIC. GIC is one of the favorite stock of Porinju Veliyath.
Birla Corporation Limited
The second potential multibagger stock is Birla Corporation Limited. Birla Corporation is Mid Cap cement sector company. It is a nearly debt-free company. Past performance of this stock is very good. Similar to GIC this stock is likely to get a benefit of upcoming infrastructure developments. Overall it is a good choice for the investment.
Source – Economictimes and Own Research
Do you think above multibagger stocks are good buying bet?
Do share your views in the comment section.