MT4 and MT5 are the two most frequently used and prestigious trading platforms around the world. Both platforms offer a wide range of features and tools that can be used by traders of all experience levels. While MT4 is more widely used by experienced traders, MT5 is gaining popularity among newer traders who are looking for a platform with advanced features.
All great features which will be quickly overviewed late were available for iOS users but not anymore. At first, there was no official word from Apple on whether or not MT4 and MT5 were banned from their App Store. However, there were many reports of people having difficulty finding and downloading the apps.
Currently, both platforms are banned from AppleStore. There are several reasons why iOS users are not able to use the most popular trading apps anymore. If you are interested in why we will explain everything down below. Additionally, we will suggest some great apps which can be useful for online financial trading from AppleStore.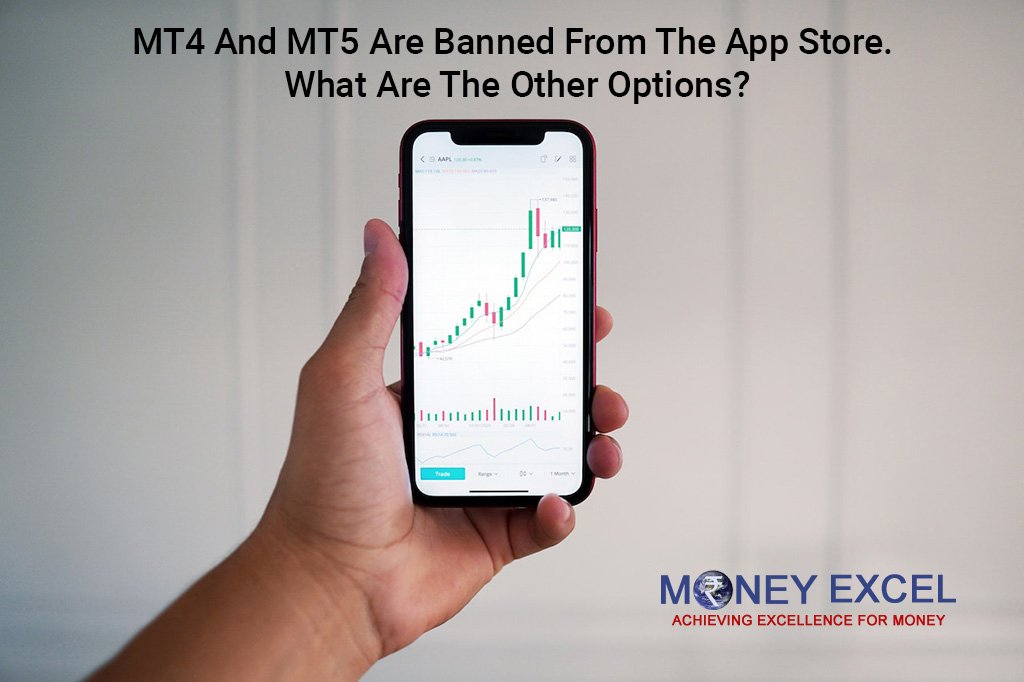 A Quick Overview Of MT4 And MT5 – Play Store Users Are Still Able To Use Them
MetaTrader 4 which is the same as MT4 has been available since 2005.  MT4 was designed to offer traders a secure and efficient way to trade Forex, CFDs, and Futures markets. The main features of MT4 include charting tools, technical indicators, Expert Advisors (EAs), backtesting capabilities, and a user-friendly interface.
MetaTrader 5 (MT5) is an improved version of MT4 in several markets. It has been available to use since 2010. MT5 was designed to provide traders with an even more efficient way to trade Forex, CFDs, and Futures markets. The main features of MT5 include advanced charting tools, technical indicators, EAs, backtesting capabilities, hedging support, and a more robust programming language (MQL5).
If you want to see a more clear picture of the MT4 platform compared to Tradingview it is needed to understand the basic differences between the latest and the first MetaQuotes platforms.
1) the programming language used – MQL4 vs MQL5;
2) order execution types supported – market orders only on MT4 vs market & pending orders on MT54;
3) a number of timeframes supported – 9 on Mt44 vs 21 on Mt55;
4) a number of built-in technical indicators – 31 on Mt44 vs 38 on Mt55.
Why Are MT4 And MT5 Banned From The App Store And What Can I Use Instead Of Them?
There are a few reasons why MT4 and MT5 are banned from the AppStore. The primary reason is about contracts for the difference which is the same as CFDs. More specifically, MT5 includes the CFD market which includes derivative products. The App Store considered that it could cause speculation about the price of underlying assets. CFDs are not permitted in Apple's App Store guidelines. Another reason is that MT4 and MT5 platforms also offer access to leveraged products, such as Forex, which can result in losses exceeding your initial investment if not managed properly. Leverage is also not allowed in Apple's App Store guidelines.
Apple has commented that the reason they banned MT4 from AppStore is that it allows for the development of Expert Advisors, which are automated trading robots. These robots can place trades on behalf of their users and have the potential to manipulate markets. So for MT4 which is the leading one in the FX market, Apple is considered a risk for a stable financial market.
Unfortunately, Apple has not commented officially if they are going to return these platforms to the App Store. However, many traders are hopeful that the company will change its mind and make these popular trading platforms available again. Only time will tell if Apple decides to bring back MT4 and MT5.
For iOS users, other platforms can be used for effective financial trading. Some of these include Trade Interceptor, cTrader, and NinjaTrader. All the mentioned apps are suitable for any experienced trader and provide convenient conditions for every type of trading goal.
Ninja Trader
NinjaTrader is a powerful trading platform with many features and tools that can be used by traders of all levels of experience. Some of the best features include its user-friendly interface, advanced charting capabilities, and robust backtesting functionality. NinjaTrader also provides access to a large community of traders who can share their insights and strategies.
Axiory MT4
Axiory is a forex broker that offers a variety of features that are beneficial for forex traders. Some of the best features of Axiory include tight spreads, fast execution speeds, and a large selection of currency pairs. In addition, Axiory provides its clients with access to advanced trading tools and resources, which can help them make more informed trading decisions.
Trade Interceptor
The Trade Interceptor is a powerful and user-friendly trading platform that offers a variety of features to help you make the most informed and profitable trades possible. Some of its best features include real-time quotes and charts, advanced order types, sophisticated analysis tools, and more. Whether you're new to trading or an experienced investor, the Trade Interceptor can help you take your trading to the next level.