The Most Expensive Stocks in the India 2016 – The stock market investment is double edge sword. It can make you rich or it can make you poor. To earn a handsome return, it is important that you make an investment in the right stock.  In this article, we will take a look at 10 most expensive blue chip stocks in India. These stocks are most expensive and instead of this one stock you can purchase expensive items such as iPad or even 10 gm gold ring for your wife. 🙂
10 Most Expensive Stocks in the India
1 MRF
MRF is most expensive stocks of Indian stock market. MRF is the largest tire manufacturer in India. MRF stock price as on today (i.e 23/5/2016) is Rs. 32027. You can purchase 10gm gold on behalf of one stock of MRF. In last 6 years, the stock price has increased by 4 times. If we talk in CAGR in past 5 years MRF has given 35.74% return to the investor. The stock of MRF is trading at Rs.59113 in May 2020.
Also Read – RAEES Stocks – 10 Multibagger stocks Magnificent returns
2 Bosch
Bosch is second most expensive stocks. Bosch has diversified business and dealing with multiple businesses. CMP of Bosch is Rs 21050. The stock value has increased 4 times in past 6 years. In terms of CAGR, this stock has given a return of 25% in past 5 years. The price of Bosch Stock is reduced and trading at around 9700 in May,2020
3 Eicher Motors
 Eicher Motors is third most expensive stock. Eicher Motors is the leader in automotive space and manufacturing multiple vehicles such as commercial vehicles, motorbike etc. Eicher Motors is one or the best-recommended stock for long term. Eicher Motors stock has given magnificent return to the investor. In last 5 years, CAGR return of this stock is 70%. CMP of Eicher Motors is Rs.16500. Eicher motor is very good stock for investment.
4 Page Industries
Page Industries is in a textile company and holding an exclusive license of Jockey International for the distribution. CMP of Page Industries is Rs 18601. A stock of Page Industries has increased 15 times in past 6 years. CAGR return of Page Industries in past 5 years is 51%. You can invest in this stock with a target of Rs.20000.
5 Shree Cements
Shree Cements is in the business of Cement manufacturing. CMP of Shree Cements is Rs.20800. A stock of Shree Cements has increased 6 times from 2010 up to 2016. CAGR return of Shree Cements for last 5 years (2010 to 2016) is 47%. Upcoming infrastructure projects and smart city initiative will be beneficial for this stock.
Also Read – 5 Small Consistent Performer stocks since past 5 years
6 3M India
3M India is also on the list of most expensive stocks. 3M India is a diversified technology company dealing in multiple businesses. CMP of 3M India stock is Rs.18350. In last 5 years (2010 to 2016), 3M India has given 26.33% CAGR return to the investor.
7 Honeywell
Honeywell is one of the most expensive stock. Honeywell produces a variety of commercial and consumer products.  In past 5 years(2010 to 2016), this stock has given CAGR return of 30.6% to the investor. This stock is worth for investment for the long term.
8 Bajaj Finance
Bajaj Finance is leading finance company of India. Bajaj Finance provides a loan in the consumer segment. Bajaj Finance stock is one of the most expensive stock. Bajaj Finance is consistent performer stock and giving very good returns to investor year on year. I recommend keeping Bajaj Finance stock in your portfolio.
Also Read – Bank Fixed Deposit Vs Investment in Same Bank Share
9 P&G
P&G is one of the largest and fastest growing consumer company of India. CMP of P&G is Rs 9897 making this stock one of the most expensive. CAGR return of P&G for last 5 years is 26.30%.
10 Nestle India
Nestle India produce food items. CMP of Nestle India is Rs.17530 (May 2020) and it is one of the most expensive stock of Indian stock market. Last 5 year CAGR return of Nestle India is 8%.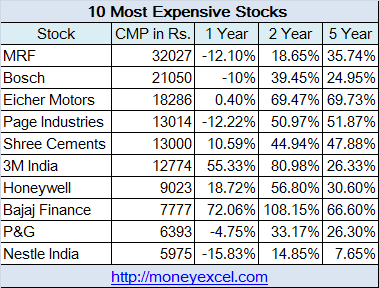 Note – Above price comparison is as on May 2016.
Why these stocks are most expensive?
The reasons why these stocks are expensive is given below.
A limited number of stocks are available in the market for trading.
The demand of these stocks are high.
No split or bonus shares are announced by a company since a couple of years hence face value of a share is high.
Over to You –
Do you own any of the expensive stocks mentioned above?
Do you think these stocks will able to outperform in future?
Do share this list of most expensive stock with other.
Happy Investing!