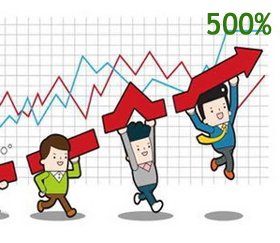 2014-15 was year of stock market. Sensex set new record of rising by 25% in financial year. This is highest jump of sensex after FY10. The midcap index and small cap index outperformed sensex and rose by 50 and 51% respectively during the year. Not only that sensex and nifty was able to chase highest level of 9000 and 29000 respectively in FY2014-15. As per experts stock market will remain range bound for short-term, however it is expected that market will touch new height in days to come. Let's take a look at top mid cap and small cap stocks of 2014-15.
Top Mid cap and Small cap stocks of 2014-15 
 Source:- BSE INDIA
Blue-chip stocks with more than 50% return
In last financial year following blue chip stocks was real hero. These stocks were able to generate more than 50% return for investors.
Lupin – 110% return
Yes Bank – 97% return
Axis Bank – 87% return
Maruti Suzuki – 83% return
Cipla – 81% return
Sun Pharma – 76% return
Indusind Bank – 75% return
Kotak Mahindra Bank – 66% return
BPCL – 63% return
Tech Mahindra – 44% return
Very good performance by Pharma and Banking Stocks 
Financial year 2014-15 was year of pharma and banking sector. Majority of pharma and banking stocks was able to give positive returns in 2014-15. Pharma index grown by 67% followed by banking index 44%, Auto Index 45%, IT index 30%, FMCG index 11% respectively. Metal index was down by 5%. 
Stocks that could not perform in 2014-15 
In financial year 2014-15 following stocks could not perform and end up giving negative return to investors.
Crain India – 35% negative return
Tata Steel – 20% negative return
Tata Power – 12% negative return
Reliance Industries – 13% negative return
NMDC -10% negative return
Hindalco – 5.5% negative return
ONGC – 4.3% negative return
Investor wealth surpass by Rs 27 Lakh Crore in 2014-15 Investor wealth was increased by Rs 27 Lakh Crore in financial year 2014-15. This wealth was generated in 240 trading session that means in every trading session investor wealth was jumping by 11250 crore. 
FII inflow in Indian Stock Market 
Investment of Foreign institutional investors (FIIs) in the financial year 2014-15, in Indian stock market was Rs. 108,394.93 crore. This is highest inflow of FII ever recorded for stock market. Formulation of investor friendly government and growing economy is main reason for increasing FII investments. It is expected that this inflow will continue.
Indeed 2014-15 was good year Investors. Hope in coming year 2015-16 stock market will outperform again and investor will be happy.