MFCentral – Tracking your mutual fund investment became easy due to MFCentral. As an investor, we make investments in mutual funds through multiple ways such as demat accounts, brokers, My CAMS as well as direct fund manager websites. For the majority of investors tracking mutual funds investment and portfolios in a single place is a challenging and time-consuming task. To solve this problem, My CAMS and Kfin Technologies have developed MFCentral.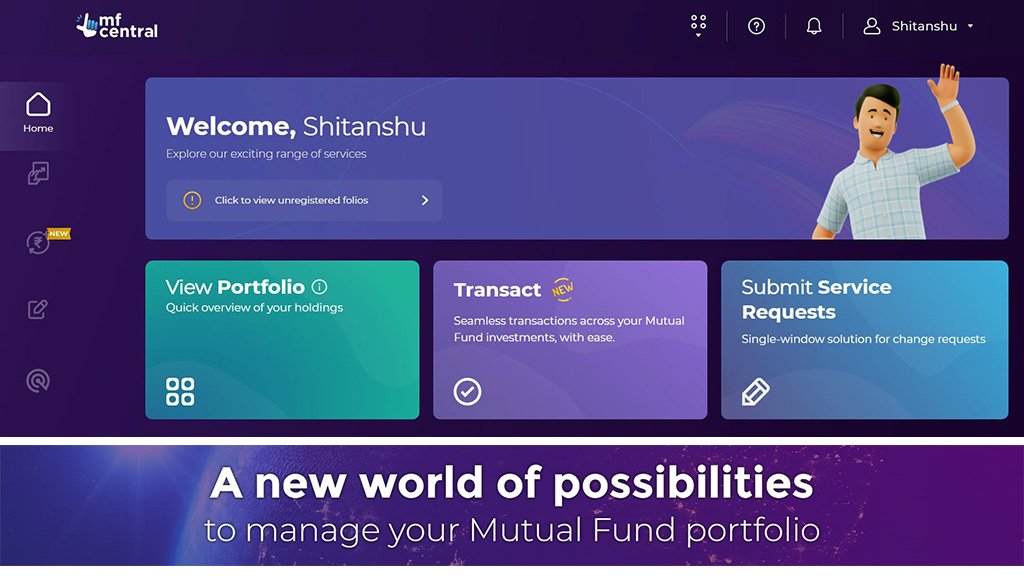 What is MFCentral?
MFCentral is a unified platform for all your Mutual Fund related needs.
MFCentral minimizes the need to visit multiple portals and platforms to access your mutual fund portfolio. You can view your mutual fund investments, and raise requests towards purchase, redemption, switches, and new SIPS in Open-ended schemes using MFCentral. You can also raise service requests for updating bank IFSC, updating Form 15 G/H details, and many more.
MFCentral brings ease, convenience, and speed to your service requirements across all the Mutual Funds.
Features & Benefits of MF Central
MFCentral will cover all your Mutual Fund Folios having the same PAN/PEKRN and Registered Mobile Number. Portfolio coverage will be offered across all such Folios in Demat or Non-Demat forms.

You can view your mutual fund portfolio – Fund house-wise & Asset class-wise details (SoA & DEMAT holdings) on this platform. You can get information about your invested value, market value, and gain/loss percentage. 

MFCentral offers a facility to view Fund portfolio assets class-wise as well as fund house-wise.

You can generate a detailed CAS (consolidated account statement). You can even download your CAS from this platform.

You can raise a request for changing your bank account details. You need to submit proof for the same. You can also file bank mandate registration from this platform.

MFCentral also allows investors to change/update their e-mail address, registered mobile number as well as nomination details under mutual funds. 

You can raise service requests on the MF Central Platform.

MF Central currently allows the Purchase transactions such as New folio with lumpsum purchase / Systematic Investment Plan (SIP). Purchase of additional units / SIP registration in existing investments.

MF Central also allows you to switch between funds as well as redemption of the funds.
How to use MFCentral
The MFCentral platform is accessible over the internet on the website as well as using mobile applications. You need to signup or register on this platform to use its facilities. Visit – https://app.mfcentral.com/investor/signup
You can use your PAN or PEKRN Details and the Mobile Number that is registered with your mutual fund investments to register onto MFCentral. MFCentral will carry out an OTP-based authentication and seamlessly register you as an authorized user. 
You need to answer the security questions during the sign-up process. This is an additional security layer to avoid any possibility of unauthorized access or misuse of the account. 
Once you register, you can log in using your PAN card number and password. On the dashboard, you will be able to options such as View Portfolio, Transact, and Submit Service Request.
View Portfolio 
On clicking view portfolio, you would be able to see your mutual fund portfolio. You would be able to see the invested value, market value, and gain/loss details. In addition to Statement of Account holding you would be also able to see Demat Holding under the MF Central portfolio tab.
Transact
Under the transact menu, you would be able to perform mutual funds-related transactions. You can do lump sum and SIP investments. You can also do switch, STP, and SWP of the funds. This platform also allows you to register for eMandate.
Service Request
The service Request section allows you to raise a service request to change/update your email address, change your registered mobile number, change bank/account details, update nominee details, update bank IFSC, tax status change, status modification from minor to major as well as update from 15G/H details. 
Track Status
The track status section allows you to track the status of your service requests. It also allows you to track commercial transactions.
MFCentral Review
MFCentral is a very good initiative that allows investors to track and invest in mutual funds using a single platform. This platform eliminates the need to log in to multiple investment platforms for checking mutual fund investments. Positives and Negatives associated with MF Central are given below.
Positives
A single consolidated platform for mutual funds.

Investing and tracking in mutual funds is easy using MF Central.

Facility to download MF Statement.

Availability on Mobile platform as we as on the website.

Secure platform. It is mandatory to answer security questions while login.

Submitting and tracking service requests on the move.

Service Dashboard Facility.
Negatives
Performance and rating of mobile app performance are poor.

Invested value is not visible from Demat Holding under the portfolio.

Sometimes it takes time to load data in My Portfolio.
Final Words
MF Central is a very good unified investment platform for mutual funds. I am using this platform for tracking consolidated mutual fund portfolios and for making investments in mutual funds. It is a useful platform for the mutual fund investors.