NPS Online Payment – It is very easy to make Online Payment to NPS account. NPS has various online payment options. You can make an online payment via eNPS. You can also make NPS account contribution via net banking of SBI, ICICI, HDFC, and other major banks. It is even possible to make offline NPS payment.
If you have opened NPS account and searching for an online method of making NPS contribution you are at right place. In this post. I will share step by step process of making the contribution to NPS account.
Also Read – NPS Calculator – Best NPS Fund Manager 2019
How to make NPS Online Payment?
You can make contribution to NPS Tire 1 and Tire 2 account online. This facility is available at eNPS portal as well as Net banking portal of banks.
#NPS Online Payment via eNPS Portal
Visit eNPS NSDL portal from your computer. Click on the National Pension System button. You will see popup window with three buttons.
Click on the Contribution button as you want to contribute to your NPS account.
You will able to see new window where you need to enter your PRAN (Permanent Retirement Account Number) for the verification.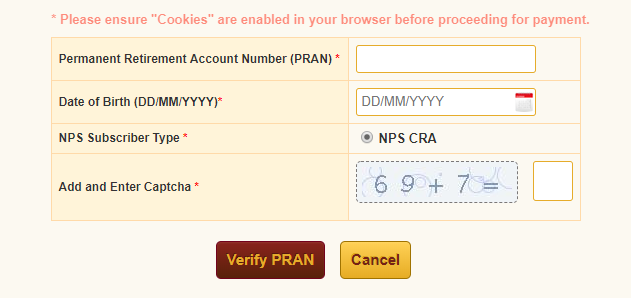 On clicking verify button, system will send an OTP to the registered mobile number and email. You need to enter this OTP for the confirmation.
In the next page, you need to enter the voluntary contribution amount and select payment gateway. There are two payment gateways one is SBIepay and second is Billdesk.
Now select the payment method. You have option of net banking, debit card and credit card. Follow on screen instruction to make the payment.
You can also make payments from your eNPS account's page. Just sign into your eNPS account using PRAN and IPIN and click on make contributions online. After that follow the process stated above to complete NPS payment to your account.
Also Read – NPS Statement & Account Balance – How to Download?
#NPS Online Payment via SBI
Next method of making contribution to NPS account is via SBI Net Banking. No matter you opened NPS account in SBI or not, you can make payment via SBI online net banking. In order to make payment via SBI net banking you need to register NPS account as a beneficiary. Follow the step given below for NPS online payment via SBI.
First sign into your SBI Net Banking Account.
Click on the 'Payments/Transfers' Tab from Top navigation bar. You will be taken to the new page.
In this page, at the bottom you will find NPS Contribution option under 'Other Payments/Receipt'.

If you have already added NPS beneficiary account, you will able to select PRAN and debit account for the payment.
If you are making payment for the first time, you need to add NPS Beneficiary account. You will get option of adding NPS beneficiary account in the similar tab. You need to enter your PRAN number for registration. You will be prompted to enter nick name for easy identification.
Next step is making selection of type of account. You will get drop down option, where you need to select between Tire-1 and Tire-2 account. You can make the contribution to both Tier-1 and Tier-2 account in a single payment. But note that your contribution in Tier-1 and Tier-2 will be treated as a different transaction. You will have to pay transaction charges for each of these transactions separately.
Once you are done with the selection press submit button and it will show NPS online payment detail page. Enter the amount and click on the confirm button to complete the payment process.
Your NPS online payment is completed. You will receive a confirmation message on the screen and also through SMS and email.
#Online NPS Payment via ICICI Bank
You can also make online NPS payment via ICICI Bank. The process is similar to SBI. You need to have net banking account of ICICI to use this facility. You also need to add NPS beneficiary to start contribution. The entire process of making online contribution to NPS account via ICICI is given below.
First sign into your ICICI Net Banking Account.
Click on Payments & Transfer and go to manage billers. Click on Register Now to register NPS account.
Here you need to click on Pension option. You will be taken to new page where you need to add National Pension System as new biller.
Enter nickname for the beneficiary, your PRAN and DOB as on the PRAN card. Accept the terms and condition and click on next.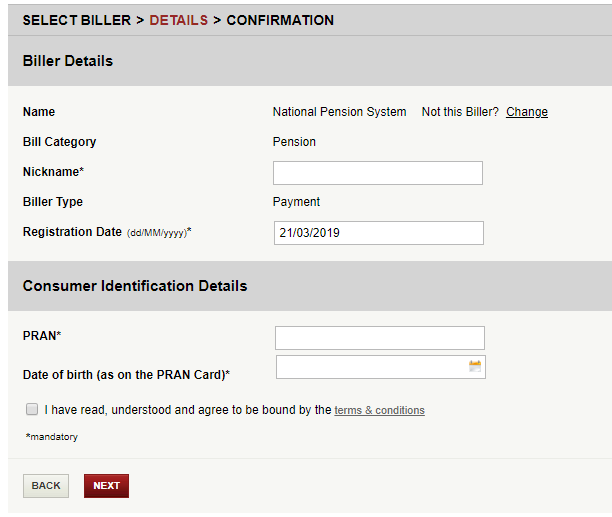 Preview the details you have entered and click submit if details are correct. Your beneficiary is will be added successfully. And you will be able to make NPS payments after 3 working days.
Once NPS beneficiary is added you can make payment by following on screen instructions.
#Offline NPS Payment
If you are not relying on online option of making NPS payment you can use offline option. The steps are given below.
You need to visit the POP-SP and get NCIS form. This form can be downloaded from NPS NSDL website. Fill all the required details in NCIS form including PRAN, subscriber's name and amount.
You need to mention whether you are a government subscriber or not. Attach DD/Cheuqe copy in the fovor of 'POP (POP name) collection account – NPS Trust". If amount is exceeding Rs.50000 you need to attach photocopy of PAN card.
Make sure that cheque is account payee. Please write your PRAN and mobile number at the backside of your cheque.
Submit the form along with cheque to payment counter. After your contribution is successfully made, the POP-SP will give you payment acknowledgment slip. This slip contains the details of payment, transaction charges and invested amount.
Over to You –
Do you use any of the facility given above for making NPS online payment? Do share your views and experience in the comment section given below.