Free Currency Converter & Crypto Calculator – The foreign currency market is extremely sensitive. The exchange rate of currency keeps on changing all the time. Thus, converting a foreign currency and knowing the exchange rate is extremely important in the volatile market. Especially, if you are traveling abroad or doing an import-export business.
A small change in the exchange rate leads to a big difference in the foreign transaction.
You need a handy live cryptocurrency converter tool that helps you to convert and compare the price of fiat monies and currency pairs USD/INR, USD/GBP, USD/AED, USD/CAD, USD/AUD with a click of a button.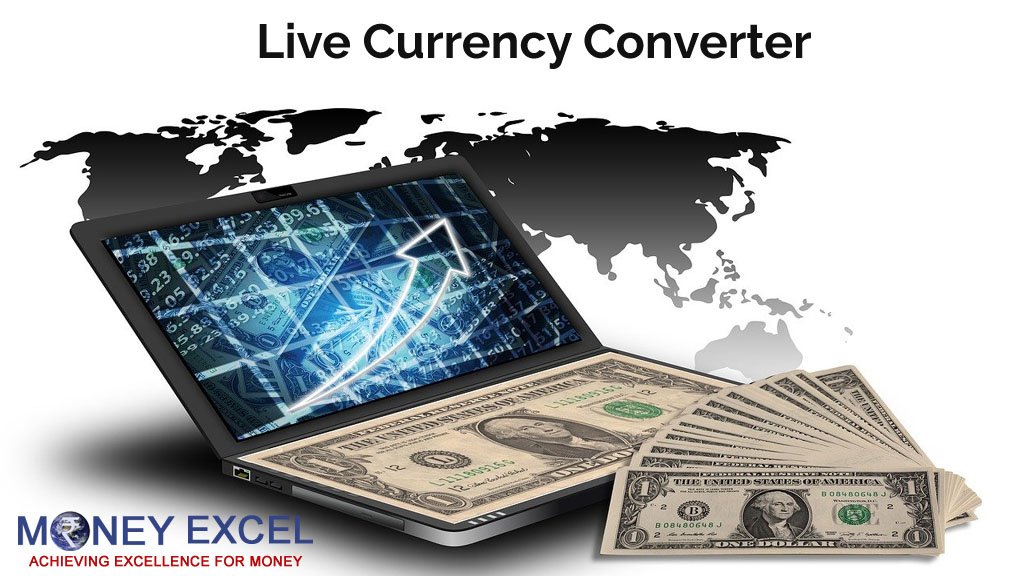 Our currency converter is a quick and easy way to see the live currency market exchange rate with a click of a button.
Here is more detail about the currency converter and crypto calculator tool exclusively crafted for the Moneyexcel blog readers. 
Live Currency Converter & Crypto Calculator Tool
Key Features of Live Currency Converter
#1 Live currency conversion – You can convert currency from any form to any form with a click of a button. You just need to input the amount and select the currency for conversion. The tool will display instant results.
#2 Currency Pair Support – The currency converter tool by Moneyexcel supports 190+ Fiat monies & currency pairs. 
For example – You can convert from USD to INR, USD to GBP, USD to AED with a click of a button.
#3 Currency Ticker – Live moving currency ticker provides information about currency rate change in real-time. It gives you dollar value change as well as percentage change with color indication.
#4 Rate Chart – The rate chart gives you information updates about currency rate changes. It gives real-time updates on exchange rate changes.
#5 Accuracy & Update – This tool takes updates in real-time with an update frequency of 5 minutes. You can expect 99.9% accuracy in the exchange rate shown by this tool. 
How to use the Currency Converter Tool?
It is an extremely easy-to-use currency converter tool of Moneyexcel.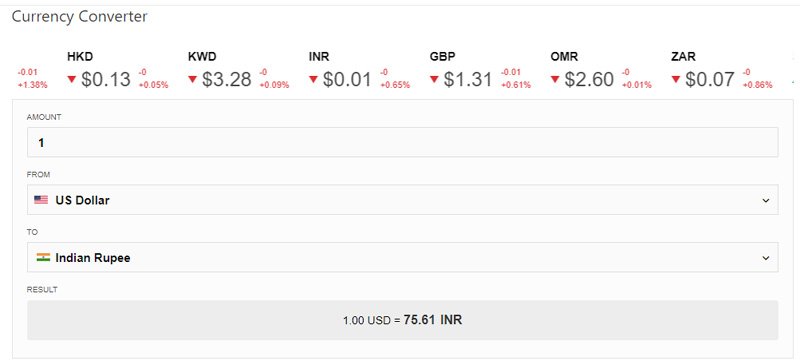 Click on the currency converter tool link.

Enter the amount you want to convert via this tool.

Select the From currency from the drop-down. 

Now select the To currency from the drop-down.
This tool will give an instant result of currency conversion.
Key Features of Crypto Price Checker
#1 Crypto Conversion – You can get the price of crypto in real-time. You can get cryptocurrency conversion rates in all major currencies such as USD, CAD, GBP, and INR.
#2 Crypto Ticker – Crypto Ticker is a tool that gives a real-time update about all cryptocurrency prices. The ticker also gives you a price change percentage with a color code.
#3 Currency Rate Chart – On the cryptocurrency rate chart you will get a graph of all major crypto such as Bitcoin, Ethereum, Litecoin, Dogecoin, etc.
#4 Top 10 Cryptocurrency Price – The top 10 cryptocurrency price chart table gives you the latest update about the top 10 cryptocurrency prices, market cap, and supply details. In short, you will get a complete performance analysis of cryptocurrency on this tool.
#5 Cryptocurrencies support – The cryptocurrency calculator supports 500+ cryptocurrencies. You just need to select crypto and fiat monies for the conversion.
How to use Crypto Calculator Tool?
It's a quick and easy-to-use crypto calculator tool.

Click on the currency converter tool link.

Select BTC or any other crypto from the dropdown. 

Enter crypto count into the input field.

Select the currency pair for the conversion from the dropdown.
You will get an instant conversion price.
In addition to foreign currency rate and crypto rate, you will also get daily gold and silver price update on our commodity tracker tool. 
Over to you
I hope the foreign currency converter tool and crypto calculator by Moneyexcel help you in your managing your finance.
Share these tools with your friends, and colleagues in your community.
In case of any query please write us at info@moneyexcel.com