You must be aware that it is mandatory to produce Premium Paid Certificate for insurance policies to avail Income tax exemption benefit under section 80 C. Premium Paid Certificate is a document issued by an insurer against payment of the premium amount. This document is generally required for the policies premium paid via ECS and NACH mode. For all other modes of payment, you get a premium receipt which will act as proof for income tax benefit.
If you have purchased LIC policy, and looking for the premium paid certificate you have three options. You can either contact your LIC agent, you can approach your branch office or you can download LIC Premium Paid Certificate Online. Out of these first two options are time consuming and cumbersome. Downloading LIC Premium Paid Certificate Online is a smart way which will save a lot of time.
Life Insurance Corporation of India (LIC) has launched new facility of downloading LIC Premium Paid Certificate online via e-service portal.
Also Read – My LIC & LIC Customer New Andriod App by LIC
LIC Premium Paid Certificate Download For Income Tax Purpose Online
Follow steps given below to download LIC Premium Paid Certificate Online.
1. Register Online for LIC e-Services
The first step is to register online at LIC e-Services Portal. A facility of LIC e-Services is extended to a customer, branch manager, & agent. If you are already registered with e-Services use your User ID and Password for login. On the other hand, if you are new user you have to sign up for using this facility. You need to provide policy number, premium amount, mobile number, email and Aadhaar details for registration.
2. Login to e-Service Portal
The second step is to log in to LIC's e-Service portal using your USER ID, Password and Birth date.
3. Go to the Basic Services
Next step is to click on Basic Services option under My App. Basic service option allows you to access your premium calendar, policy schedule, claim status and policy premium paid statements. Once you click on Basic Service option you will be taken to the "Proceed" button. Press it to proceed further.
Also Read – Loan against LIC Policy – Online Facility
4. Go to Policy Premium Paid Statement
Go to Policy Premium Paid Statement from left side navigation menu as shown in the image below. You will be taken to another page where you need to select Financial Year. Once you select the financial year system will display a list of policies along with installment premium details.
5. Select Policy for Premium Paid Statement
You need to select a policy for which certificate is required. In case you are looking for a single consolidated statement, select all policies.
6. Generate a premium paid certificate
Click on "Generate Statement" button given below the list and you will be able to download Premium Paid Statement in a PDF format.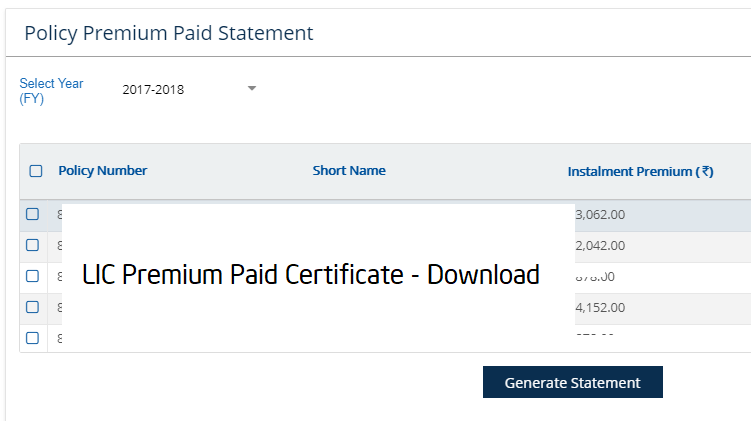 Make sure that your Pop-up blocker is turned off else you will not able to download/see the statement.
The statement contains information about all selected policies including premium mode, amount, received date, collecting and servicing branch. If you find any mismatch in the statement you have to contact LIC local branch.
Submit LIC Premium Paid Certificate to your employer and claim income tax exemption under section 80C.
If you are facing any issue in downloading premium paid statement post your query in the comment section I will try to answer it as early as possible.