LIC Jeevan Akshay VII is a new Pension Plan by LIC. Jeevan Akshay VII plan is replacing the current single premium pension plan LIC Jeevan Shanti (Plan 850). It is an immediate annuity plan with additional enhancements and changes. Jeevan Akshay is non-linked, non-participating, single premium Annuity Plan. In this plan, you just need to pay a lump sum amount once and you will be paid pension based on a selected option. This plan can be purchased for self & joint life. You must be keen to know about – How LIC Jeevan Akshay VII Pension plan works? Here is complete information about LIC Jeevan Akshay plan including key features benefits and review. 
I am sure that after going through this post, you will in a better position to decide that – Should you buy LIC Jeevan Akshay VII Pension plan or not? Before looking at Jeevan Akshay policy let us look at various LIC Pension Policies. 
LIC Pension Policies
LIC Pension Policies are policies that are designed to pay a pension at a suitable interval during your old age. These types of plans are also known as an immediate annuity plan. An annuity is a contract between you and an insurance company. In annuity plan, you pay one-time lump-sum premium or regular premium to the insurance company at various intervals. You will receive immediate annuity at a certain age or regular disbursement based on the choice made by you.
As of now, LIC is offering two such pension policies (1) LIC Jeevan Shanti (850) (2) Pradhan Mantri Vaya Vandana Yojana. For more information about these plans, you can refer to our earlier post.
LIC Jeevan Akshay VII Pension Plan (Table 857) Key Features
Minimum Purchase Price – 1 Lakh
Maximum Purchase Price – No Limit
Minimum Entry Age – 30 Years
Maximum Entry Age – 85 Years
Annuity Mode – Monthly, Quarterly, Half Yearly, Yearly
Minimum Annuity – Rs.1000 per month
Maximum Annuity – No Limit
Joint Life Cover – Allowed
Mode of Purchase – Online & Offline 
How does LIC Jeevan Akshay 7 Plan work?
LIC Jeevan Akshay 7 is an immediate annuity plan. This means you on annuity age LIC will start paying annuity or pension to the policyholder.
This plan provides an option to the policyholder for the selection of annuity. LIC Jeevan Akshay 7 offers 10 different annuity options that are classified into five different categories.
Immediate Annuity for Life – In this option annuity is payable immediately to the policyholder and annuity payment period is lifetime up to survival of policyholder.
Immediate Annuity with guaranteed period and life – In this option annuity is payable up to guaranteed period of 5 to 20 years and life thereafter. The annuity amount would be higher for the guaranteed period and reduces thereafter.
Immediate Annuity for life with return of Purchase price – In this option, you will get immediate annuity for lifetime along with return of premium payment.
Immediate Annuity for life increasing at 3% – Here you will get annuity for lifetime with increasing rate of 3% until the survival of policyholder.
Joint Life Immediate annuity – Under this option, joint life option is available with provision to pay annuity to second annuitant with various options.
Annuity Options & Benefits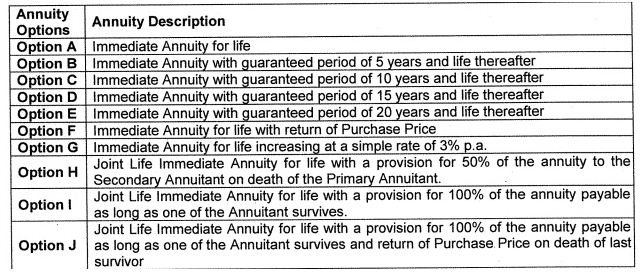 Pension benefit – Policy holder receive pension as per choice of annuity. There are 10 options for the selection of annuity. 
Maturity benefit – There is no maturity benefit available in this pension plan. 
Surrender Benefit – Pension holders are eligible to surrender this pension plan after 3 months under Options F and J. Others cannot surrender pension plan. 
LIC Jeevan Akshay VII Rate of Interest and Premium
The rate of interest payable on LIC Jeevan Akshay 7 plan is not yet declared. However, looking at current situation the rate of interest is likely to remain low. One can expect rate of interest in the range of 5 to 6%. The premium rate and annuity calculator is yet not yet published by LIC. Once details are available I will update this section.
Should you buy LIC Jeevan Akshay 7?
LIC Jeevan Akshay offers very good benefits in terms of pension. However, before buying this policy you should consider following points.
The returns offered by this policy is likely to be in the range of 5 to 7%. This return is very low.
The pension offered by this policy is taxable as per your tax slab. This means post tax return would be still lower.
In addition to tax biggest enemy here would be inflation. If you are ok with very low returns you can consider this plan.
You should consider your age, risk-taking capacity, and retirement corpus requirement before taking any call on this policy. If you are young and with high risk-taking capacity, you should avoid this plan. You should invest your money in equity and mutual funds. You will get higher returns compared to this policy and you will be able to build a higher retirement corpus.
If you are about to reach your retirement age and looking for pension income, you can plan to invest part of money in Jeevan Akshay Plan. The remaining money can be invested in senior citizen saving scheme and debt mutual funds.
Note – This article is published based on the limited information available about Jeevan Akshay Plan. I would update this post, once more information about this policy is available.