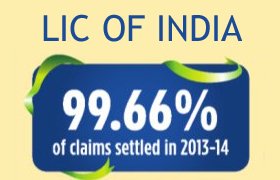 LIC – Life Insurance Corporation of India stands first in claim settlement ratio compare to private life insurance companies in 2013-14. As per IRDA report in 2013-14 life insurance companies had settled total 856622 individual insurance policy claims. Total payout of these claims was Rs 10,860 Cr.
LIC settled claim of Rs 8475 Cr in 2013-14 for individual life insurance policies. Total policy count was 746212. Claim settlement ratio of LIC under this category was 98.14%, which is higher compare to last year. Last year claim settlement ratio of LIC under this category was 97.73%. For private insurers, claim settlement ratio had reduced slightly to 88.31% during 2013-14 compared to 88.65 % during the previous year.
Under Group life Insurance category total intimated claims were 411647 in 2013-14, out of these life insurance companies had settled total 409897 claims. 96.57% claims under group life insurance were settled within 30 days. Claim settlement ratio under this category by LIC was highest 99.66%.
Top 5 Insurance Company in terms of Claim settlement
From above chart it is quite clear that LIC is Best Insurance Company in terms of claim settlement, followed by ICICI, HDFC Life, Max Life and Star Union.
LIC said Trust is built when promises are kept.
Help LIC to achieve 100% claim settlement ratio by providing following:
Updated residential address. Phone/Mobile No, E-Mail id
Bank Account details for the policy payment by NEFT.
Get your policy details registered on LIC website www.licidia.in
Ensure nomination under your policy
If you like this article, please share it on facebook and twitter. This would be special gift which you would be giving to our blog.