Lending companies provide loans to small businesses. If you are looking for loans from online lending companies for small business needs, here is a list of 5 Lending companies that offer loans for your financial needs. 
If your loan application is rejected by the bank, you can go for online lending companies for small business loan requirements. Your loan requirement of business or a personal loan will be defiantly get fulfilled.
Here we compile 5 lending companies that provide unsecured loans to individuals and small businesses in India.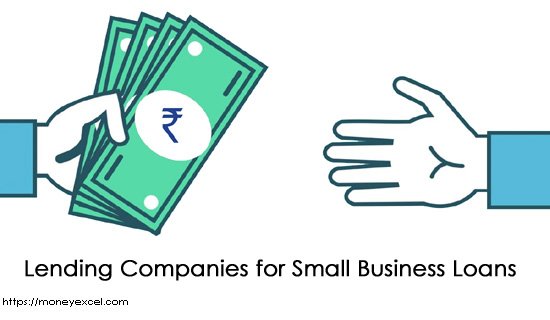 5 Lending Companies for Small Business Loans
Capital Float
Capital Float is a leading Fintech Lender. Capital Float provides a facility to apply for the loan online and offline. You can apply for a loan such as business finance, consumer finance etc. Capital Float is best for small and medium enterprises. It quickly provides you funds for cash flow, supplier payment as well as the growth of a business. Key features of Capital Float are given below.
Online and offline mode to apply for the loan.
Unsecured loan. No need to pledge property or machinery for the loan.
Finance amount from 3 Lakh to 1 Cr with terms between 3 months to 6 months.
Interest rate from 15% per annum. Processing fees up to 2% of the loan amount.
Also Read – Best Business Loans in India for Small Businesses
Lendingkart 
Lendingkart is a popular online platform for providing working capital finance for small businesses. Lendingkart focuses on current year cash flow and growth prospects while giving a loan. The application process for applying loan is 100% online and paperless. Key features of Lendingkart are given below.
Does not require any Collateral or Net Worth details
Instant Loan facility with quick approval in 3 days.
Multiple products such as business loan, working capital loan, MSME loan etc.
Loan amount from Rs.50000 to 2 Cr.
Interest rate from 12% to 24% per annum.
Loan tenure up to 36 months with processing fee of 2%
Capital First 
Capital First provides easy and short term loans for your business. Capital First is now IDFC First Bank. It provides loans for all types of businesses. Key features of Capital First are given below.
Flexible Tenure from 1 year to 5 years.
Easy Application Process. The company provides you door to door service also.
Top up facility available for the existing borrowers.
An online application facility is available.
Multiple Loan Options.
Loan amount from 3 Lakhs to 75 Lakhs.
iLend
iLend is online lending platform famous for peer to peer lending. This means on this platform you can get a loan for your business from other peers. This platform connects borrowers and lenders. Features of iLend are given below.
Multiple Loan option including business loan and personal loans.
Loan Interest rate starting from 12%
Unsecured loans with multiple lenders for offering loans.
No hidden cost.
No penalty if you close the loan before time.
FlexiLoans 
FlexiLoans is an online platform for getting funds for all your business needs. You can get options such as vendor financing, line of credit etc. Key features of FlexiLoans are given below.
The loan amount varies from Rs.50000 to 1 Cr.
FlexiLoans provides loans with 12% per annum.
Loan tenure is from 6 months to 12 months.
The payment mode is flexible. You can even pay weekly or monthly.
Customer support is very good.
Final words
I hope the above information about 5 Lending companies for small business loans helps you in getting a loan for your business to fulfill your dreams.