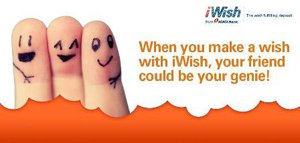 Many of us in today's stressful times want flexibility in practically whatever we do. We wish quite a many things and also have a desire in our heart to have it our way. Even while we invest, with today's rising cost of living, we often prefer to invest a small portion every month or periodicity as per our choice, which enables us to save for a financial goal systematically and at the same time provide us with flexibility. Seemingly recognizing this aspect, recently India's largest private sector bank – ICICI Bank Ltd. launched flexible recurring deposit scheme, named "iWish" for its savings account customer. The bank's savings account holders can book this variable recurring deposit by logging on to their Internet banking account.
The product offers customers the flexibility to choose when and how much to save to meet their life goals, and interestingly for the first time in India also share their goals on Facebook with friends and family, who can choose to contribute to the goal.
Unlike a traditional recurring deposit wherein you are required to deposit a predetermined fixed amount at a periodicity for a pre-fixed rate of interest per annum and for a set tenure of time; "iWish" provides you:
Flexibility to save varying amounts of money at any time of choice
Create several goals and track their progress on an easy-to-use online interface
Enables customers to share their wishes on Facebook, and let their friends and family be a part of their dreams by contributing to the customer's account from any bank account (using a VISA debit card)
For instance, say you have decided to invest Rs 8,000 every month over a period of six months. The total investment amount, therefore, is Rs 48,000. However, due to strained cash flows, you are unable to meet your commitment in say the fourth month. In a regular recurring deposit you will have to pay a penalty, but in case of iWish, you will be allowed to skip that month's payment. But, you will have to invest higher amounts in the subsequent months to ensure that you meet the target of Rs 48,000. Also, you need not make payments on a pre-decided date. Depending on your cash flows, you can direct small sums into this recurring deposit on a daily basis, too.
The minimum duration the depositors can choose is six months, while the minimum amount required to open this account is Rs 500. Like regular deposits, interest rates vary from 6.5% (for six months) to 8.75% (15 months to five years). Interest rates for senior citizens are higher by 50-75 basis points.
Many of you may be wondering how such an innovative financial product was developed. Well, ICICI Bank Ltd. has developed this product in collaboration with Social Money – who is a leader in the social saving space in the United States (U.S.), and the product has been customized to suit the Indian market and regulations. 
Upside:
Flexibility in making periodical payments is the key benefit. It will appeal to individuals who stay away from recurring deposits fearing penalties due to missed installments
Downside:
The feature of making goals public on Facebook and seeking contributions is being promoted heavily, but offers no tangible benefits. It is low on utility quotient, as friends and family members have access to several other avenues for giving gifts.
Our Opinion:
iWish" is indeed an innovation in social savings and provides one to flexibility while one would like to plan for life goal(s). But we think although flexibility feature is good and luring, it is imperative for investors to have a much disciplined approach and save and invest regularly. Also one needs to consider lots of aspects such as your age, income, expenses, existing asset, liabilities and nearness to your financial goal; for you to plan for your life goals very prudently. Remember financial planning require customization and mix of asset classes in your portfolio, on your path to achieve your life goals.
To see how iWish RD by ICICI works view the demo here.