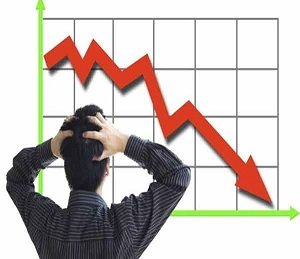 Stock market has witness biggest stock market crash this year. Portfolio of almost all stock market Investor is affected by this crash. Even newly listed IPOs are also affected by recent stock market correction. As per data 15 out of 23 listed IPOs has given negative returns to the Investor.
You might be surprise to notice that every 8-year stock market goes through big correction or crash. As per historical data biggest stock market correction were observed in 1992, 2000,2008 and now in 2016.
 So, as an investor, you have to be cautious in dealing with stock market investment. We have already seen detail about  most debt companies and illiquid stocks,  today let us look at the status of IPO listed in 2015-16.
65% IPOs listed in 2015-16 gives negative returns
2015-16 was a big year for the primary market. 23 different IPOs were listed on Sensex, out of which 15 IPOs are in lost and a majority of them are in double digit. Adlabs Entertainment listed in 2015 ends up giving negative 53% returns to investors. Apart from Adlabs Entertainment other IPOs like Monte Carlo Fashions, MEP Infra and Inox Wind has also given negative returns of more than 30%.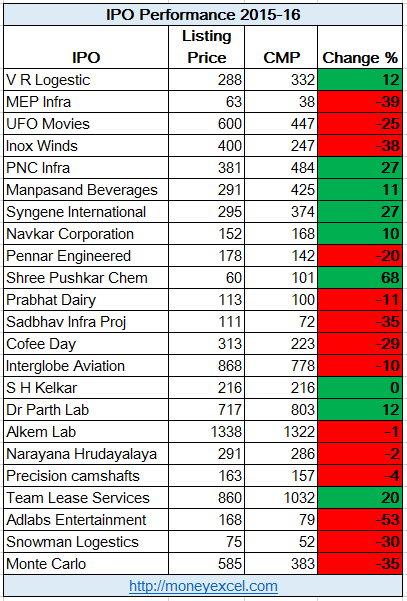 Reason of Non-Performance of IPO
The main reason for correction in the primary stock market is basically due to correction in the secondary stock market. However, another reason for this correction is over valuation of this stock at the time of listing and financials.
Remember IPO is one of the risky investment options. I generally avoid investing in IPO. I am not saying that every investor should avoid IPOs. However, one should keep in mind that when it comes to dealing with IPO, one should carry out due diligence before making an investment. The best way to judge the IPO is by financial of the company, business potential, future prospects and valuation.
You should also weigh IPO against what other already listed blue chip stocks are available at a fair price in the market.
Also Read – NFO – Important Points to consider before investing in NFO
IPO market 2016
Although FY 2016 seems to be medium for the secondary stock market, for IPO it seems to be a good year. 20 different companies had already got approval for listing IPO and 11 others are in the pipeline.  Upcoming IPO names includes L&T infotech, Mahanagar Gas, Equity Holding, GVR Infra, GNA Excel etc.
Do share your opinion about investment in IPO and primary market 2016.