Rakesh Jhunjhunwala, Vijay Kedia, Porinju Veliyath and Dolly Khanna are considered as India's Top Investors. These Top Stock market investors inspire us with their knowledge and investment strategies. They are masters in stock market investment. Studying strategies followed by these stock market experts always help newbie or veteran investors in making money from the stock market. So, here is India's Top Investors and their investment strategies along with latest stock picks.
India's Top Investors and their Latest Stock Picks
Rakesh Jhunjhunwala
Rakesh Jhunjhunwala, Age -57
Founder – Rare Enterprise
Rakesh Jhunjhunwala is most successful Indian Investor and Trader. He is a qualified Chartered Accountant. He manages his own portfolio as a partner in his asset management firm, Rare Enterprises. He started a stock market investment with a small capital of Rs.5000 and generated a lot of wealth from the stock market.
Rakesh Jhunjhunwala Networth – 20000 Cr
Investment Strategies and Tips by Stock guru Rakesh Jhunjhunwala
Buy for Long-term
Rakesh Jhunjhunwala always buys stocks for long term. Buy right and hold tight is his philosophy. He is holding stocks like Titan, CRISIL, and Lupin since past several years. He has made a lot of profit by adopting this strategy.
Future Business Potential
Rakesh Jhunjhunwala has shared multiple time in his interview that one should look for future business potential while investing in the stock. If you are able to visualize bright future with good business potential don't wait.Rakesh Jhunjhunwala gives a classic example of Infosys and Wipro. He says that if you could have realized the potential of the internet revolution and upcoming offshore business of these companies you could have become crorepati by investing in these companies.
Invest only in what you know
Next investment strategy followed by Jhunjhunwala is invest only if you know. Never jump in the unknown area. You should have the understanding about business and product of the company.
As per data available at BSE stock exchange (Q3FY18) the billionaire investor RJ increased stake in Titan Company Ltd. and drugmaker Lupin Ltd. He has also purchased additional 15 lakh shares in Sanjiv Goenka-promoted IT outsourcer Firstsource Ltd.
Recommended – Vijay Kedia Portfolio Holding – Success Story
Vijay Kedia
Vijay Kedia, Age -57
Founder – Kedia Securities
Vijay Kedia is well-known stock market expert and investor. He has made a portfolio of 500 Cr starting from Rs. 35,000. Vijay Kedia is a common man with an uncommon intelligence. His stock market strategy and investment style are followed by many investors blindly.
Vijay Kedia Networth – 500 Cr
Investment Strategies and Tips by Stock guru Vijay Kedia
Stock Fundamentals are important

Vijay Kedia believes that fundamental of stocks are very important. One should make the investment based on stock fundamentals and not on tips or advice.
Never use borrowed capital for Investment
One should never use borrowed capital for stock market investment. Stock market investment is risky affair use your own capital for the investment.
Book Profit Periodically
Next piece of advice from Vijay Kedia is one should book profit from stock market periodically. If you reached the target or if you find stock overvalued it is good to book profit in the stock.
As per data available at BSE exchange Vijay Kedia has increased stake in Cheviot Company. He has also added stock of Everest Industries in his portfolio.
Also Read – Porinju Veliyath Portfolio Holdings
Porinju Veliyath
Porinju Veliyath, Age – 55
Founder – Equity Intelligence
Porinju Veliyath is an ace investor and self-made man. From a homeless person, he has become one of the most respected value stock pickers of India. He is famous for the selection of multi-bagger stocks.
Investment Strategies and Tips by Stock guru Porinju Veliyath
Identify and Invest in Future Multibagger
Porinju Veliyath always identifies and invest in the future multi-bagger. Geojit Finance & Shreyas Shipping & Logistics are examples of multi-bagger stocks he selected. So, the takeaway here is to identify and invest in future multi-bagger stocks.
Buy lesser known high-quality business

Next strategy adopted by Porinju is buying a lesser known high-quality businesses. He is a master in identifying such stocks. The entire portfolio of Porinju is full of lesser-known stocks.
Invest in companies with clean balance sheet and clear business visibility

Porinju follows a method of investing in companies with a clean balance sheet, strong management, and clear business visibility. One should also adopt similar method when it comes to stock market investment.
As per latest updates Porinju Veliyath has increased stake in Logix Micro(IZMO). He has added Raunaq EPC and JIFT Infralogistics in his portfolio. He has sold stocks of Vamshi Rubber and Vedavaag Systems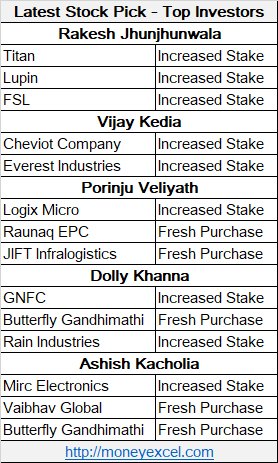 Must Read – 10 Midcap Multibagger Stocks from Dolly Khanna Portfolio
Dolly Khanna
Dolly Khanna, Age – Not Known
Individual Investor
Dolly Khanna is Chennai based homemaker and investor. She is famous as a lady with Midas touch. She along with her husband Mr.Rajeev Khanna Invest in stock market aggressively. This successful couple inspires a lot for stock market investment.
Knowledge and Skill are very important for stock market investment

As per Dolly Khanna and Rajeev Khanna knowledge and skill are very important for the stock market investment. You should gain maximum knowledge about the company before investing. You should never ignore Information that is available publically. Gain knowledge to identify opportunity.
Never miss an opportunity
Every opportunity has cost. You should never miss an opportunity for investment. Time and value lost by not investing in stock never come back.

As per data, dolly Khanna have increased 1 % in GNFC and home appliance maker Butterfly Gandhimathi Appliances Ltd. They have also added additional shares of Rain Industries Ltd in their portfolio.
Do you follow investment strategies of top stock investors of India?
Please let us know your views in the comment section.